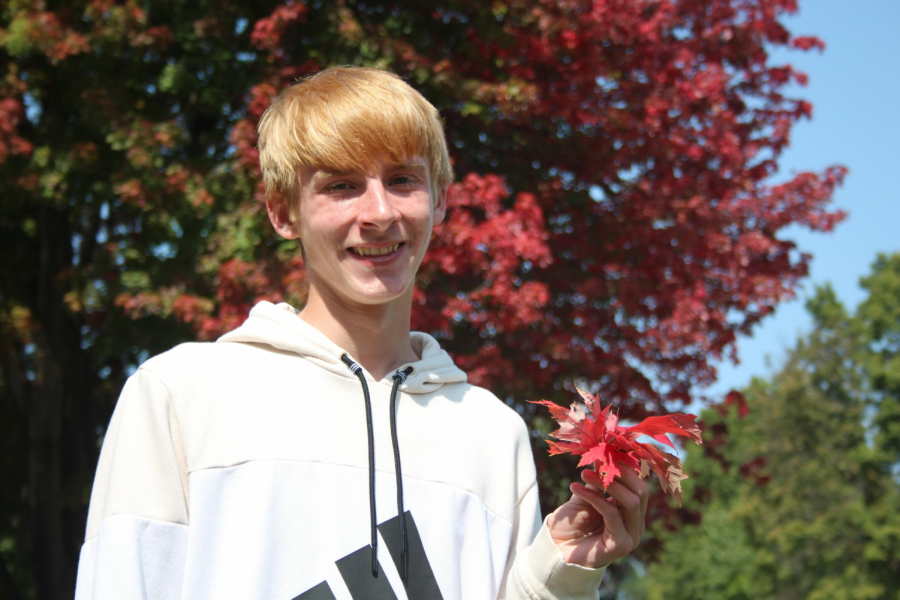 Junior Derek Katzer is the opinion, arts and entertainment, editor of "The Bell." He has been a part of the staff for quite a while. Although he writes about a variety of topics, he does especially well with spotlight stories.
Derek prides himself on consistently earning good grades and keeping a high GPA. He also takes many difficult AP and dual credit classes, like AP Government and College Chemistry. He is currently in his fourth year of Chinese.
When he isn't working hard on school, Derek likes to play soccer and the bass guitar. 
He explained, "Recently, I've learned my first song, my first full song on the bass. It's a lot of fun to play."
While Derek claims that he has not had any major achievements, he has had some of his spotlight stories go to state and win awards. The fact that he has been able to accomplish this while also playing sports and music, along with school, is outstanding.
Derek has always liked to write, and joining "The Bell's" staff was a great opportunity for him to learn how to do it professionally. Joining the newspaper has also helped with useful social skills like figuring out how to interact with and interview people. 
These are important skills for a future not only in journalism, but for almost every career. Not only has being a member of "The Bell" taught Derek much about reporting, it has also been a very fun experience. 
He claims,"I like the people and the class. Everyone is always there to help you if you have trouble. We have a sense of family, a sense of community, I guess. That's what I really like."
Derek is happy to be a part of "The Bell" staff once again and is looking forward to his experience this year.
Derek Katzer, A&E Editor
Apr 08, 2020

One Team, One Dream

(Story)

Feb 26, 2020

Unofficial Athletics

(Story)

Feb 10, 2020

Sophomore Brady Matherly

(Story)

Dec 20, 2019

Perseverance with a Purpose

(Story)

Nov 07, 2019

Sentiments in Soccer

(Story)

Oct 01, 2019

Sophomore Jessica Giles

(Story)

Oct 01, 2019

Freshman Alex Fuhrman

(Story)

Oct 01, 2019

Junior Kage Lenger

(Story)

Oct 01, 2019
Sep 27, 2019

LHS' Environmental Features

(Story)

Sep 27, 2019

Is LHS prioritizing the right renovations?

(Story)

May 24, 2019
Apr 18, 2019

Powerhouse of the School

(Story)

Apr 10, 2019

Sophomore John Alvey

(Story)

Feb 06, 2019
Jan 31, 2019
Dec 07, 2018

Sophomore Natalie Adams

(Story)

Nov 06, 2018
Oct 15, 2018

Spotlight on Karrell Simpson

(Story)