Sentiments in Soccer
Seniors share the memories and friendships that soccer brought forth.
The last rays of sunlight weave themselves through the colored trees, falling upon blue and white jerseys. Colored leaves and the shorter days signal the closing of the men's soccer season. The seniors hold onto the last rays, hoping for an unfading sunset.
Being a team sport, the 18 soccer seniors built special relationships with each other.
"We all get along very well and we're dedicated," senior Ethan Wallace said. "It makes it a lot easier when times get tough in games, when you're either down one to nothing or it's a zero-zero tied game and everyone's giving their all. You know you can rely on your teammates to get the job done."
For many seniors, friendships between teammates have been long-lasting.
"We all grew up playing together on the same teams," senior Austin Nelson said. "We've separated out over the years, but now we're back playing together in high school. I think it's a lot of fun playing together as seniors."
Even head soccer coach Tom Rottjakob has a sparkling relationship with the seniors.
"I've known this group for so long," Rottjakob said. "There are several of them who played soccer with my son when they were four or five years old. That's the special part. It's neat to see how much they've developed since they were little kids. I normally know seniors for four years, but for this group, I've known some of them for twelve years."
Even though the seniors will one day play their last game of high school soccer, memories and friendships will last.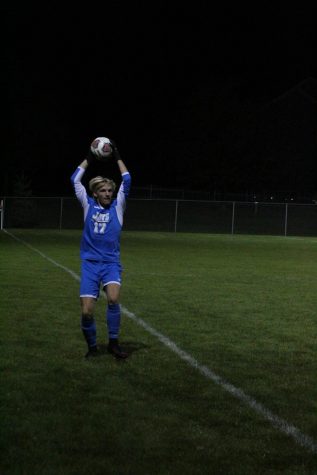 From humorous memories, such as an assistant coach taking over the role of referee, to sentimental bus rides, these fleeting moments in time will be forever memorable.
With the sun setting on the season, the seniors wish to make the most of the time they have left.
"I'm excited to start the postseason and see how far we can get," senior Gabriel Cain said. "It will put us to the test and I'm excited to see how far we can go. I don't want to lose because that would be my last game."
Although the sun sets for the seniors, they have been making the most out of their season. "They are a close group of seniors," Rottjakob
said. "There's a large number and they've been working hard. They're the first class I can say was consistent during summer workouts all four years: showing up, working hard, getting fitter, getting better. They take pride in it and that hard work pays off. That's something the senior class will leave a mark on."
Senior Ethan Wallace
"You have to do your best. It's not about skill. Skill definitely helps, but if you're giving it your all and trying your hardest, then you can definitely accomplish that. I feel that everyone should be giving 100% all the time. I know some kids are gonna have off days. If you're doing your best and trying your hardest, then that can go a long way in practice."
Teammate Brody Mueller
"Ethan is a great teammate. He brings a lot of energy towards the players and has a lot of passion in the game. I love his speed. I love his communication."
Coach Tom Rottjakob
"He's pretty funny. He's got a sense of humor you can joke around with. He'll correct the things you ask him to correct and he does those things to work and get better. Even at practice when we do drills, he's a pretty focused athlete and he will try whatever he can to keep improving."