One Team, One Dream
The Lady Jays Soccer Team shares how they prepare for whatever the season brings their way.
One team formed last year to take a shot at the State title. One team faced and overcame many challenges along the way. One team came out on top: the Lady Jays soccer team.
Today, this same team faces a new opponent: COVID-19. They were looking to be even better this year and planned to go for a second State win in a row, but the virus has spread across the world in a short amount of time.
"At this moment, we are at a standstill. MSHSAA has not canceled the season entirely yet, but the earliest we could start would be after the 24th of April," Nash said. For the seniors, this pandemic could be the end of their senior season, but they are staying positive and doing what they can during the tough times.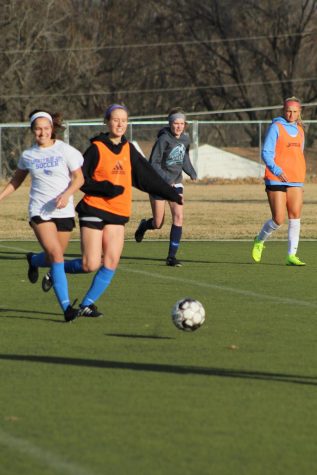 "Due to the Coronavirus, we are unable to practice with our coaches and attend any games, so it is up to us to stay dedicated and practice", senior Madilyn Hamline said. "As long as we are doing something and staying determined that is all that matters and all we can do. I'm just hoping and praying I get to play my senior year with my teammates."
With the new rule out that everyone needs to be social distancing, the girl's soccer team is still doing their best to train and be ready for a season if there is one.
"Some of the girls and I have continued to run the practice as normal as possible," senior Abby Watts said. "We don't know what the future will look like for our season but we are crossing our fingers and hoping for the best. If we are lucky we will still have a season, a very short one, but still a season."
If the soccer team can return to the field to play their season they know that there will be a lot of stress and pressure to carry on the same energy from last season.
"One thing that makes me a little nervous is the target that we will have on our backs," Hamline said. "Everyone will be out to beat us and tear us down, but I know we have the talent and mentality to overcome it."
Not only is there stress for the Jays, but there are a lot of changes in the way the team looks this year.
"I think a major way that this team will be different is because they have the taste of winning," head girls soccer coach Tyler Nash said. "They will need to ignore what we did last year and focus on this year if they want to reach their true potential."
To reach the team's full potential, the seniors are stepping up this year to lead and help the newest players of the team.
"Our most important thing is to keep the freshmen motivated and feel at home," senior Allie Taylor said. "We don't want them to quit after one year, we want them to know how fun it is to be a part of this team."
The team this year has many strong qualities that they are bringing into the season.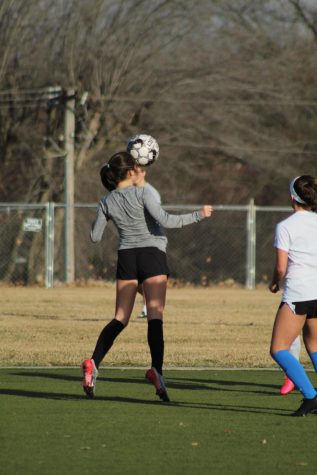 "Some of the strongest qualities on our team this year is again our chemistry which is really good to naturally have and having the same goal in mind, going back and winning state," Watts said. "Having the same goal is really helpful going into the season, because we all know our roles and what we can do to successfully impact the team."
The Lady Jays have some big aspects that set them apart from their opponents.
"Our team gets along so well, we are always laughing and making jokes," Taylor said. "These girls are my family. If you see us dancing before the game starts then you know we are about to play our hearts out for each other."
In the end, the girl's soccer team is being hopeful and doing what they can for a season that has been put on hold due to COVID-19. "This team is really close and has an extremely strong bond," Nash said. "We have been meeting on Zoom and discussing a book we have been reading and several different challenges we have been focusing on. Overall, it's been hard but we have been keeping faith that we will be able to play."
Senior Madilyn Hamline
"I will still be playing soccer at the University of Missouri [and because of coronavirus] I will be preparing differently now. Not being able to play with my teammates is what makes me the saddest. Especially in my senior year, not being able to do that makes me realize how much I am going to miss playing for this program. I am going to miss my team and the coaches. I am going to miss playing with them and making so many fun memories. We all wanted to accomplish winning State again and have another year together."
Teammate Senior Allie Taylor
"She is one of the fastest people I know. With that speed, she has a lot of skill. I know she can get around anyone on the defense. She's worked very hard to get where she is. That's why she will be playing D1 soccer and why she is so good at what she does."
Coach Tyler Nash
"She is one of the best players I have ever coached but brings far more to the team than just her ability to score goals. Her attitude and desire to bring out the best in each and every one of her teammates is what really separates her from the rest of the pack. Compile that with her sense of humor and you have an amazing, young lady that will truly make the world a better place. She also is an unbelievable leader. I believe this year we will see her at her best, which is kind of scary since she already is so good."