Junior Katie Wohletz
Junior discusses clubs and activities and how they impact her life.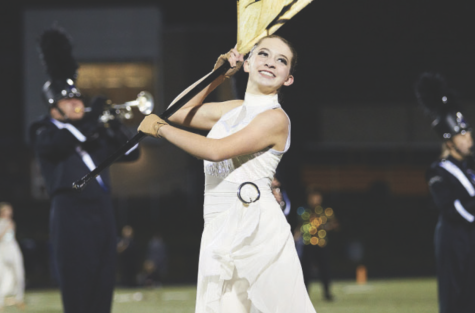 The satisfying snap of her rifle as she catches it with ease. the feeling of happiness when she helps out others through National Honors Society. A beautiful melody which emerges from her violin whenever she plays. Junior Katie Wohletz feels satisfied with her flag work, the melodies she plays and helping others. 
    Junior Chloe Cahill and Wohletz have been friends for six years. Since meeting at DMS middle school, they've only grown closer as friends. 
   "Katie is a friend you can go to with anything, no matter what, she'll always be there to support you," Cahill said. "She's so kind and just this bright person in my life."  
   Wohletz is involved in clubs and activities, according to Cahill, she is passionate about all of them. 
   "She puts her heart and soul into everything she does," Cahill said. "She has such a big heart, and she cares so much about the people around her."
   For Wohletz, the guard is important since she started it at a younger age. 
   "I've been involved in color guard since eighth grade," Wohletz said. "The first show I was in was called 'Tell it to My Heart,' it was an introductory show."
"
She puts her heart and soul into everything she does,
— Cahill said.
   Starting color guard so early introduced her to some great friends and a constant urge to be better.  
   Wohletz leads her peers as a color guard captain. This requires going through an interview process where she was asked about how the guard has changed her and how they would act in problematic situations.
   "She has put so much work and effort into the team," sophomore Isabella DeBrot, a member of the color guard said. "She has grown in being able to help everyone that needs it."
   The 22-23 season was Wohletz's first time being in leadership, she made a positive impact on the coaches and the people around her.
   "She has positive energy every time you're around her," freshman and teammate Emily Rich said. "It's just comforting when everything seems not good, Katie, just looks happy."
    Wohletz spends at least 25 hours a week, including school, doing all of her activities. For Wohletz, it's difficult and stressful to keep up with everything, but, Wohletz still manages to keep a 4.0. Which has helped her get into National Honors Society. 
   According to bestcolleges.com, "The National Honor Society recognizes high schoolers who meet high academic standards" bestcolleges said. "NHS emphasizes leadership and service…Today, over 1 million students participate in NHS, which has chapters worldwide."
   "NHS is about giving back to the community and being well rounded as a student and as a person."
   According to nhs.us, "Per national guidelines, at a minimum, students must have a cumulative GPA of 85, B, 3.0 on a 4.0 scale, or equivalent standard of excellence."
   Wohletz has good academic and citizenship standing and has taken leadership positions in all of the activities she's involved in. Over weekends, Wohletz spends at least four hours volunteering. 
   Outside of National Honors Society and Guard, Wohletz is also involved in Chamber Orchestra playing the violin. The orchestra program is split into three, with the chamber orchestra being the most advanced. With competitions, harder pieces, and requirements to audition for higher orchestras, such as All District and All State.  
   "It's more engaging because everyone there is doing their best," Wohletz said. "It is the best orchestra class in the school, it's really cool to play with people on this high level."
   Wohletz plans on continuing her color guard and orchestral career in college, as well as studying to be a meteorologist. 
   "She's talked about wanting to coach guard before," Cahill said. 
   Find the color guard on Instagram @lhsbluejayguard and on Twitter @LHSGuards. Find National Honors Society on Instagram @lhshonorsociety and on their website, https://www.nhs.us/. Find the LHS orchestras on Instagram @lhsorchestras and on Twitter @LHSOrchesras.  
Leave a Comment