Junior Ian Everett
Swimmer receives a D1 scholarship.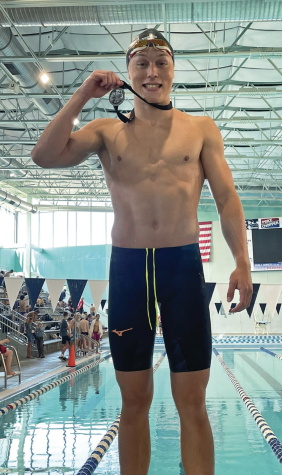 The loud splashes of water as swimmers dive up and down for air, spritzes of water spraying any part of the poolside which isn't already wet. They race from end to end of the pool, trying to be faster than the swimmer next to them. This is what it's like for junior Ian Everett every day, a varsity swimmer, who has already committed to the University of Indiana for college swim.
    "Working to prove you're better than the guy next to you is a lot of fun for me," Everett said. "There are a lot of things I've done to get as far as I have in swim. You have to be a student of the sport and constantly seek how to become better. If you show up and do the work every day, the results will come."
    Just this year alone, Everett broke the Liberty record for the fastest 200-yard freestyle and the North Kansas City Invitational record for the 100-yard fly. Last year, Everett won State in the 100-yard freestyle and was named an All-American in the 200-yard freestyle.
    "Swimming to me is a lifestyle," Everett said. "If you want to be great you have to have an obsession to pursue excellence. Swim over the years has become a part of my identity. There are a lot of things I like about swimming competitively, but if I had to choose one thing it would be the competition in general."
    Everett has been swimming competitively since he was in seventh grade, after doing two summer league seasons with the Liberty Storm Swim Team. He then started swimming for the Tsunami Swim Team, where he still trains in the offseason. Everett's inspirations when starting out as a swimmer were Olympians Michael Phelps and Caeleb Dressel.
    "There's a lot of variety in my training," Everett said. "I focus on everything, my philosophy in training is asking myself every set, 'How is this going to translate into a race?' Since I'm more of a sprinter, I often do power work and speed endurance sets. I also like to incorporate heart rate into some of the sets I do." 
    Everett said he chose Indiana because of their world-class facilities and coaches to help him take his skills to a higher level. Everett also hopes the competition he will face in the NCAA will help him get better.

    "I know Indiana is the best fit for me and I'm glad I was able to get recruited by them. Being done with the recruitment process early on is nice because it takes off a lot of stress," Everett said. "Having to talk to coaches all the time, planning visits, having the stress of performing in front of coaches, etc. is super stressful. Now that it is over though, I can just focus on swim.  Having such good resources and a great team to work with, it's no doubt that if I put in the work I will become significantly better. I'm excited to get there and see how much I improve."
    Everett's next meet will be on Nov 10 at the State Prelims. You can find the swim team's website at https://lhsathletics.lps53.org/page/show/7235540-men-s-swim-and-dive-2022- and the Indiana swim team's website at https://iuhoosiers.com/sports/mens-swimming-and-diving.
Leave a Comment