Freshman Parker Blaine
How a student grew in his involvement in theater.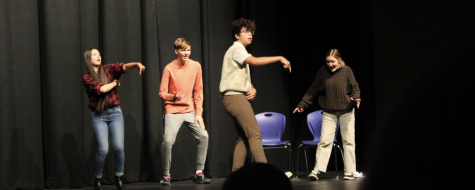 The theater was booming with anticipation on Nov. 9 as the lights flickered their two-minute warning. Vocal exercises and chants rang throughout backstage. Actors, including freshman Parker Blaine, were brimming with excitement. Because it was opening night for The Little Mermaid.. The lights flickered off, cueing the orchestra. The show has finally started. Taking up his spot on the stage, Blaine was finally home. 
Blaine has already found ways to be active. He's involved in the school-sponsored improv group, Exit 1-6, choir and Liberty High School's production of The Little Mermaid. 
   "Being in theater is a good way to kind of get out of your shell to be around people who are a lot like you and who are nice about it," Blaine said. "It's just a good experience all around. I think it's made me a better, more social person as a result."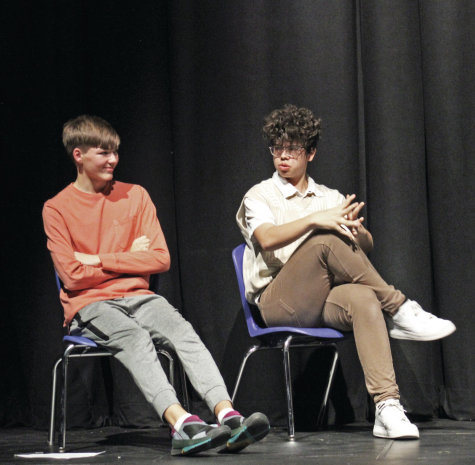 Blaine's introduction to the world of fine arts was by his friend, freshman Jordan Naseem and her older sister, high school graduate Kennedy Naseem. The Naseems' and Blaine's have been family friends for a majority of his childhood.This introduction inspired Blaine to pursue acting in middle school productions, even landing him the leading role in Peter Pan. 
   "He's gotten more comfortable being uncomfortable. The theater has really helped him be comfortable with that sense of discomfort, I think he's having a better time. You know, just having a fun time being himself," Naseem said.
   Along with the Naseems', another impactful was from alumni and brother is Blaine's brother, Spencer Blaine. Before leaving for college, Blaine's older brother took him to the improv group, Exit 1-6, for them to spend quality time together while watching the preformers. This early introduction of the troop and its members, along with the memories shared within the theater, caused Blaine to try out for Exit 1-6 and land him a role within the performers. 
   "When I started meeting more people like the upperclassmen. They kind of helped me come out of my shell," Blaine said. "I've met a lot of people, a lot of good people who I can use as an example, and it's just a really nice experience."
   Before the plays and performances, Blaine kept to himself. But with his lifelong friend Naseem, a friend he's known since birth, he was able to be more at ease and explore new friendships. 
    "He is both a very chill person and a very fun person to be around. He will be both the damage control or the life of the party, depending on his situation," Naseem said. "He really helps to balance out whatever he's a part of. He does really care about his friends." 
"
He is both a very chill person and a very fun person to be around. He will be both the damage control or the life of the party, depending on his situation,
— Naseem said.
   When first meeting Blaine, English teacher Kali Kliewer was taken aback by the demanding and respectful presence he had about him. So when she heard about his involvement in the theater, she didn't understand at first how a quiet kid was involved in theater. Though, throughout the year, Kliewer has seen Blaine has exhibited a different sort of behavior when compared to her first impression. 
   "He's definitely become more outgoing and a little bit more comfortable in just sharing his thoughts and views about things," Kliewer said. "Sometimes he'll kind of say things under his breath that are funny, that he probably wouldn't have done at the beginning of the year."
   From the Naseem's to the upperclassman, all have played a role in shaping Blaine into the person he is today. A performer who has found his home.
Leave a Comment