Finishing Off On A High Note
Student musician cultivates his passion for jazz music into award-winning abilities.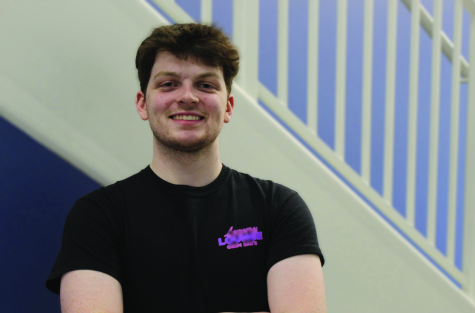 Senior Jackson Harrison has been a part of the Liberty School District all of his life. Outside of his stellar academics and community involvement, Harrison prides himself on music. His noticeable abilities distinguish him as a musician with talents far beyond what's average for his age. In 6th grade, as most other students did, Harrison picked up his first instrument for band class. With dozens of musical devices to choose, Harrison's instrument of choice was the tenor saxophone— a decision he doesn't regret.
   "It was my dad who convinced me to choose the saxophone," Harrison said.  "He claimed it was the coolest instrument out of them all and now I can confidently say— he wasn't wrong."
   Aside from convincing him to play the saxophone, Harrison says his dad was one of his biggest influences and inspirations throughout his music journey. 
   "My dad played the guitar and has always had great taste in music, which I always appreciated and I really think helped me," Harrison said. "Plus, he's just a really fun guy. I do music for myself but also love making him proud." 
"
I do music for myself but also love making him proud.
— Senior Jackson Harrison
   With the support of his dad and his own unrelenting dedication, Harrison has proved himself an exceptional individual both with and without a reed. 
"Jackson is super sweet and always makes me laugh. He's always been considerate towards other people and shows that he cares. Plus, his growth as a saxophone player has amazed me. It is crazy that he is only 18 and he is probably better than most people twice his age."   Harrison's friend, senior Sydni Meyer said.
   Despite Harrison's sense of compassion and humility, it doesn't come at the expense of his recognition. Ranging from a full ride scholarship to Kansas City Kansas Community College to winning second place at All-state Jazz Band, Harrison has made a name for himself. Outside of school, Harrisons participates in other talent-enriching activities such as a youth music program called Jazz Academy in downtown Kansas City, UMKC Jazz camp and many other local music festivals. In fact, Harrison says that the majority of his musical involvement is outside of school, including his own ways to profit off of his talents.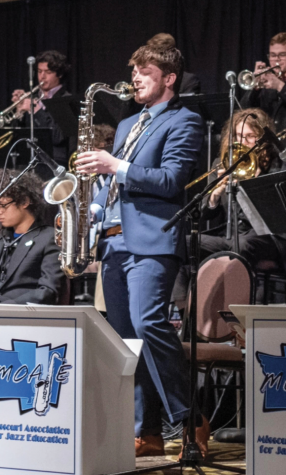 "He started playing for gigs and getting paid, which makes me so happy for him because he's following his dream no matter what," Meyer said. "I think that his dedication to music has mostly been with jazz music now, which I don't blame him because he is so good at it. I could listen to him play forever because he is so talented."
   Harrison's musical capabilities have given him many opportunities, but one he notes was most valuable was understanding the history behind his craft.
   "I honestly think the coolest thing that I've learned during my experiences is learning about the importance of African American culture, especially its importance in jazz music," Harrison said. "Kansas City's relationship with jazz is super important too and jazz is very prominent here.                       
There's so much I could  talk about, but learning what music means to certain people and the history behind it is one of the most valuable things I've attained."
   Harrison's dedication to understanding the entirety of his passion makes him a likely individual to become a part of the history, which he admires so much now. 
   Meyer said, "I can't wait until he is famous and I can say that I went to high school with the 'Jackson Harrison."
Leave a Comment