Senior Jalen Weston
Jalen Weston speaks on adversity, humility and his love of football.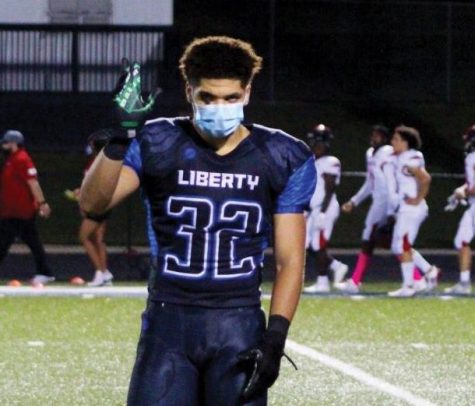 This time of year, one can find senior Jalen Weston under the stadium lights, starting as a hybrid safety and linebacker position for the football team. Weston has been a key component for the team since earning his spot on varsity his freshman year. 
   "I worked really hard every single practice and finally they decided to pull me up," Weston said. "In the mornings I would practice with the freshmen, and then right after that, I'd do it with varsity. I'd end up having two practices back-to-back which got pretty rigorous until they fully brought me up, and I started playing with the big guys."
   This year, Weston is hoping to break the all-time tackle record set by Joseph Barnes, who was a senior when Weston was a freshman. 
"
Jalen is one of the hardest working students I have ever had the privilege of teaching,
— Serena Comegys
   "It was cool that I saw him break the previous record when I was a freshman, and now I'm a senior trying to break his record," Weston said.
   Weston has been tracking his tackles throughout his high school career and is now only about 45 tackles away from the 296 needed to reach his goal. However, he is quick to note that the team is what's most important.
   "I don't necessarily look to try and break that record. I wouldn't say that's my goal," Weston said. "My goal is to execute and do my job every single week, those tackles come with that."
   Specifically in this 2020 season, where the Blue Jays are currently undefeated, the team has been a big focus for Weston.
   "We've just focused hard on being able to control everything we can in order to make ourselves better," Weston said. "If we're doing what we're being told to do, and what we've practiced, winning and losing will take care of itself as long as we do our job and we're in the right position to make the correct plays."
   Aside from football, Weston's work ethic and humility shines through in school. Advanced ELA teacher Serena Comegys recognizes this about Weston.
   "Jalen is one of the hardest working students I have ever had the privilege of teaching," Comegys said. "One of the most impressive things about Jalen is his ability to remain positive and focused even in the midst of controversy and struggle. He has very high expectations of himself, both personally and academically, and anyone who knows him can see that he lives every day working to achieve his goals."
   One goal of Weston's has been to attend the University of Missouri-Columbia, where he earned an academic scholarship. He hopes to play football in college, whether receiving a football scholarship or possibly preferred walk on for football. He plans on studying psychology, something that stems from his love of science.
   "When COVID-19 hit, I kind of fell in love with psychology when it comes to just seeing how people work, how they think about things and how people have different things going for them that have effects in the long run," Weston said. 
   Weston's friends, including senior Javin Shaw, recognize how committed he is in school and out.
For more on Jalen Weston, go to https://www.hudl.com to watch his football highlights. 
   "Selfless and dedicated is how I would describe Jalen," Shaw said. "He is quick and always willing to help someone in need and if there's something that he wants, he will commit himself to it 100% and go get it."
   Whether in school or football, Weston has always focused on working hard in the face of adversity. He emphasizes the importance of focusing on the things he can control rather than the things he cannot, which he says helps him to make the best of any situation.
   "I feel like the things that have happened in my life that have been a setback or hard time, I've been able to build off of and overcome the adversity that I've faced," Weston said. "I don't really get flustered very often with anything that comes my way. I just take it and understand that another day or another time or another moment is going to come." 
   Humility is also important to Weston, who prefers to let his accomplishments speak for themselves. He enjoys keeping things under wraps, and is comfortable with few people knowing about his achievements.   
   "I'm not a very outspoken person," Weston said. "I don't really talk or post a lot about the things that I do and the things that are happening in my life. I pride myself on working hard at everything that I do so that I can come out the best that I can."
Weston's message to others is the importance of not giving up in the face of adversity, something that he utilizes both on and off the football field.  
Leave a Comment