Sophomore Jericho Frigon
Frigon gets through obstacles in life and on the field.
Life and soccer are somewhat similar. People try to reach and make goal after goal. There are obstacles but people push through and get around them. Sophomore Jericho Frigon lives that life in both ways.
"Growing up I've always been the smallest on my team so I've always had to work a little harder to catch up with the other players," Frigon said.
Even though she was smaller, that didn't stop her.
Frigon plays club soccer with Kansas City Athletics Elite Clubs National League outside of school and has been on the girls varsity team for two seasons now at LHS.
In her first season at LHS, she reached one of her big lifelong goals. Frigon has always had her eye on going to Kansas State University and in her first season, she committed to play soccer.
"K-State has always been my dream school growing up," Frigon said. "It was always my favorite team in any sport and my sister goes there now."
Frigon wouldn't be where she is now if she hadn't been constantly working. Not many are committed to college as a sophomore.
"I think the reason why I am already committed to college as a sophomore is because of the work that I do outside of practice and school to better my game and fitness," Frigon said.
Time is very limited for Frigon, but she still manages to help out in the world.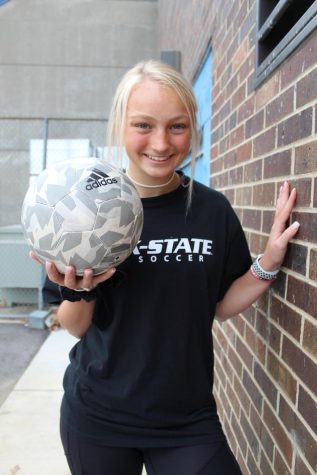 "I do community service mainly with the high school team," Frigon said. "We do a lot of community service with Harvesters. I've also gone with my club team and we sort cans."
Frigon focuses on wanting to give back and uses soccer to help out with that, as well as building her relationships with friends.
"My favorite thing is being able to play with my friends and challenging ourselves," Frigon said.
Sophomore Bella Braggs enjoys having her around.
"She's a good role model for me and she's very good at what she does," Braggs said. "She's very determined. Last year we had a lot of classes together and that's when we became close. She's very fun and we make lots of jokes."
Frigon is serious and focused when needed, but in Geometry class freshman year she was able to be herself and bring out her personality.
"She is one of those kids that I will always remember having in class,'' Geometry teacher Chris Murphy said. "Even though I had her in class last year, she still walks by and says 'hi' to me every day. That means a lot to teachers when past students still stop by and talk to us."
Frigon continues to strive to improve herself.
"Some of my goals are to keep pushing myself to get better and to always be the best I can be on and off of the field," Frigon said. "My best piece of advice is put in the work and push yourself."