Senior May Spotlights
The Bell highlights a plethora of students at LHS.
Hang on for a minute...we're trying to find some more stories you might like.
Andrew Eastvold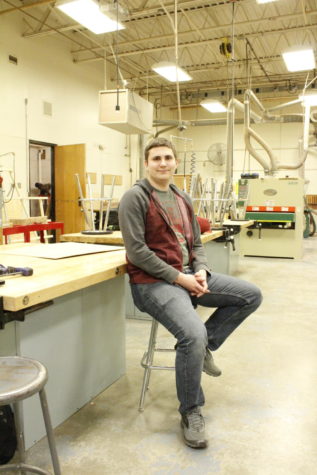 Senior Andrew Eastvold says he's excited about graduating. He is looking forward to when he can do what he wants when he wants, without being held back by school.
   "I cannot wait for the independence of not being tethered to the routine of school," Eastvold said.        
   Eastvold is going to Northwest Missouri University to study audio and visual production. Eastvold has big plans laid out for his future.
   "Assuming everything goes to plan, I want be be a cameraman for a news station," Eastvold said.
   Throughout high school. Eastvold took many classes that will help him in his future career as a cameraman, including Graphic Design, Intro to Engineering and Design and Advanced Woodworking.
   For all four years at LHS, Eastvold was a member of the cross country team. One aspect he enjoyed the most was being able to run with his friends. Staying in it all four years is something Eastvold is proud of.
   "I lettered in cross country. I got it for being in it all four years of high school,"  Eastvold said. "Going to St. Louis and Arkansas with my cross country team for a meet was a moment that stood out to me."
   When he graduates Eastvold will miss all the relationships he has forged with other students.
   "I will probably end up losing some friends after I graduate," Eastvold said. "Just losing contact and all of that."    
   Outside of school Eastvold has two younger twin sisters, along with two dogs. He enjoys going out to hunt with his family and friends and enjoys camping.
   While Eastvold is on his way out of high school, he is thankful for all of his teachers and friends that made it more enjoyable.
   "All of the teachers I have had made a pretty big impact on my career in high school," Eastvold said. "My friends were important for me in school, they made it more bearable."
   Geova Alexander
   When senior Geova Alexander stepped foot into LHS four years ago, she was ready to storm on and off the court. Now, four years later, she plans to continue her basketball career into college.
   "I plan on attending the University of Saint Mary's to continue my academic and basketball career," Alexander said. "I'm looking forward to going to college with one of my closest friends. We're going to be playing on the same basketball team again for the next four years so that's gonna be really fun."
   Alexander and senior Sina Selepeo both have been signed to become St. Mary Spires.
   Basketball has always been a driving force for Alexander. The LHS basketball team has been a support beam for Alexander, and she expressed that she feels her teammates and coaches have always been there for her, even during some of her most difficult moments.
   "The past two years, junior and senior year, have been hard," Alexander said. "Junior year I had hip surgery and then my senior year I tore all the ligaments in my knee and had to have knee surgery. They weren't just there for me physically but also mentally and emotionally. When I didn't have confidence in myself to come back, everybody else picked me back up from the hard emotional times. They aren't just my teammates, they're also my friends. They're really like my little basketball family."
   Alexander will miss many of her teammates after high school and admitted it would be strange being away from some of them.
   "I am definitely grateful of my coaches working at the school because when it came to basketball season I would be worried about what we were doing in practice, so I would go to the coaches and ask what we were doing so I could be mentally prepared," Alexander said.
   Alexander was quick to give some advice that she wished she had heard and followed more diligently.
   "Do not procrastinate at all because it really affects your motivation and grades," Alexander said. "Also, if you're gonna be late to school make it worth it, like you've just gotten out for a doctor's appointment, go get a coffee or something."
When looking back at her time here, she has found gratefulness towards LHS.
   "I feel that every day at school has just been a new day to be better and to become better at something new," Alexander said. "I had a lot of good memories and these have definitely been years to remember."
   Dakota Thomas 
   With high hopes and a few last words, senior Dakota Thomas is prepared to move forward into the ranks of Missouri S&T. He is excited to go to college yet still plans to make his last few days at LHS fun and meaningful.
   "I plan on majoring in mechanical, architectural, or aerospace engineering," Thomas said. "I'm really looking forward to going to college and being a part of the fraternity that I have already accepted my bid for."
   Thomas has been interested in engineering for years and is  a part of the Technology Student Association (TSA). He enjoys the work and group aspect of TSA and hopes to attend Nationals in June for the third year in a row.
   "Being able to go to State and Nationals for TSA the past two years and being able to compete at such a high level has been such an awesome experience," he said.
   He explained that TSA State and Nationals hold some of his favorite memories of his time at LHS.
   "I remember on the way to state for TSA last year on the bus somebody started some joke and I can't even remember what exactly it was but I know everybody was losing it," Thomas said. "I think it was just the moment of being so connected and happy for the same reason with so many people that really stood out."
   Along with TSA, Dakota was involved with LHS men's soccer team and was grateful towards his coaches and teammates for always pushing him to do more.
   "The people here at high school really push me to do my best and to be my best. That has really helped me grow and shape into the person I have become," he said. "Coach Springer really helped me figure out everything, even outside of soccer and that really impacted me in a big way."
   He feels his relationships with classmates and the staff of LHS have been the most enriching part of high school.
   "My advice to all students is to stand out," Thomas said. "Do the things like midnight dodgeball, Spike It Up, all that stuff and make sure you get involved and go to sporting events. I'd also like to thank Coach Rottjakob, Coach Nash and Coach Springer for making the last four years of soccer years to remember and helping me get to the point I was in my soccer career. Also, Mr Boden, Mr. Fairchild and Mrs. Havermann for being great teachers that I could always turn to whenever I needed help."
   Reagan Krueger
  If you speak at all, there's an excellent chance that you speak senior Reagan Kruger's language. The soon-to-be-graduate is best known for her academic and athletic performance, but her passion for learning other languages is something others may not recognize.
   Krueger is a member of both Spanish Honor Society and German Honor Society and has obtained the biliteracy seal in both of these languages. Along with passing the biliteracy exam for both German and Spanish, Krueger was recognized for her standout performance as a foreign language student.
   "My biggest accomplishment during high school has been receiving the foreign language student of the year award," Krueger said.
   German teacher Cynthia Biermann claims this is no small feat.
   "She achieved the biliteracy seal in both Spanish and German. It's extremely hard to get it in German because it's a very difficult language," Biermann said. "One of the difficulties is that you cannot get any practice in the area. You can get TV shows in Spanish, you can get books in Spanish and you can get movies in Spanish but those aren't available in German."
   Although she's also been involved in National Honor Society, Key Club and track, Krueger says the activity that has had the most impact on her high school career is cross country.
   "Over my high school career I have matured and become more responsible," Krueger said. "I think this is due to my involvement in cross country. My role model is Coach Nixon because he was the kindest, most dedicated and most hardworking person in my life. He always brought out the best in people and inspired greatness in others."
   Her teachers and peers both recognize the values Krueger displays in common with Coach Nixon. Her dedication and motivation to do her best is evident to those who have worked with her.
   "I'd say the biggest thing about her is that she's intrinsically motivated," Biermann said. "She would do the work even if you didn't assign it because she wants to learn and that's really rewarding.
   After high school, Krueger plans to take what she learned from her high school experiences to MU, where she will major in chemical engineering.
   After graduating from MU, her goals are to use what she's learned and continue to broaden her horizons.
   "I hope that I will have two dogs and be able to travel around the world," Krueger said.
   Max Gifford 
   Senior Max Gifford has always been open-minded to changes and new challenges throughout his high school career. From taking on advanced classes like AP Physics and Biology, to physical challenges like mountain biking and cross country, Gifford has made learning his number one priority. Whether it was from the world around him, his own mistakes, successes or people such as teachers and friends, he credits some his greatest lessons to his late cross country coach.
   "Coach Nixon was a big inspiration for doing things with my life," Gifford said. "Having him there for all four years was good for me."
   Gifford participated in cross country throughout his time in LHS and learned more about himself each year he ran. "Junior year was when I tied my PR from freshman year and I was like, 'Wow, I was on C team and I still improved' and that was a testament to Coach Nixon's teaching and coaching," Gifford said. "He actually got something out of me."
   With these and so many more lessons, Gifford feels ready to move on from LHS into his next chapter of his life.
   "I'm not really going to miss the high school that much because the high school is just a school. What makes the high school is the teachers and the people and the staff, so I'll miss some of my good teachers like Mr. Fairchild and Mrs. Knowles and Mr. Jorgensen and my friends that I won't see in college."
   Gifford will study finance and accounting at Missouri Western and is excited to have a full college experience, no parents, no curfews, and all the food he could ever need.
   "Just the freedom of not having my parents breathing down my neck all the time. I love my parents but I don't want to live with them anymore," Gifford said. "Then it's just finding my own way through things in college without them."
   For Gifford, it's not a question of if he is ready for Missouri Western, rather it's whether or not Missouri Western is ready for him. Luckily he won't go through college alone since he'll room with two of his best friends for his first year.
   Gifford says that his time in high school has taught him a lot about how to stay focused and what it takes to do well in class. Many of his peers and teachers have applauded his solid work ethic, but that doesn't mean he'll let go of his favorite pastimes in college.
   "I like to go mountain biking," Gifford said. "It's really fun because one slip up in the forest with the right speed and you could have a serious injury. It's the same kind of adrenaline rush as theme park rides."
 Monica Moeller
   There is one thing that has always been in senior Monica Moeller's hands ever since she first walked into LHS four years ago: her camera.
   Moeller started out in Julie Miller's Intro to Photography class freshman year and landed herself in Miller's AP Studio Art class her senior year, one of the most advanced photography classes LHS has to offer.
   "Dr. Miller has really pushed me to be the photographer I am today and helped expose my artwork in professional photo galleries all over the state of Missouri," Moeller said.
   These classes also helped Moeller land a position on yearbook's PhotoJay staff.
"I have found that the biggest difference between my studio photography and journalistic photography is that for PhotoJay I am taking a lot more pictures of students, staff and events while studio photography is more scenic and landscape pictures," Moeller said.
   Being a part of PhotoJay gave Moeller the opportunity to do a lot of things she may not have done otherwise. She has attended a lot more sports games and other events throughout the school year and has been able to meet and become close friend with a lot of students.
   "This school is pretty big and there are people you see everyday in the halls that you don't know," Moeller said. "Being a part of PhotoJay helped me finally meet and get to know those people."
One new face Moeller has been able to get to know well is yearbook adviser, Jessica Cordonier. Moeller identified "Mrs. C" as one of the most impactful teachers in her high school career.
   "Mrs. C has taught me it's okay to let go sometimes and just focus on myself," Moeller said. "She helped me realize it's okay to reach out and ask for help from others when you are stressed out. She makes me and everyone she meets feel welcomed and loved."
   While photography was a constant for Moeller, she sees herself going into the medical field after high school.
   "I'm wanting to stay in Liberty for a semester and then going down to Springfield to attend Missouri State University," Moeller said. "I don't know what exactly in the medical field I see myself in just yet, but with the help of Missouri State's amazing medical program, I will hopefully be able to figure out what path I'm meant to be on."
   Moeller is able to look back on high school and identify the lessons she learned.
   "My advice is to not care about what other people think of you; go ahead and do your own thing," she said. "At the end of the day people are not always going to like what you do and believe it or not that is okay. Seeing people that you grow up with in elementary and middle school branch out and change helped me also realize that people mature at different rates, do different things, and find their niche. The sooner you can find where you belong and what makes you happy, the better high school and life are going to be for you."