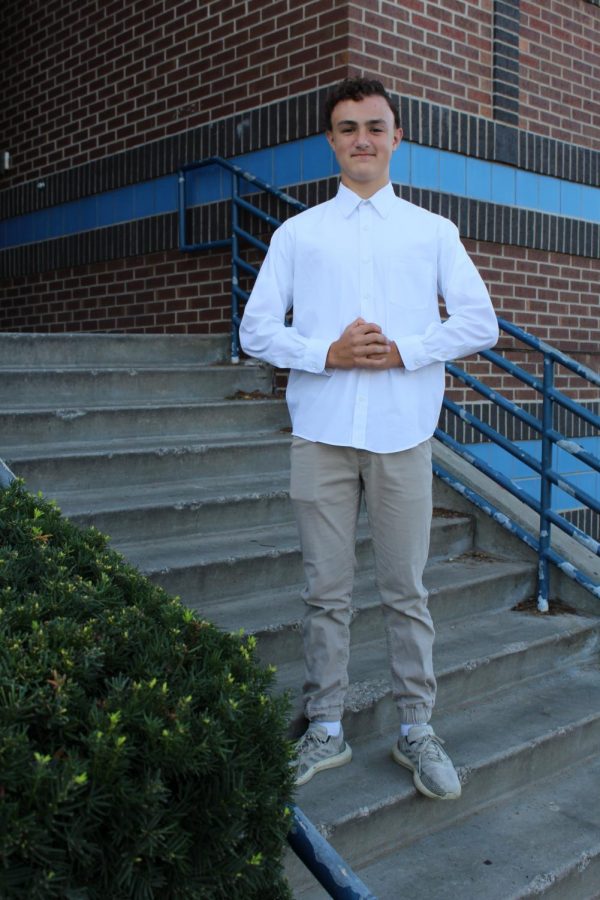 When you first look at freshman Shane Bass, he may seem like your average teenage boy. He enjoys playing video games, especially ones involving strategy and survival techniques, and participate in athletics. But when you get to know him, you can notice he also enjoys taking a trip back in time.
"My favorite time period is the World War One and World War Two era," Bass said. "I think it is just interesting politically and with the new technology that arose during that time period."
Bass allows enjoys an all-American pastime and favorite, football. He has been playing since his eighth-grade year and plays the offensive position of an offensive lineman and the defensive position of safety.
When he is not on the field or playing video games, Bass can be found hanging out with his friends.
"In my free time I like to go out with friends," Bass said.
Bass joined the newspaper because of the mentality he saw there and his enjoyment of writing.
"I thought it would be a chance to write more," Bass said. "I really like writing, but I like the historical fiction genre."
Driven. Motivated. Goal-setter. Three words that help encompass Bass's personality and how his mind operates. His goal for the year is to achieve and maintain a 4.0o GPA, as well as look for new opportunities. He likes a group spirit and mentality, and he uses his driven nature to further his present to open more doors in his future.
"I think what makes me unique is that whenever I start doing something tedious, I still want to get it done. To where it is fully done, even overdone."
Shane Bass, Reporter
Mar 02, 2020

Freshman Mako Chirisa

(Story)

Jan 31, 2020

The Streaming Service Choice

(Story)

Dec 20, 2019

Lending a Hand in the Library

(Story)

Oct 31, 2019
Oct 01, 2019

Sophomore Jessica Giles

(Story)