ACEing It
This club teaches about Architecture, Construction, and Engineering.
The students of ACE Mentoring have a special guest. He is a structural engineer who works on NBA, NFL and NHL stadiums. He talks about loads and structures. When he's done, the club members get to build towers out of paper and weigh them down with books to see if they understand the speaker's concepts.
Architecture, Construction, and Engineering Mentoring Club (ACE) is for any students interested in the previous topics they meet every Wednesday in room 30 after school.
"We have architects, engineers, and people who do plumbing talk to us about what they do," co-student club leader senior Max Herrera said he explained that the professionals who come in don't just talk.
  "They give a presentation and we do activities on what their specific type of engineering is," co-student club leader junior Tyler Warner said.
Club sponsor Gary Pierson likes the aspect of real professionals challenging students.
At the end of November, they're going downtown for an ACE competition where they design a project, and judges grade it. Last year they won best overall out of the other clubs involved
Touring buildings is not just a fun trip, learning about the structure is also at the forefront.
"Last year we toured a building that was in process. It was a healthcare facility going in Overland Park." Peirson said "We got to meet with the foreman, and talk about the process they were going through at the time. The foreman gets to give the kids a glimpse of what it's like to be on a job site on a regular business and all the decisions they have to make as changes come up."
The club also gives scholarships to students involved in ACE Mentoring.
"If you're a member of ACE Mentoring you stand a pretty good chance of winning one of those scholarships." Peirson said "If you're thinking about studying architecture, construction or engineering, it's beneficial for you to be apart of this club. The stories, the information that the architects and engineers pass on to the kids is really invaluable for planning where they're going after high school."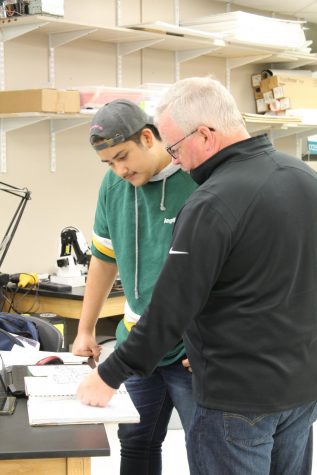 Scholarships are one way the club helps but meeting the architects and engineers help you meet people in the field.  "This club has been super beneficial for me." Herrera said "Thanks to ACE mentoring I'm currently getting an internship at HOK, architects which is one of the biggest architecture firms in the world."
Joining the ACE Mentoring club is not hard to do and they welcome new members.
"To see them get to learn from professionals is really amazing and it's one of the things that I really appreciate about this club. I really am just facilitating and just giving them a place to meet, and I get to learn alongside the students as we hear from the architects and engineers." Peirson said.