Senior Phillip Cleary
Cleary expresses his love for cross country and orchestra.
Cross country is a big part of Senior Phillip Cleary's life. He started his journey during freshman year when the seed for running was planted.
"I was a soccer player freshman year, and I liked soccer but I wasn't that great at it," Cleary said. "I enjoyed it, but I was discovering that I was good at running. I also had some friends who were in cross country who convinced me to join and I liked it from there. I felt like I was a little bit gifted toward running and I'm not that coordinated."
Cleary loves running cross country, but running isn't the main thing he loves about it: it's the team.
"You always have a great group of guys wherever you go in high school, I love the team," Cleary said. "We have a great team and we are all dedicated to working hard and the team aspect is the best part of it."
Cleary is always trying to better himself in all aspects of his life. His friend and teammate, senior Adam Malisos sees this in Cleary's running career.
"He's a really hard worker, especially in the offseason," Malisos said. "He's always looking forward to the next season and trying to see what he can do to better himself so he does better than last season."
Cleary has had life-changing experiences throughout his cross country career.
"I would say I've definitely learned a lot about not just doing hard work, but enjoying hard work," Cleary said. "In season we work hard, but it's always a blast. I think one of the best things is that everyone is so positively focused on working hard and doing their best."
Cross country isn't his only passion. He also enjoys playing his cello.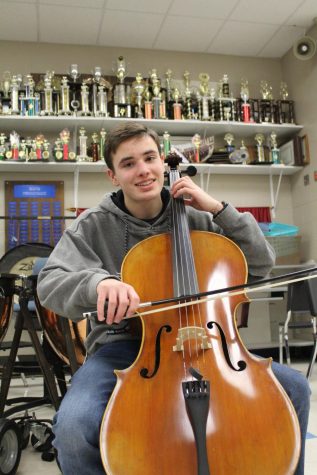 He has been playing the cello since the 5th grade. Even though he's been playing for so long, he still doesn't consider himself an expert.
"There are people who spend their whole life in an instrument and get really good at it," Cleary said. "I feel like I'm pretty good, but you can get so much better."
Orchestra has taught Cleary many lessons he implements into his life every day.
"I think that orchestra is nice because you get what you put into it," Cleary said. "In orchestra, you have to be reactive, you can't shut down. You have to be able to react well to whatever is happening."
Cleary's friends have been with him for many years and have seen great things in him.
"He's always a happy guy and he always brings up the level in the room." senior Connor Looney said. "He's never angry."
He is always there with a helping hand for his friends. Cleary has also helped Looney out with school and is there for him when he needs it.
Cleary is a teacher's assistant for history teacher Daniel Loomis.
"He has helped me by being a role model for other students and providing anecdotes about high school for other students," Loomis said.
Cleary has one piece of advice he wants others to know.
"Work hard at whatever you're doing, but take time to enjoy it too," Cleary said.