Junior Anastasia Reed-Comeaux
Reed-Comeaux displays her passion for engineering.
Junior Anastasia Reed-Comeaux is soaring through high school leaving no page unturned.
She describes herself as a hands-on learner. This may be a reason this is her second year in Technology Student Association (TSA.)
"My favorite thing about TSA is that it's challenging," Reed-Comeaux said. "Everyone gets to choose an event they work on year-round and there are pretty cool competitions like computer programming or song composing."
She has found where she belongs TSA, but she also joined Flight club, Book club and National Honor Society.
Although this is her first year of Flight club, you can typically find her at more hands-on work: building drones or reading schematics.
"I entered into a competition called Aspiration in Computing for girls interested in computer science," Reed-Comeaux said. "I'll get the results sometime next week."
By winning this competition, she could earn scholarships and internship opportunities.
"When I graduate, I'm planning on being a computer software engineer and eventually becoming freelance or maybe starting my own business," Reed-Comeaux said.
In her free time, she listens to music, spends time with her family and loves to reads.
"My favorite thing about Book club is just being able to talk with people about books and giving as well as receiving recommendations on what to read," Reed-Comeaux said.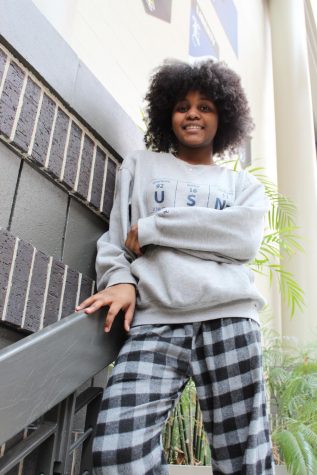 If she was given the opportunity to ask a question to any person in the world, she would pick her favorite author, Sarah J. Mass, who wrote the Throne of Glass series.
"I'd ask if she could make the series into a show or book or something because I need more of it," she said.
Junior Diego McDonald has known her for nine years and they are in book club together.
"My favorite memories of Anastasia would be all the times we have stayed up and laughed at stupid stuff," McDonald said. "She's the best person that I know. She makes me smile when I'm sad, laugh when I'm mad and overall accepts me for who I am,"
Industrial technology teacher Gary Pierson has only had Reed-Comeaux in class for a year but can already see how she excels.
"Anastasia brings in a positive attitude every day, a motivation to learn that is in a lot of cases head and shoulders above her peers, and wonderful attention to detail," Pierson said, "She has an educational maturity beyond her years."
One reason for this might be because she is a member of a large family. She is the middle child out of nine.
"My favorite thing about having a big family is that I'm never alone," Reed-Comeaux said. "I always have someone to talk to or hang-out with."