Senior Elijah Nash
Nash's personality lights up on and off the stage.
Senior Elijah Nash has used his experiences to learn to expect the unexpected and to deal with whatever comes his way.
"My biggest learning moment is that you can never prepare for everything," he said. "It's very weird, but I think, especially when I was going into high school I was like I'm going to do this and I'll be like this and by my senior year I'll be this. So many things have changed since then, so many things I didn't expect. One of the biggest lessons I had to learn was picking up the pieces when they fall apart."
Nash has taken charge of his life and has decided to follow his own path.
"I think what makes me unique is the fact that I came from a long line of family members who did sports and things like that," Nash said. "Then I branched off that. Being myself, I did theater. I think that a lot of times I've tried to follow other people and I had to learn in high school that I have to follow myself. I think that one of the biggest things that makes me, me is I have the ability to branch off from other people and to be myself and work on different things that suit me."
Nash's dedication to being himself has touched the hearts of his teachers.
"I was listening to the radio on my way home from work and the song 'Be Bold Like Elijah' comes on," theater and forensics teacher Mick Turpin said. "I immediately think of Elijah Nash, not only because of his name but because he makes bold choices both on and off the stage. It has been an absolute joy seeing Elijah grow over the last several years and I look forward to seeing how he continues to succeed in his life after LHS."
Nash's dedication to being himself has touched the hearts of his teachers.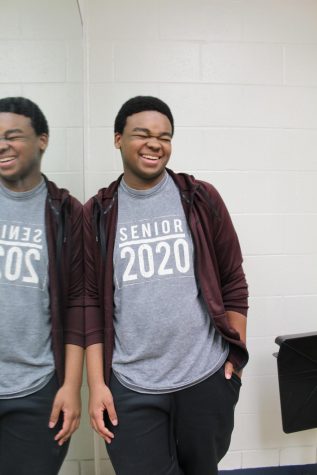 While theater is a big part in Nash's life, he is involved in other activities. At school, Nash is in the National Honor Society and is a student ambassador. Outside of school, Nash participates in theater productions and his two other loves: music and technology.
"I enjoy technology a lot and I've built my own computer," Nash said. "It took me a while to get all the parts. Once I had all of the parts together, I was able to start building Sunday afternoon and finish Sunday night. It took me a bit because I'm a bit stubborn and I didn't want to Google instructions, so I figured it out by myself."
Nash has a love of writing and listening to all types of music.
"Whenever I listen to my Spotify playlist, it is a mix of music," Nash said. "I like a lot of 80's and 90's music. I like any type of music a lot of times. I just listen to whatever is on the radio. I don't have a favorite artist. There are multiple times where I'm like 'I love this album' then I listen to it for three months then I stop. I always listen to different types of music and I can just never fall in love with one, I fall in love with many."
Nash surrounds himself with different types of people. He cares about people in a way that fits each person best.
"People should know that Elijah is one of the kindest and most genuine people I've ever met," senior Jackson Wheelhouse said. "He truly cares about everyone and everything."