Ethan Griswold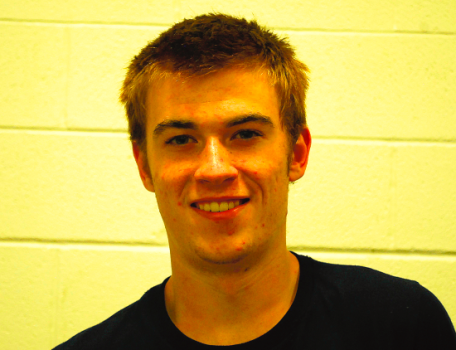 Armillio- "Ethan has been a quiet kid but as he has grown up on the baseball field and in class he has become a quiet leader and we will be expecting a lot of things from him this year on the baseball team."
Travis Geier- "Ethan is really dedicated to his work and working on his car."
Sam Arant- "We knew each other in preschool and we didn't actually meet until 9th grade and we are both big car guys, so anytime my car breaks down he's always there to help."
What position are you on the baseball team? And which team are you on? How many years have you played baseball?
"I'm a pitcher on the varsity team.  I have played for 11 years"
What else do you do besides baseball and school?
"I work at the McDonald's by Wal-Mart."
What's your position at work?
"I'm the front line, I get to talk to people, and it's fun.  I get a lot of nice people and a lot of not so nice people, which is not always the best."
How long have you worked there? Do you get paid a lot?
"About two months, and no I get paid minimum wage."
What's your favorite color and why?
"For right now, orange because I'm getting ready to paint my car soon orange."
What kind of car do you have?
"I have a Camaro, it's an older Camaro, like 70's."
What's your favorite professional baseball team?
"I'm gonna have to go with the Royals, I'm a hometown fan."
Do you like any other sports?
"I like to play other sports but I don't like to watch them."
Do you think you have a competitive nature?
"Oh, yeah. I think I do."
What's your favorite class?
"Last year, I had physics with Fairchild and I really liked that." 
Do you know what you are going to do after school?
"No, I don't really know but I'd love to keep playing baseball."
Are there any colleges scouting you or you are looking at to play baseball?
"I've talked to MU, KU, K State. I really want to go to K State. Manhattan, Kansas is a great place, it's so small."
If you were to pick your dream car to work on what would it be, other than your own car?
"That's a tough question, there's a lot of cars. I'd probably pick a 70's Chevelle."