Art Smart
Liberty instates first National Art Honor Society chapter in the district.

   On October 20, the National Art Honor's Society made its debut. Art students from all grades see the new approach the society takes on artistic creativity. Many enjoy the club because they get recognized for their work while sponsors believe it is great to have something outside of class for artists. Artists get inducted by getting chosen by their art teacher and nominated for the club.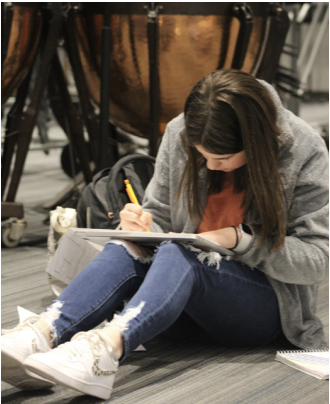 "I wanted to provide an opportunity for students to have exposure to scholarships and be able to go to a higher level because they can get published in the National Art Honor Society magazine, and they can apply for scholarships that are only available for those students," Miller said.
     Co-Sponsor Julie Miller is a Visual Arts teacher and enjoyed starting NAHS. She started this club to give students a creative outlet and have it beneficial to them to get awards for their artwork. To start this club she had to get enough people to want to join and they had a fantastic turnout on their induction and many from all grades wanted to join when receiving an invitation. 
   "It's very collaborative on what we're going to do for the club and what activities we're doing. So that's always been really fun to pick out," President Maegan Erickson said.
    Art isn't the only opportunity in this club but also being able to get experience planning and coordinating meetings is a skill that will improve their leadership skills early in life. 
"
It's just a fantastic opportunity to be around other kids that genuinely enjoy art and want to make our school beautiful,
— junior Piper Lee
   "It's really nice to have something that's not a class where you can be with like minded people that have the same interests as you, and it's just a fantastic opportunity to be around other kids that genuinely enjoy art and want to make our school beautiful," junior Piper Lee said. 
   This club has been instated in high schools throughout the country, but it is the first chapter in the district. In order to join NAHS, students have to be in an art class and keep at least a B average. If those interested in the club have met the requirements, talk to Julie Miller to get involved. 
    This club is meeting in the band room currently on the second Wednesday of every month to share ideas and learn about the upcoming projects they are working on which include painting the crosswalks here at our school.
Are you a member of the National Art Honors Society?
Sorry, there was an error loading this poll.
Leave a Comment