A Journey to Beneficial Health
Gen Z turns over a new leaf and finds a beneficial and healthy new passion in physical activity.
   From New Year's Resolutions to social media influences, over 50% of Americans are hoping to exercise more in the new year. The gym can be a way to improve physical and mental health by improving brain, bone and muscle health. It also helps ease depression and anxiety that can enhance a sense of well-being. 
   "I originally started going to the gym because I wanted to gain more muscle, and I had friends that had been going, so I thought it would be fun," junior Dawson Harmon said. 
According to the Center of Disease Control(CDC), "Regular physical activity is one of the most important things you can do for your health. Being physically active can improve your brain health, help manage weight, reduce the risk of disease, strengthen bones and muscles, and improve your ability to do everyday activities."
       "When I go to the gym, I'm able to release stress, get stronger and grow as a person," Harmon said.
   Harmon goes to Genesis in Liberty. All gyms can be beneficial, but it is hard to find the right environment which creates a positive environment.
   "Everyone is there with different short and long term goals. Everyone there is always looking to help others with their progress in any way they can," Harmon said. 
   While Harmon joined the "gym life" organically, junior Ava Hood did so as a New Year's resolution.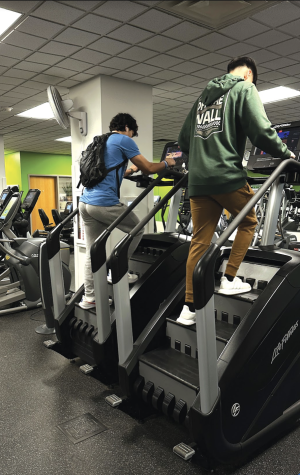 "I had a close friend that has been going for a couple months now and she invited me to go one day, and I fell in love with it," Hood said. 
   Like Harmon, and many other gym-goers around the world, Hood found a positive gym environment to be incredibly beneficial. 
   "Everybody in the gym is in a different place in their fitness journey. It is great to have someone you know, or even a stranger give you tips to help boost you in your journey, or to even help you progress in something you have struggled with," Hood said. 
   To get involved in the physical activity trend, check on gyms like Genesis for $62 a month open 24 hours a day. Eagle Fitness has a membership of $30 a month and is open from 4 AM to 11 PM. Also, Planet Fitness membership is $10 a month and is open 24 hours.

Leave a Comment