Calling All Gamers Among Us
The online and mobile game "Among Us" is gaining popularity with LHS students.
 Over the past few months, the 2018 online and mobile game "Among Us" has started gaining popularity among teens. Whether the COVID-19 pandemic is to blame or simply a coincidental mass approval of the game, many students have played in their free time. 
   189 students responded to a poll sent by The Bell in late October asking student opinions of the game. Out of 189 students, 173 said they do currently play "Among Us" while only 16 said they do not.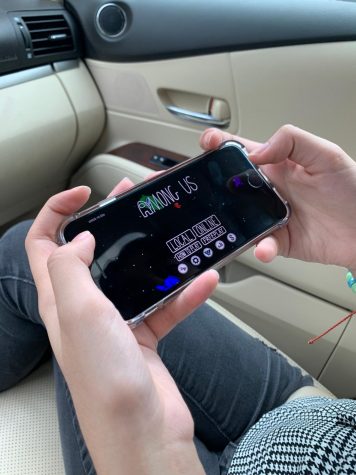 This space-themed game is centered around social deduction. With a minimum of four and a maximum of 10 players, the majority of the players, or the 'Crewmates,' must complete small tasks while trying to figure out who the killer or the 'Imposter' is at the same time. There can be a minimum of one or a maximum of three Imposters in every game. If the Crewmates complete all of their tasks or vote out all of the Imposters, they win the game. But if the Imposters kill enough Crewmates before that happens, they win. The game allows players to chat with others in order to try and solve the mystery.
   Many responders from the poll said they liked the game because of how simple it was. They also appreciate the repetitive nature of the game as well.
"I never get tired of it and it's just really fun to play," freshman Angelina Wilson said. "Most games get boring really fast but I can play it for hours and not get bored."
   Part of the reason why students find the game so entertaining is because they can practice their detective skills. Players who are Crewmates have to use their deduction to find out who the Imposters are and who is innocent.
   "It's fun to play with a group of friends," freshman Natalie Swanson said. "It's also fun to interrogate your friends."
   They also get to test their ability to lie. Players who are Imposters have to be good at lying about their locations and alibis. They also have to trick the other players into voting each other off of the game. 
   "It shows how good you can lie and convince people to think other things," junior Bre'Aysha Brown said. "Kinda like a mind game."
   With this online murder-mystery gaining popularity again, students have a way to sharpen their deduction skills, play with friends and have fun. 
Leave a Comment