Senior Brynn Baymiller
Senior Brynn Baymiller shares her passion for dance and plans for the future.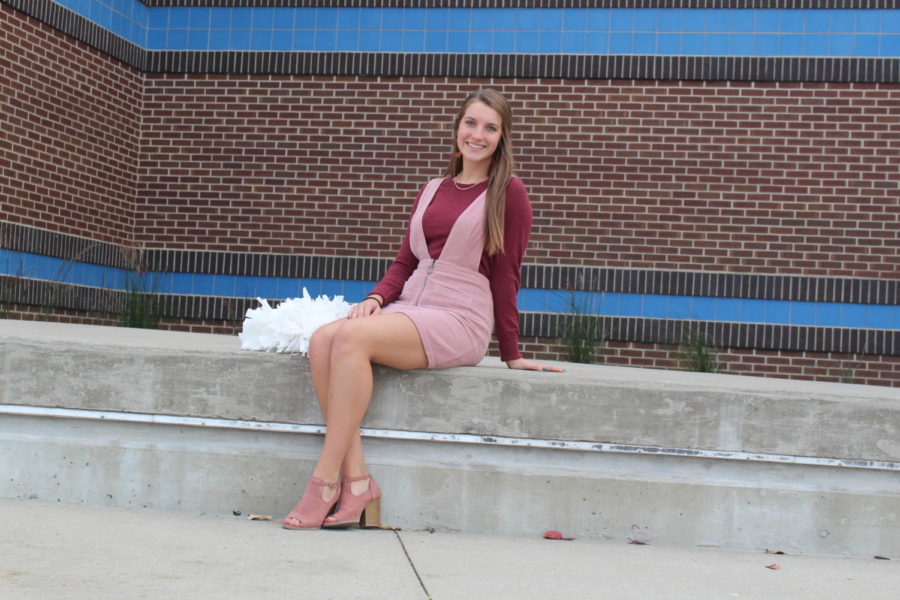 It's likely you've seen senior Brynn Baymiller covered with sequins, dancing with the Sapphires, but there is more about her than what meets the eye.
She has been dancing since she was two and competing since she was four. However, she prefers the school dance team over studio dance.
"My favorite part about Sapphires is the bond I have with my teammates and performing at football games," Baymiller said. "Our team is super close and we have a lot of trust in one another. I have 14 built-in best friends and this year I get to lead them as a captain."
Baymiller's biggest passion is dance. She loves performing at football games during halftime.
"It's really exciting to perform in front of a huge crowd under all the lights," Baymiller said.
She looks up to her school dance coaches, Coach Maggie Willis and Coach Courtney Klepper.
"They are like second moms to the team and they do so much for us every day," Baymiller said.
Baymiller and senior Josi Frigon have been best friends since they were in eighth grade trying out for the Sapphires together.
"She always knows how to cheer me up," Frigon said. "We can laugh at the same thing together for hours. She is not afraid to have fun and be herself."
Wanting to help others is something Baymiller is passionate about and Spanish teacher Abra House commends her for that.
"I think she's dedicated to whatever she's doing," House said. "She's always positive, always has that sparkle and light about her. If you're having a bad day and Brynn comes to see you, you feel better."
Baymiller also shows her passion for helping people through her involvement in a Christian organization called YoungLife outside of school.
"YoungLife is where high schoolers get together on different nights throughout the week and hangout and talk about life together," Baymiller said. "It has brought me a lot of great friends and is a great community."
She is also involved in National Honor Society, Spanish Honor Society and Young Republicans. Along with these clubs, Baymiller challenges herself academically. lllThis year, she is taking many AP classes including AP Literature, AP Statistics, AP Psychology and AP Biology.
She enjoys the challenging concepts she learns in class and the interactivity of them as well.
"I've been in PEAK and gifted classes since I was in third grade," Baymiller said. "AP classes allow me to stay in touch with a lot of the same people I have grown up with since elementary school."
After Baymiller graduates, she plans to go to the University of Arkansas or the University of Kansas for Pre-Med. She hopes to go to medical school to study gynecology.
"I have a passion for helping women so I think this would be a great job for me," Baymiller said.