Returning to Familiarity
Young adults in the community rewatch their favorite childhood T.V. shows to regain a sense of comfort during uncertain times.
   Flipping through television channels. The bright lights and sounds of the latest and greatest T.V. show or movie popping out as it becomes increasingly difficult to decide what to watch. The sheer amount of choices is overwhelming. Is a comedy or an action movie the best choice?
   Over the last few months, young adults across the world have been rewatching shows that they loved during their childhood on various streaming platforms due to the increasing sense of anxiety because of the pandemic. The proof lies in the numbers. According to Statista.com, there were 129.8 million people worldwide subscribed to Disney Plus in the first quarter of 2022. The platform is characterized by its high amount of TV shows from the early 90's and early 2000's, which many people continue to stream since they are so nostalgic and remind them of a better time in their lives.
   "They were simpler times and we had less responsibilities, less things to worry about," junior Cade Ranum said. "It's just a lot more fun to think about nostalgic things, like Blue's Clues and Spongebob,because you have such a fondness for them, and you can always go back to them to feel happy."
   This is the experience people face when they decide to rewatch or look back upon their favorite childhood shows. The nostalgia television and memories of childhood can offer to stressed-out, anxious young adults during a time of great uncertainty is an opportunity too miraculous to pass up. According to the American Psychological Association, nostalgia is such a strong emotional experience because it motivates us to remember the past in our own life. It helps to unite us to that authentic self and remind us of who we have been, then compare that to who we feel we are today. 
   "Nostalgia is important because it allows people to recall some of their favorite moments from watching their favorite T.V. shows," sophomore Cooper Poitras said. 
"
Nostalgia is important because it allows people to recall some of their favorite moments from watching their favorite T.V. shows."
— sophomore Cooper Poitras
   According to Vogue.com, returning to old favorites, rather than facing the unknown, has become the preferred coping mechanism of those struggling during the pandemic. London-based psychological coach Lucy Spicer stated that the familiarity of shows people loved provides them with a necessary feeling of familiarity, greatly reducing their anxiety.
   "Sameness and repetition can help reduce anxiety as we can have an existing knowledge of how things are likely to be and, in turn, dial back uncertainty and worry," Spicer said. "We can watch what we know over and over again without any surprises, thereby giving us the control and predictability we need in an unpredictable global situation."
   Despite the reprieve rewatching television popular during their childhood can offer, many people choose not to relive the experience of watching them, in fear of embarrassment or judgment. There are those who claim that these shows are only for children, and therefore adults should not waste their time engaging in them. 
   "The neural activity activated by rewatching a T.V. show that we like causes the release of feel-good chemicals, like dopamine, and we are left with that warm, soothing feeling in our bodies," Spicer said. "Our brains like to make paired associations, which means that when you watch something specific, it can remind you of a particularly happy time in your life and re-evoke some of the happy emotions you felt at that point."
      Furthermore, Spicer went on to explain how it is far less cognitively demanding to watch something people are familiar with than to watch something for the first time. Many shows popular amongst young adults, such as "Grey's Anatomy", adapted their plotlines to discuss issues related to the pandemic. However, this was incredibly triggering for a large portion of its audience, and many people found themselves choosing to return to the magic of their childhood. 
   "I think rewatching T.V. shows from when we were kids helps people remember that they were young once before and they have something to hold onto," freshman Cailyn Steelman said.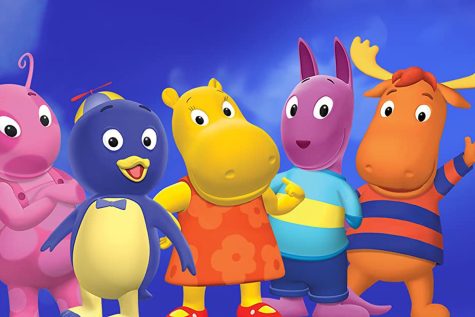 The rise in nostalgia has not gone unnoticed. In fact, it almost appears as if little has changed at all. Studios and streaming services, such as Disney Plus, have rebooted old franchises, evident in movies such as the recent hit, "Cruella", which dives into the origin story of the well-known villain from "101 Dalmations". According to a poll sent out by the LHS Bell, many of the most popular childhood T.V. shows among students in the school include "The Magic School Bus", "Curious George", "Sesame Street", "Blue's Clues", "Teen Titans"and "The Backyardigans." Senior Elle Evans consistently watched Blue's Clues as a child and loved the show. When she saw its former host Steve released a message on Twitter directed towards teenagers, she was filled with a sense of comfort and nostalgia. Many were brought to tears upon hearing Steve's words: "I never forgot you — ever." 
   "I remember loving "Blue's Clues" and I loved Steve," Evans said. "When I saw his message on Twitter, it was really emotional. It made all the kids who watched Blue's Clues when we were younger really happy just to see him again."
   It is important to remember there is no age limit on reliving the magic of the past. If anyone would like to revisit their favorite childhood T.V. shows, they can find many of them on popular streaming services, such as Disney Plus, Netflix, Hulu and more. Subscriptions for Netflix range from $9.99 a month to $19.99 a month, depending on the purchase of the basic, standard or premium plans. Disney Plus is $8 a month. Hulu's prices range from $6.99 a month for ad-supported plans, and its no-ads plan is $12.99 a month.
Returning to Familiarity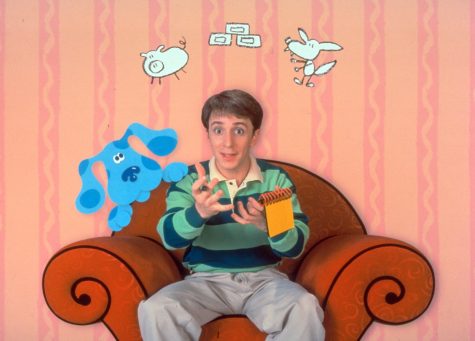 Sorry, there was an error loading this poll.
Leave a Comment