Senior Brooke Eastvold
She "designs" her way forward with digital artwork.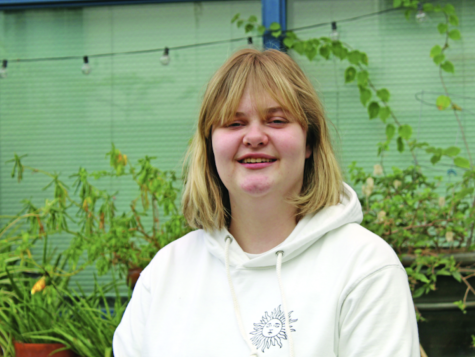 The Russian painter Wassily once said, "There is no must in art because art is free." For senior Brooke Eastvold, this state of freedom is what allowed her to discover the art medium she loves: digital artwork.
   As a digital artist, Eastvold enjoys using graphic design to express her creativity.
   "I'm not a big fan of realistic artwork, and since I'm mostly interested in digital artwork, graphic design was the way to go," Eastvold said. "I did it freshman year and I liked it, so I stuck with it. Then I took advanced and AP, which is what I'm in now." 
   Eastvold has found her artwork being published in publications, like LHS' Kintsugi Literary Magazine and elsewhere.
   "I actually won an art competition. One of them was in middle school, it was called PTA (National Parents and Teachers Association). The other was in graphic design II; I actually won the Cool Science [competition]. My artwork is on a bus in Massachusetts and Kansas City."
   PTA hosts a competition called National PTA Reflections. Students submit original works of art in response to the theme of the year via the available arts categories: Dance Choreography, Film Production, Literature, Music Composition, Photography and Visual Arts. Eastvold won the 2016-2017 competition themed: What Is Your Story?
   Cool Science is an organization with the goal of improving public understanding of climate science. Students create a piece of art which answers questions about extreme weather, with winning entries being put on display on bus transits. Eastvold won her sophomore year in 2020 and had her artwork displayed on four Kansas City Metro buses.
   "Immediately, I could tell that she was a talented artist," Graphic Design teacher Andi Morris said. "She was always ahead of the deadlines because she would work outside of class on her designs….it was very evident that art was her passion. Her work was always very creative and her craftsmanship was perfect."
"
Immediately, I could tell that she was a talented artist.
— Andi Morris
   Eastvold's digital art skills are used in her AP Art and Design class and for her commissioned-based artwork. People can reach out for commissions on her Instagram: Pozybee.
   "I usually start with a sketch, then I put lines, then I color it," Eastvold said. "I mostly use media I'm interested in at the moment [for inspiration]. It can vary from looking at Pinterest or Instagram artists that I follow. When I was younger, I really liked anime, which inspired my art style."
   Eastvold plans to continue her career as a graphic designer by attending the University of Central Missouri and majoring in graphic design.
Leave a Comment