Freshman Grace Wratchford
Wratchford follows her passion of modeling and golfing.
Students sometimes have trouble fitting in and figuring out what they want to do, especially incoming students who are new to high school. Freshman Grace Wratchford has figured out exactly what she wants, which is improving as a model.
Camera lights started pointing at her at a young age. She discovered that with modeling, you don't just pose and look pretty, you have to prepare.
Wratchford takes debate to help her with her modeling career. She's taken her practiced skills from class and translated them to television commercials for Worlds of Fun, Spira Care, St. Luke's, Medical Care and Children's Mercy.
"If it's for a commercial, I have to get lines ready so they see that I don't stutter over my words," Wratchford said.
She decided something new and fun to try at the high school level was sports, which helps with her modeling career too.
"I want to try pole vault just because I think I have enough speed and leg power to get myself over. It sounds like a fun thing to do," Wratchford said.
Wratchford was involved in track last year with her best friend, freshman Taylor Coonrad. "She's a good teammate," Coonrad said. "She will push you and try to get you to do better." Wratchford is involved in golf here at LHS as well. This year, she made JV.
"I've been doing golf since I was ten with my dad, and this year I went out for the team and I was surprised I made JV," Wratchford said. "I went up to two varsity tournaments. My favorite thing about golf is all the relationships I've been able to make. I didn't think that I would make friends with upperclassmen but I'm really happy that I did."
Upperclassmen aren't the only new friendships she built-in golf, coaches as well.
"Golf practice is really fun especially with Coach Burt by my side, he always makes me laugh," Wratchford said.
Next year, as a sophomore, she would like to try to make the varsity golf team.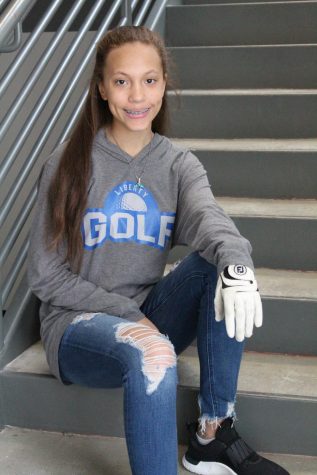 "I'm in a golf program at Shoal Creek called Youth on Course," Wratchford said. "I golf there when it's nice enough outside but because it's winter right now, it's hard. I get to golf with my coach and he helps me improve so that next year I can take the number one spot."
Wratchford sets high standards for herself and tries to get into as much practice as possible to achieve her goals.
Her gym teacher, Stan Grosdidier, enjoys having her as a student.
"She is a joy to have in class, works hard every day and cares about getting better in the weight room," Grosdidier said. "She asks questions as to 'why' we are doing certain lifts or drills. She has a great personality. She is fun to be around and enjoys conversation."
Wratchfords main goal is to improve and go places with modeling.
"For anyone that is thinking about going into modeling, remember that you don't have to be perfect at modeling," Wratchford said. "It's not about being the perfect person. It's about having a really great personality and being really good at communicating. It's not all about looks."