Opinions: Let's Relax
Journalism students share opinions during quarantine about Disney+, Joe Exotic, Minecraft, music, books and more.
Impossible Choices
by freshman Madison Dolato
Sweat drips down my face as I frantically hit the up and down arrow on my remote. I start to panic. 
I don't know what to watch.  
This is all a joke, but the pressure is real when trying to figure out what to watch next during this pandemic quarantine. There is so much to choose from, it's impossible. 
Animated isn't my jam, I prefer real life and realistic shows. There are some exceptions to that though, Cinderella, Cars, The Little Mermaid, but not many movies pass. 
"
I used to run around my house to get a drink or grab something as fast as possible so I could get back to the tv before the commercials ended. "
With me, the action genre is my preference. Marvel and Star Wars are a favorite. Princess movies are great, I enjoy those.  
"And you're watching Disney Channel," I hope that line sounds familiar. The big Mickey ears appear on the screen. 
Disney channel original movies like Teen Beach Movie and Lemonade Mouth should never be forgotten. I have not watched all of the High School Musical movies though. Wow…I think I just heard a gasp from some peers.
Episodes upon episodes of Jessie, Good Luck Charlie, and Austin and Ally, Kickin' it, and Lab Rats., and so many more series. 
I don't know what to watch. 
I think the 2010s were the best years for Disney, but that makes sense, that is what I grew up with. The things of Disney then were iconic. 
To this day I still have the words and songs of Teddy Duncan, Jessie Prescott, and Austin Moon stuck in my head. If you don't know who they are, well, I think you need to watch more Disney. 
Since the 2010s when I was sitting in front of the tv at the specific time of my show, now a few things have changed. In those days, there were commercials, now we don't have that as much. 
I used to run around my house to get a drink or grab something as fast as possible so I could get back to the tv before the commercials ended. I could not miss anything, even though I have seen the episode many times before. 
Pause, play, rewind, record, haha the technology we have now…goodbye commercials. 
This idea of creating Disney Plus was genius. Smart move Disney, you have created a Netflix full of nostalgia for many generations of people. 
There is so much to choose from I resorted to a list, so I don't forget about a great show that was part of my childhood. 
As I sit here, listing of shows and movies, I am still clueless. I don't know what to watch. 
Your Life Matters. Please Believe That: A Pep Talks Album Review
by freshman Addie Vallier 
The 2019 album Pep Talks by Judah & the Lion is unequivocally important. This is the only album I've ever shared with others that has been universally enjoyed. At once gut-wrenchingly honest and laugh-out-loud witty, the album is somehow both heartbreaking and uplifting. And the story behind it even more so. 
2017 saw the band reach levels of success they'd never dreamed of when "Take it All Back 2.0" hit #1 on Alternative charts – and stayed there. With the release of their full length album Folk , Hop N' Roll, and the further success of songs such as "Suit & Jacket" came much deserved media attention. The 3-man band toured with artists such as Twenty-One Pilots, Mat Kearney, Ben Rector and Jon Bellion, and even headlined a national tour of their own.
Front-man Judah Akers seemed to bring unprecedented amounts of energy, joy and vibrancy to the stage. Anyone could see his love for performing. But no one could see what was going on beneath the surface. 
During the tours, Akers' personal life was falling apart. The singer's family had always been central to his life. So when his parents' divorced, Akers' world was rocked, and his mental health deteriorated. As he says in Pep Talks, "A parent's heartbreak is a child's demise of all the hope they knew inside and I don't really know what to do." 
"
At the same time, his aunt died, and his mother struggled with alcoholism, which left Akers going through, as he described it, "my own personal" darkness. "
At the same time, his aunt died, and his mother struggled with alcoholism, which left Akers going through, as he described it, "my own personal" darkness. 
Pep Talks is that story: how Akers "walked through…that darkness…and came out the other side," as RELEVANT magazine's Jesse Carey puts it. 
Akers kept his pain hidden for a long time, until he realized that honesty could be cathartic. The result was Pep Talks, which he says is meant to show, "Your story matters so much, but your story doesn't define you. At the end of the day, you get to define your story." 
The album was not only cathartic for Akers, but for me and many others as well. It delivers a dose of pure honesty, pain but also, ultimately, hope. In our everyday, social-media lives fuelled by aesthetics and lies, we sorely lack substance. Pep Talks brings that to the table, and more. If you give it a listen, (all the way through, in order of course), I promise: it will change your life. That's a guarantee. 
Top Songs
Although I enjoy every song on Pep Talks for different reasons, I thought I'd share some of my favorites.
The album begins by setting the stage of Aker's struggles and trauma. The story seems unrelentingly painful. I remember thinking to myself, "Boy, I could really use a happy song right about now." About halfway through, it happens: in an energetic jolt, the tables are turned on us, the listener, and we are made to see the joy, brightness and beauty that occurs in the midst of (or despite of) tragedy. This half aches with HOPE. Capital letters, HOPE. Both halves of the story are equally important. 
So, what are my picks for the top songs of the album? I've curated a good mix of heartbreaking and happy for your listening pleasure.
#6 Alright
Admittedly the best song live, the song's chorus is incredible, especially belted at the top of your lungs. "The voice in my head says, we're gonna be ALRIIIIIIIGHT!" When I attended the Pep Talks tour in 2019, I remember dancing and shouting, finally feeling like everything was going to be okay. That's the feeling this song will give you. 
#5 GoofBallerz 
Okay, so this song, with it's strange (but oddly danceable) beat and edited vocals, took some getting used to. As evidenced by the name, "GoofBallerz" is both one of the most fun and weird songs on the album. Ultimately, it's a song about learning not to take things so serious all the time, and just let loose, enjoy life and have fun (which is something this anxiety-prone girl really needs to work on!) 
#4 Pictures ft. Kacey Musgraves
You read that right: this song features the Grammy award winning vocalist with the voice of an angel, Kacey Musgraves. The song depicts Akers' mother's heartbreak while moving out of her home and losing the man she's loved since high school. Musgraves' and Akers' voices blend together in a way I can only describe as straight from the gates of heaven. And the stirring string instruments and melancholy piano will probably bring a tear or two to your eye. It'd be hard not to be moved by this sorrowful ballad. 
#3 7000x 
7000x, which follows some of the more heartbreaking songs on the tracklist, has a victorious, defiantly joyful refrain, with a freaking catchy chorus that you'll never forget. 
7000x is my favorite power anthem. I listen to it whenever I need to get pumped up or motivated. For all you cross country folks out there, 7000x is my absolute favorite running song. It makes me feel like I can go faster than lightning. 
Where to begin? Queen Songs/human. is an eight-minute song in two parts; the first five minutes are a stirring reflection on Akers' mother and her struggle with alcoholism. For anyone who has seen a loved one or themselves disappear down a dark path, this song raises a lot of deep emotions. Queen Songs also marks the first moment in the album where Akers admits that things are still good, despite the tragedy. In one of the most powerful musical moments I've experienced, he sings, "But I can see your grandkids in the passenger seat, spilling all their sundaes from Dairy Queen. And things are good." 
#1 Passion Fashion ft. Jon Bellion 
Now, I may be a bit biased, considering Jon Bellion, the featured artist, is my all-time favorite musician (I'll talk about him another day!) This is the song that introduced me to Pep Talks. Passion Fashion is an exuberant paean to individualism. It celebrates bold optimism and hope, while reminding one to stay true to themself. "Passion Fashion" has become my personal anthem, with lyrics such as, "They say it's cool not to care, I care too much. They say I break the rules well, I-I-I got charisma!" and "It was all in front of me…then it hit me suddenly, that my coffee lost kick being everybody's cup of tea."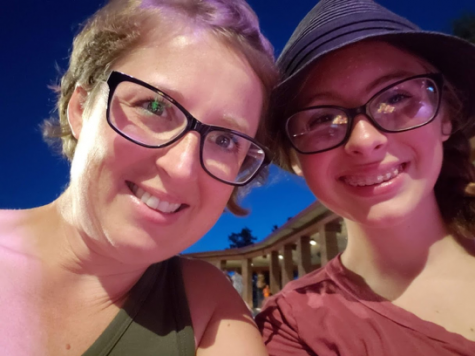 I Need a Pep Talk 
So, if you're ever in need of a pep talk, a dance party, a sob session or simply a hand, reached out in mutual understanding, stream Pep Talks, released 2019, by Judah & The Lion. 
I promise you won't regret it.   
Tiger King conflicts draw attention
by senior Camryn Phillips 
Joe Exotic is taking the world by storm. After the Tiger King documentary series was released, slowly you could see the memes showing up on every form of social media; tik tok, instagram, facebook, snapchat, etc. 
   There are a few controversial topics entangled in this tv show. Did Carole Baskin kill her husband? Now this is a question that has sparked many memes and debates, some as far as the sheriff reopening the case to search her land. As the show explains, it is believed that Carol killed her husband and fed him to the tigers or hid his body in the septic tank. 
   There are a few reasons people are thinking it may have been her. Her second husband, Don Lewis, had made a good life for himself and was a millionaire, he liked to collect and breed big cats until later in their relationship. Don did not like to show off his money and was also suspected to have another girlfriend in Puerto Rico. So many people think she killed him for his life insurance policy, because he had a girlfriend, or because she did not like what they were doing to big cats anymore. 
   Do I think she killed her husband? Absolutely. There is too much evidence against her to say otherwise. 
   Now if we are talking about Joe Exotic, I do not think he ordered that hit on Carol Baskin alone and I think they had scared him into it. I believe he had said it so much that he felt like he had to live up to it. I don't believe that he should have bribed his husbands to live with him with meth when his husband was actually straight, which drove one husband to suicide. 
   Even with all this controversy I believe this was a very entertaining show and always kept me interested on the edge of my seat. I would recommend this to anyone. 
Join this fandom.
by sophomore Elle Evans
   I am always looking for a good book to read – it's a big hobby I have. So, when my mom told me about a book called Fangirl, by Rainbow Rowell, I knew I had to look into it. 
   It follows a girl named Cath who is starting to adjust to college life, who is also a huge fan of a Harry Potter-type book series called Simon Snow. In her spare time, she writes fanfiction about it, and is a very popular author on a fanfiction website. Alongside writing and beginning college, she is close with her twin sister, Wren, and her single father. 
   While Cath is more introverted and enjoys being a bookworm, her sister is more extroverted and likes to go out with her friends. Both of them have different approaches to starting college – Wren is more open and ready to the idea, and Cath is more nervous about it, especially since her roommate seems intimidating and cold at first, but can actually turn out to be very supportive.
Throughout the novel, she deals with her father being bipolar, her sister's growing drinking problem, and falling in love with her roommate's friend, Levi, and dealing with her fiction-writing class teacher who will not allow her to use her fanfiction for a writing piece, leading to Cath's struggles of coming up with something totally original. 
   There is a lot packed into this novel, and since I am part of different fandoms myself, I thoroughly enjoyed this book and am excited to continue reading the series. Cath, to me, seems like a very relatable character, which seems to make her more lovable. 
   I encourage this book to anyone who is looking for something to read, especially if they are into different fandoms like Cath and her friends. 
I love the music in my life
by sophomore LilyAnn Willis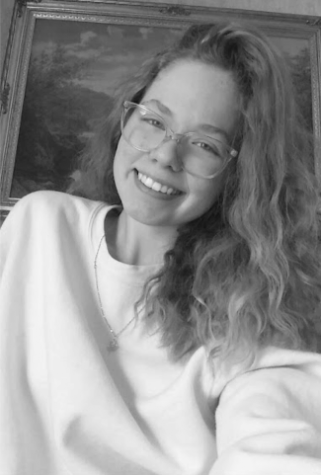 How it All Started: The Good Part  
Music is a beautiful way to show emotion and passion. Music has always been a huge part of my life, but ever since I started to become part of it, my life has changed. I've been in the school orchestra for five years now, most people my grade started six years ago. 
In the very beginning, I actually didn't want to do orchestra at all. My parents made me do orchestra and I am so happy about that. I went against them for so long because I was behind compared to most people. I asked, why? Why do I have to do orchestra? 
Why Join? 
Actually, they had multiple reasons for why I should get into an orchestra. Their reasons were an improvement in teamwork, organization, discipline, and it also improves your general knowledge. I've seen a huge improvement in myself on so many levels. Ever since I've started orchestra, I've had straight A's with advanced classes. Beforehand, my grades were average or below. Orchestra is a class that you will keep having with the same people in it, so you can really develop some really great friendships.
Kansas City Youth Symphony
This has been my first year in the Kansas City Youth Symphony. And actually, I've noticed a huge difference in my playing abilities. I went to state last year (freshman) and this year (sophomore) as well. But here's the thing, since I've been in this program, I can really hear the difference between school and Symphony. Obviously, KCYS is going to be better because it's an auditioned group from kids all around the KC metro. Which is an even better reason for why to get into an orchestra, you can always improve.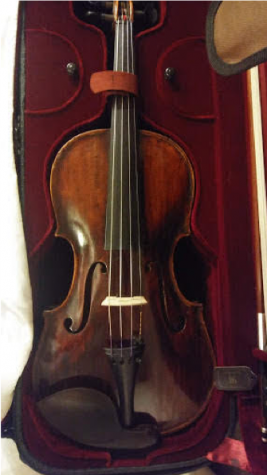 Even better? 
In fact, you can even get a scholarship to colleges for playing an instrument. That's another thing I'm striving for and others should too! 
Influencing Others
High-schoolers and high school teachers try their best to encourage and influence elementary schoolers to join the orchestra at an early stage. That's why high schoolers go to elementary schools and play for them, to get them interested in orchestra. At the early stages of people joining, there is an enormous amount of people. More than half of the students will drop off by the time that their high school years actually start.
This is why it is so so important why students need to understand the importance and benefits of orchestra and stay in!
Orchestra is a huge part of my life and I want others to feel the same way. I'm definitely never letting music out of my life. It's such a huge passion of mine.
I'm a Flyer
by  junior Megan Paterson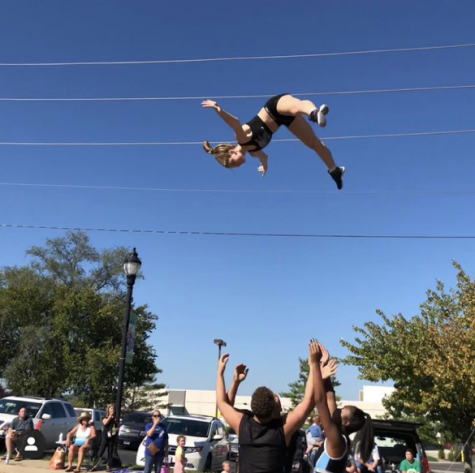 "
When I was about 11, I joined my first cheerleading gym which started my love. I literally got tossed into a higher level team due to my pre-experience with tumbling in gymnastics. "
   Do you think cheerleading is a sport? Well you may not know much about it, so let me tell you my personal experiences. 
   I have grown up around the sport, my mother was a cheerleader when she was younger. I started in gymnastics when I was two years old, which is practically the sister sport to cheerleading. 
   I grew up on the mat doing flip after flip after flip. I devoted most of my extra time to this high intensity sport. 
   When I was about 11, I joined my first cheerleading gym which started my love. I literally got tossed into a higher level team due to my pre-experience with tumbling in gymnastics. 
   I grew to love cheerleading more than gymnastics. You can imagine how strong a bond can form between teenage girls when you trust them to catch you after throwing you in the air. Yes, I was the one at the top, the girl that was flying through the air. 
   This definitely came with its advantages and many disadvantages but we will start with the good. When you're on top everyone is looking at you. My coach used to say that flyers got all the glory but also all the criticism because if I fell, it wasn't that the people under me dropped me it was that I made the mistake, as if I was the one controlling everything. 
   Flying also comes with its injuries. So far, I have back pain that I have to live with the rest of my life, oshcenslauters which is a knee disease which causes a lot of pain, countless concussions, and stress fractures in my ankles and many more. 
   This sport is definitely high impact, but so, so much fun. 
   It taught me many life lessons like how to be a good team player and how to build new friendships on and off the mat. 
Minecraft stands the test of time.
by senior Stone Pollard
   Minecraft a game a lot of us probably know about, but has it aged well? 
   As Minecraft became increasingly popular, they needed to stabilize the game and add more content for people to do. A lot of players on computer are already familiar with modifying the games files to add in new content and a lot of the new updates, like underwater expansion, the bee update, and villager updates have already been done in mods by the community, a lot of ideas seemed to be inspired by these mods. 
   Minecraft stands the test of time because the mechanics are so simple and there is really nothing to master, expect maybe red stone, though you don't need to be an expert to be creative and express that. 
   Minecraft is a playground and will always be a game people can go back to and enjoy. 
   In terms of stability, the java platform they used has been dropped in favor of a c++ remake which runs a lot better, but modding capability isn't as easy. 
   Other than that, though, Mojang hasn't given up on the Java edition of the game and continues to update it. Minecraft;s simplistic code also let a lot of children create more and add more to a game which they already enjoyed only extending its longevity. 
   What makes the game so simplistic though can also be its downside, the look of the game and the repetitive nature of everything makes the gameplay get boring pretty fast. Unless you have an actual goal in Minecraft, the game itself is not fun, you have to spend time to get something out of it so if you're just looking to waste time it probably isn't good for that.
I'm trying a lot of things to not be bored.
by freshman Zander Thompson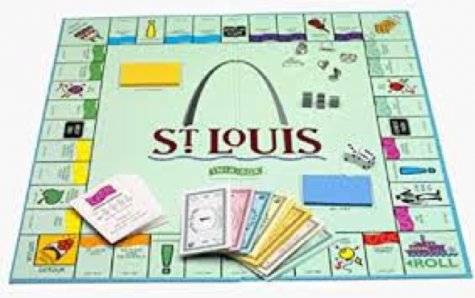 Now that we're are almost a month into quarantine I can say that almost anything I do at home entertains me.
   When I get up in the morning, I do homework. Then, I play video games.
   When I'm not playing video game, I play board games or watch movies with my family.
   If I get really bored, I watch tv. 
   In these past weeks I have done all of them. 
   So, for the people who are bored you could watch a new tv or movie series, but if you want to go outside and get exercise, go into your backyard and run in big circles or squares. 
   And for the people who are fine with playing video games all day, I recommend playing a game that you enjoy playing 24/7 or completing a game you haven't finished yet. I'm not good at recommending shows, video games or type of exercise because everyone is different and so are likes and dislikes.  
   All I can say is do what makes you happy and don't be afraid to try something new or do something differently, but also remember to keep yourself healthy as well as happy in these desperate times.
I'll take music every time.
by senior Anthony Perdue 
   Music is very satisfying to hear, especially at the right time. People listen to different genres than me and I know that for a fact. We all don't listen to the same music. If that was the case, there would have to be artists that make the same music over and over again. That would suck for all of us honestly. 
   There is hip-hop, r&b, country, jazz, rock, etc. People like different types of music which is totally fine. It doesn't always have to be a song everyone knows either. It can be as simple as someone playing an instrument for a class. 
   Mostly when people hear the word "music" they think automatically of songs they have heard before or listen to now. 
   Music helps me in a lot of different ways. One of those ways is when I'm stressed. When I'm stressed, music calms me down and makes me think. Or when you want me to work harder or faster, just allow me to listen to music and it will help big time. 
   In some classes, you can't listen to music which kind of sucks because then you have to listen to the teachers voice all hour and also other students. It's different if you have a group project or something though. I don't know if I'm the only one or not, but I always see people doing work 

The Bell wants you to remember that everyone is here for you!
 Do you feel unsafe? Are you concerned about a friend? Please report it HERE.
Do you need someone to talk to? Email someone from the  The Counseling Department
Do you need food or other basic needs? Visit the LPS webpage HERE.