Coronavirus Diaries II
Journalism students shares their thoughts about their quarantine experiences.
Well that's something different
by freshman Madison Dolato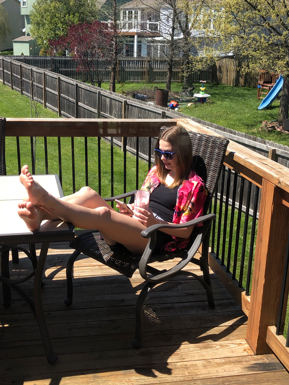 "It's the end of the world as we know it," as sung by the music group R.E.M. My mom has been singing that one line a lot lately. Now it is engraved into my brain. Perfect song for daily life right now.
Life is not normal, that is obvious, I hear how not normal it is on the news, radio, commercials, everywhere, all the time. There is no escape currently, confined in four walls and a roof. Things took a turn and a twist real quick.
This detour is going way out of the typical route. It is crazy how things have changed in daily life in as little as a month.
The weirdest thing about this quarantine is the outside environment. When people go out for some sun, it is almost as if everyone is in bubbles, social distancing bubbles.
The emptiness of businesses is completely bizarre. The usually busy and active place of Zona Rosa is now abandoned and deserted. When driving through the empty streets, I got out to photograph the weird occurrence. Music from still-open restaurants played over the speakers but it echoed down the road.
It had such a creepy and eerie feel. It seemed like a cowboy on horseback from a western 1800s movie, was going to come around the corner, to tell me this town was only big enough for one of us.
I know that sounds a bit crazy, but that was the thought riding through my mind. It was a ghost town.
School from home kinda sounds alright. I enjoy school, so my reaction to hearing it was going online was most likely different from other students. I was devastated. I surely would not want it for a long term, but for now, it is okay.
Living life through a screen is what it feels like. School, and hanging out with friends online. Facetimes, google meets, zoom calls, and social media are somewhat keeping me sane.
One thing about me is, I like to procrastinate on schoolwork a lot. My day is my night and my night is my day. Sleeping in late as if it were summer break. This is coronation though, and I'm here not wanting to do my work, as I turn on my Netflix.
There really doesn't seem like there are many other words to describe this whole pandemic besides abnormal and weird. I don't think I have even heard the word "pandemic" until this spring.
No matter how long this quarantine lasts, I will just be here relaxing, as the world we once knew might be changing forever. "I feel fine."
Very Important People
by freshman Addie Vallier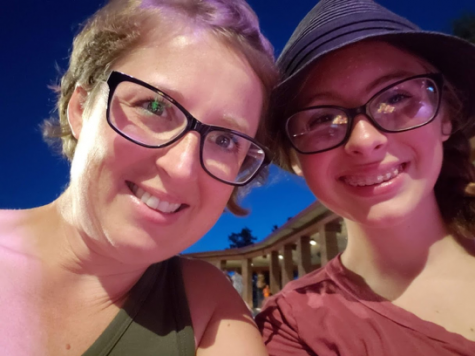 "It's time!" my 12-year-old sister, Iris, shouts excitedly. "I made cookies."
"Ooh, what kind?" I ask. The whole house smells like a bakery. Iris is a genius chef.
"Lemon shortbread with blackberry jam filling," she says.
"Sounds like something on the Food Network."
We have a new tradition in my family to get us through these long quarantine days. Every afternoon at 2pm sharp we sit on the couch for a fabulous hour of tea and Downton Abbey. Downton Abbey is a British historical drama filled with romance, sadness and intrigue. When my mom suggested we start watching it now that we're all home together, I thought it'd be boring; a waste of time.
But it's actually my favorite part of the day.
We feel a bit underdressed, my mom, my sisters and I, as we drink Anna Marie's Teas in sweatpants and old t-shirts while the characters onscreen wear elaborate dresses just to eat dinner with their family. Thank goodness for the modern age! I've never been more grateful not to have to wear a corset.
My sisters are 12 and 10, and as long as I can remember, they've been my favorite people. Iris can make me laugh better than anybody. Harper's a dancer, and has enough energy to power all of downtown New York City.
I used to miss my sisters. Weird, right, since I lived with them. I saw them every day, but only in brief snatches: "How are you?" at dinner; "Good night," just before we slept.
Extracurriculars swallowed hours of my day. I got home at 5…6…7…11… and still had homework to do. It was exhausting. And I missed my family.
Many people describe fighting with their siblings during this extended period of isolation. They say it's difficult to be trapped in a house with people they don't get along with even in the best of times!
I haven't had that experience. My relationship with my sisters has actually gotten stronger. I'm catching up. I'm making up for lost time.
Harper's teaching me to dance. Iris and I have started running. All three of us are learning the ukelele. All this is fun, but it isn't what really matters: it's that we're together.
When the quarantine is over, and life gets back to normal (or as normal as it can be, after this experience), I think I've learned something important.
I don't need to be busy to be happy. I don't even need good grades.
I just need my family. They're what matters in life.
Things that feel unfinished are never comfortable.
by senior Camryn Phillips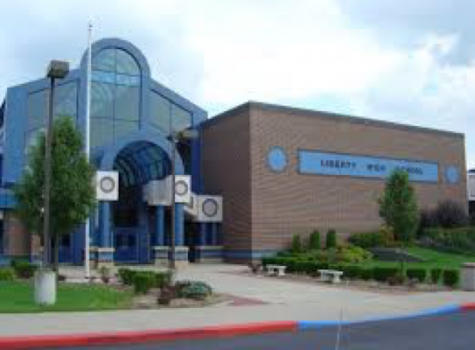 As quarantine 2020 continues, so does my boredom…as well as the never-ending memes. Teenage girls going on and on about how their prom got cancelled. People complaining about their non-existent supply of toilet paper. Seniors greatest year of their lives cut short. Parents' non-stop reminder that "we are living through a historic event". Teens making tik tok after tik tok and learning dance after dance.
We all know it's necessary and that it's important for our society but that doesn't mean we can't be disappointed right?
Things that feel unfinished are never comfortable for anyone. We, as seniors, have been waiting our whole lives for this moment. The moment where you take that long walk across the stage to collect a folder that doesn't even hold your diploma. That moment when girls have to practice not falling in their heels and you sit and listen to the long dragged out graduation speeches. When you're walking and you hear your parents scream when your name is called even though there are specific instructions not to do so.
Even though we know it's not our school's fault, we are all trying to find someone or something to point our teen angst at. It's not fair, to not have all our last's without even knowing we weren't going to have them. It's not fair we don't have any makeup days for the events we were missing even if they occurred during the summer. Although I do guess that life is not fair.
I wish my last time in the halls was not my last, I wish my last time with my favorite teachers was not my last, I wish my last time annoyed by other students at lunch was not my last, I wish my last Liberty Hour wasn't my last.
We just wanted a normal senior year.
Comfort Food
by junior Megan Paterson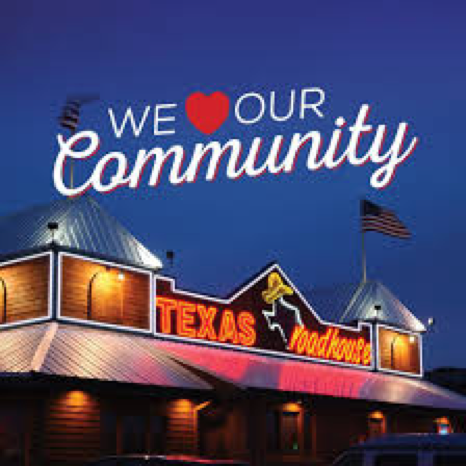 Amid all the panic with covid-19 sweeping the nation my quarantine is unique to most teenagers. Most teens are locked up inside their houses all day laying around and being bored while I'm out working about 20-25 hours a week. With this new stay-at-home order many people are looking for things to do and most find comfort in food. I work at Texas Roadhouse.
We have been getting a lot of business lately due to the panic. You might have noticed that many people are panicking and stocking up on food. Since we are open, we get a lot of the overflow of people looking for good food. We sell a lot of homestyle comfort food.
I am very thankful that I am still allowed to work during this challenging time so that I can get out of my house and get a break for the daily torture of being quarantined.
Besides working I'm doing my best to stay productive in all my school work and daily tasks. It is a lot harder to stay on task with school from home knowing that your phone is more easily accessible.
Also, the hardships of not seeing my friends every day that I would normally see at school is grueling. I don't get the everyday interaction of what I would normally be getting in my everyday life.
It is also easy for students to lose track of time and allow the days to bleed into one another which is very disheartening for many. It is also hard for students to stay motivated without a strict routine that they would normally be living. This is causing many households to be high stress.
Many people were not prepared for this disaster which caused many households to panic which is why I'm so grateful to be able to still work my job and give some people the joy that they are missing while being secluded from the world during this time.
The new routine
by sophomore Elle Evans 
Ever since I got the news that school would be shut down, everything has been thrown out of proportion for me – especially since I am someone who sticks very closely to a routine or schedule, and whenever it changes it kind of messes me up.
During regular school, I had a certain routine that I would follow every day and that was fine and dandy and all of that, and it never changed. But since online school started because of the whole pandemic deal, I don't really have a routine anymore, and it's definitely been throwing me off.
Once I wake up, I eat lunch and then go to do my schoolwork. It's been a bit harder to focus because I'm not in a school environment – I think that contributes to my ability to pay attention more and focus more on my work. While it's nice that I have time throughout the day to do my work, even though I try to do it as soon as I can, I do miss being at school and its schedule.
It has been hard to cope with everything, though. I have been trying to make a new routine to stick with, and doing other things to distract myself like going outside or going for drives whenever I get insanely bored. It's definitely a bummer – but it's also nice to see people coming together and coming up with ways to have fun even in lockdown. People have put nice messages on their windows for others to see when they go for walks in the neighborhood. Plus, a lot more people have been going for walks out than normal.
And then came the news that school is being cancelled for the rest of the semester, which really hit me. While I was thinking about readjusting to normal school and getting back into that routine, I'm stuck with this current one.
I will admit I was sad to know that I won't see some of my teachers unless I visit them next year – but I know this is for everyone's safety. My heart goes out to the seniors who won't have a proper graduation this year – they still deserve something wonderful at the end of their high school journey.
My Current Life
by LilyAnn Willis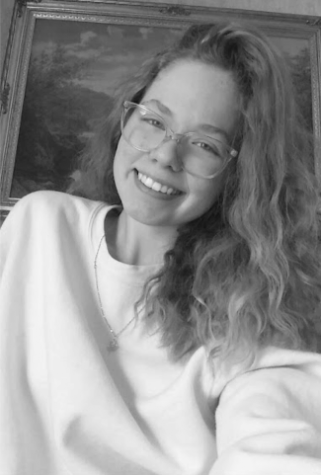 My normal everyday life is I go to school, hang out with my best friends, come home, do my homework, and practice my viola. On the weekends, I go to the Kansas Youth Symphony every Sunday and go skating every Saturday. Ever since this global pandemic, everything has changed for the worst. I'm sure it's that way with a lot of high schoolers around the United States.
Some of the things that I have been doing are playing badminton, football, drawing, practicing my viola, walking my dogs, sunbathing, reading ebooks, cooking, and hardcore exercising. I have noticed being really active and outside makes me really happy and energetic.
I'm one of those people who try to make the best out of things, I'm very optimistic. But in this situation, it's really hard, especially because I haven't ever gone through something like this before. The number of bad things that come with staying home doesn't even compete with the safety of others. I think keeping others safe is so much more important. My family and I are very cautious about the things we do. I think the worst part of all of this is not seeing my friends.
Speaking of friends, when I went to State a couple of months ago, I met someone who goes to our school, we really hit it off there and we get along really well with each other. Very compatible. So, this time frame with COVID-19 isn't really convenient with meeting/hanging out and getting to know new people.
Something else is that my parents allowed me to go into the Youth Symphony this school year. My first year ever in this program. We got together every Sunday and played. This program is really expensive for one year and a little bit of a tight budget for my family. Anyways, because of COVID-19, they shut Youth Symphony down. I figured out that we can't get a refund for the money that we spent, which is a huge bummer.
I've noticed a lot of people are freaking out during this time. I'm definitely not one of those people. Yes, it's like we are all stuck in a box of a house, but I'm keeping my head on and thinking straight. Just keeping my brain/body occupied with different activities really helps me out.
During this time, I really get to reflect on who I am and what makes me happy without relying on others. At school, I'm normally a really energetic, outgoing person with my friends, and it's been quite opposite at home. So, in a way, I can kind of appreciate the fact that I can figure out who I am.
We make choices.
by Anthony Perdue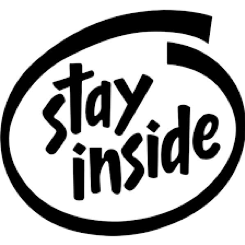 The coronavirus is affecting so many people in different ways. Some people are thinking they can't get it or die from it. Others think it isn't even real. The virus is serious and we all must stay home in order to keep not only yourself safe but also your family too.
There are still people going out and thinking they definitely won't get it. People like them end up getting it and then passing it to other people. They all bring it home and end up having someone die from it that has a weak immune system.
Even if the virus doesn't do anything to one person, it still passes on to the next and affects them in a bad way. It will continuously spread until we all stop going out and infecting ourselves and other people. There are 664,201 cases in the U.S and it's not going to stop and simmer down until we decide to be smarter and stay at home. 33,633 people in the U.S have died from it and one of those people were my uncle so we all need to be careful about what we do with our decisions.
The choices we make are up to us not anybody else. People are going to continue to stay out and get this virus thinking everything will be ok. That's a bad mindset to have right now and we need to all be smarter before it gets to a point so bad that we can't even step outside anymore. Even by that time there will still be those ignorant people that go out. Then those people want someone to help when they get the virus but it's their fault not anyone else's. Everyone knows to stay inside and not go anywhere unless it's an emergency.
We'll see shifts.
by junior Grant Ferguson
Man, I knew this was going to completely destabilize the healthcare system of the United States. I don't know why anyone thought that the numbers outside of China were anything but false. It shows the ignorance of the common person and the selfishness that some people process.
The lack of information from the government and the fact that the president has to tell the citizens of the United States that they need to protect themselves, while also himself sounding like he doesn't believe the information that he had to present. I don't know how people could openly go into public knowing, at the least, how contagious the virus is and you can have the virus without having any symptoms. All you're doing at that point is spreading it, with China lying about numbers of people with the virus and a lack of self-isolation is going to lead the virus becoming seasonal.
I know that this will be a turning point, but after the vaccine is made and marked up, depending on the number of political leaders left, the United States could shift very heavily. I think this virus will be the bane of Trump, I think this virus is a clear example that he wouldn't be able to handle a massive situation in the country.
I think the shift in schooling to online will help a lot of students find an educational program that suits them. I think the students who really do well online will stay along with that as the schedules are usually more flexible and some college classes aren't really that much different than just a full online course.
I just hope people are able to come back after this. I know a lot of local businesses are hurting. It sucks just how much death, stress, and anxiety are in the world right now.
I hope the virus doesn't turn into a seasonal thing and that we are able to find a vaccine soon. The fact people already have antibodies should hopefully relieve the time it takes to get it out to people.
I took so much for granted.
by senior Gabby Scott
Covid-19. Something I wasn't imagining seeing everywhere in the year 2020. Also, the year of my graduation. As this is impacting our whole world it is affecting each individual in their own way. This all seemed to take a bigger flight just before spring break was about to start.
The spring break of my senior year, my friends' senior year, my twin brother's senior year and the rest of class 2020. The spring break where I would be turning the "big" 18 on March 20, 2020. Hoping to see my friends and go out to dinner to celebrate, which wasn't the case.
By this time places were starting to shut down or change their rules with how to pick up your food order. With all this commotion going on the last thing that was on my mind was school. I knew that they were already going to have this figured out because of our virtual snow days. But I never would have imagined it coming to this and us having to actually finish our year online.
At first, I would say I didn't think much about it until it really started to affect me. Being able to be the judge of whether I was going to get online for school today or not really started to bother me because I found myself not wanting to do it. It started to get harder and harder being stuck in the house and not being able to see the wonderful fun friends that I have.
I never knew how much I took for granted until it was taken from me in almost what felt like the blink of an eye. Although this is a time full of chaos and the practice of social distancing, I hope many people are finding their zen and learning to cope when things get weird!
Rinse and Repeat
by freshman Zander Thompson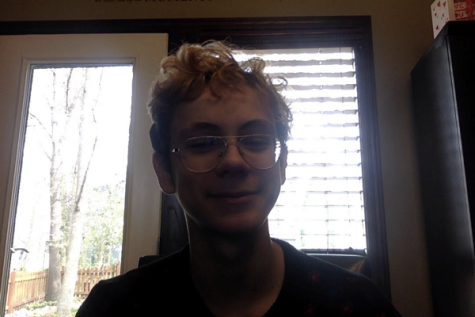 My Corona story is very similar to the story "Wake Up Call" by senior Anthony Savastino.
I wake up around 8:30-9:00am and have breakfast then get ready for the day then I work on homework. Once I'm done with homework, I take some time to write in a journal. I keep to explain what's going on today that affects me so I can pass it down when I have children.
After everything is done, I get time to do whatever I want so most of the time I spend playing video games, watching tv or sometimes both at the same time. Then it's dinner time I have dinner then I do dishes until all of the dirty dishes are gone and help out with some other chores around the house.
Then once all of those chores are done, I go back to doing what I want to do until about 12:00-1:00am, which is when I usually stop playing games and go to bed.
Next I set an alarm. Rinse and repeat Monday through Friday and that's all I do for the days I have to do virtual learning.
It's common sense.
by sophomore Alex Klein
Well, at first, I thought all of this was going to blow over because we saw Ebola in the news and it was scary, but when was the last time I was in Africa?  This is getting closer to home and is to the point where we are not going to school, a usual safe place.
Things aren't normal and the fact is we don't know if they ever will be. This is straight out of science fiction. I, nor does any teenage kid with ADHD, have the true attention span for this. In fact, I'm writing this last minute because I couldn't sit and focus enough to write this.
I care about school and all but we took away the physical presence of school so now it feels kind of like a chore that doesn't need to get done.  My reasoning is I tried for a better tomorrow and for a great life and it's hard to look forward to one when the news is so closed to "hopefully" or "maybe".
Life as we know has changed and maybe there are good things coming out of this like the fact that some jobs will be from home because the companies have made the switch and have seen efficiency in it.  Some bad things are coming about this too and it is because people aren't listening to the stay at home orders.
I try to stay home and make sure I'm not the reason that anyone dies, because that would be on me for not listening and disobeying rules just because I don't feel like it.
I'm worried that we aren't taking this seriously still, and in we, I mean kids as a whole, they are still going out and hanging around each other.  Life is at our fingertips in a phone. Use this opportunity to find more opportunities like calling family members more often.
I feel like we as people are the reason the disease is spreading. How bad can it be to stay at your house and only leave in your car to either get online groceries and or just drive around? Also, people are not washing their hands and I feel like this is preschool knowledge when you are near someone sick or out touching things that you don't know the history of, washing your hands after it only takes the count of singing the ABC's.
This seems like common sense disease because it shows the lack of it in the world.

The Bell wants you to remember that everyone is here for you!
 Do you feel unsafe? Are you concerned about a friend? Please report it HERE.
Do you need someone to talk to? Email someone from the  The Counseling Department
Do you need food or other basic needs? Visit the LPS webpage HERE.