Without Labor, Nothing Prospers
Schools in the Kansas City area face a shortage of food and staff.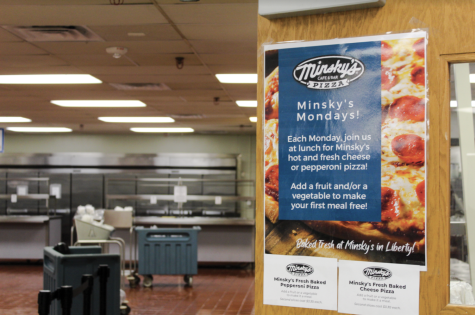 As students in the Kansas City area return to school, districts tried to adjust to changes, other than COVID-19. During the pandemic, supply chain problems and a lack of laborers put a strain on the workforce, along with food production and delivery companies, according to Jodi Fortino at Kansas City University Radio 89.3 (KCUR 89.3). This radio is a service of the University of Missouri-Kansas City and reports news in the Northwestern Missouri and Northeastern Kansas area  Now, school districts in the Kansas City area try to deal with multiple shortages of food and staff members due to COVID-19 by limiting the amount of snacks and after-school meal programs and using more substitute teachers.
The goal of school districts across the state is to fill vacant positions from teachers that left after schools went hybrid so that students can remain in the classroom and learn. Liberty's director of nutrition services, Misty Newland, said that many teachers retired due to the pandemic.
"Many of the baby boomers retired because they were fearful of COVID-19," Newland said.
Brent Ghan, deputy executive director of the Missouri School Boards' Association, said that this is a difficult problem, but that school districts are doing the best they can to allow students to learn in the classroom.
"We've got to get them [students] there in order to learn, and we need to feed them and meet these various needs so it's stressful at the moment," Ghan said to KCUR 89.3. "But I think our school district leaders are making extraordinary efforts right now to meet those needs."
Food Supply Shortages
 KCUR 89.3 reported that problems with food supply have been occurring both locally and nationwide since the school year started in August.
As for Liberty Public School Districts, Dallas Ackerman, director of communications for Liberty Public School Districts, said that certain foods, such as extra drinks, meals, snacks and chips will not be available for purchase. They serve an average of 54 breakfasts and 928 lunches a day. The school's menu will continue to be subject to change and they are trying to find food from different places. FOX 4 News reported that the district initially had a contract with Minsky's pizza for delivery once a week, but they have increased their deliveries and have been extremely helpful.
"With the food shortage challenges that we have faced thus far this school year, we have had several local food outlets step in to help us out," Ackerman said. "One of them is our local Minsky's Pizza, who are now serving pizza to our high schools five days per week."
Newland said that they are turning to more expensive vendors that typically serve restaurants, such as Sam's and CNC Produce, to ensure that students are receiving food at school.
"We've pulled things we normally would have from these vendors, like popcorn, chicken, corn dogs, hot dogs and other things that are common in the restaurant world, " Newland said. "It's caused our menus to be a little bit in flux."
Sophomore Ryan Schmidt has noticed an alarming lack of basic food and drinks, such as juice and milk, in the cafeteria.
"This is really shocking because that's something kids need to survive," Schmidt said.
According to Fox 4 News," Three [of the] largest distributors that handled food for the North Kansas City School District have dropped it. The district said it is relying on a number of smaller companies to help feed its 16,000 students daily."
They can still serve breakfast and lunch to their 34 schools, but now are depending on menu substitutions, limits on the purchases of a la carte items, and even for students to bring items, like water, from home.
Additionally, Raytown School District said that because of staffing issues, their ability to feed their students has been impacted. As of right now, they suspended their after-school meal program for dozens of preschool and elementary school students. They might also have to temporarily stop providing after-school meals for older students if the problem persists.
Teacher Vacancies
Local school districts started the year with a high amount of vacancies for teacher positions. KCUR 89.3 reported that Shawnee Mission School District said they had almost 20 vacancies at the end of August, along with Kansas City Public Schools, who had 11.
As a result, substitute teachers were used more and more to fill these positions. Kelly Services, the staffing agency that assigns substitutes to school districts around Kansas City, said most of their workers are assigned for this exact reason.
"Right now we're using a lot of our subs that are used to fill daily classrooms to fill the vacancies that have been left by just a lack of teachers that they've been able to hire on a full time basis," Keith Elliot said, who manages Kelly Services in the Kansas City area.
Moreover, applications for substitute positions are down this year, according to Kelly Services, largely due to older candidates at high risk for the COVID-19 Delta Variant. Another reason for this decline is the lack of increasing teacher pay Missouri offers..
"We don't have enough young people entering the profession, and so we're facing not just this immediate issue, but more of a long term issue of teacher retention and recruitment," Ghan said.
Solutions and Plans
Although labor and food shortages make it difficult to maintain a normal school year, staff members at LHS are dedicated to continuing to combat these challenges.
"The challenges that our nutrition services department face are ones that are outside of their control," Ackerman said. "They are certainly doing the best they can to effectively serve our students and staff with a quality school breakfast and lunch experience and we appreciate all of their efforts during this unique time."
The Department of Nutrition Services continues to work to serve students with nutritious meals and ensure those who need food will get it. There are a few ways students can help support these staff members during this time. They should put unopened food and drink on the Share Table in the cafeteria, bring some of their lunches from home, and overall, be patient and understanding as Nutrition Services work to overcome these challenges.
Leave a Comment