On Top of It
How students are staying organized during distance learning.
Change has become one of the only constants in the lives of students living through the Coronavirus pandemic. One of those changes is the transition to online school, but LHS students are handling the new system well. 
Sophomore Cameron Wright
Wright uses a chart to write down everything he has to do each day. 
"When I'm done with one assignment, I mark it off and move on to the next assignment," he said. 
He is also using the chart to manage a more flexible schedule than usual.
"I'm spacing all my work out, instead of having to do it all in a certain time limit like I would have to at school," Wright said.
Even though he is doing well, Wright has some advice that helps him keep on track.
"You have all day to do your assignment, so space everything out and take a break every once in a while," Wright said. "Because I know some of you try to get it all done in one sitting and it's a lot easier to space it out."
Junior Alison Adams:
During her junior year, Adams is trying to stay organized as much as she can by using the same methods she would use if she were still in the building. 
"I'm staying as organized as I think a mess like me can be with this online stuff by checking my assignments every day and copying them into my planner by order of due date," Adams said.
Her normal ways of staying organized have continued to be helpful with online learning.
"I don't think I'm really struggling with anything organizational," Adams said. "I already had a pretty good system, if anything, now it's easier to stay organized."
For other students, Adams advises to stay up to date and keep track of everything by writing it down. 
"I'd tell others to just stay on top of their assignments and to write down everything that's due, it helps me remember," Adams said. 
Sophomore Reyna Myvett:
Myvett has actually found that online learning has helped her manage time better. 
"My time management has actually improved a lot," Myvett said. "If I had homework when we were learning in school, I'd sometimes put it off, but now I've gotten into the habit of doing everything at once."
Her biggest advice to other students is to find what makes them want to complete tasks.
"Find something to motivate you. For me, it was simply knowing that when I finish I'd be done," she said. "For some people, you may need to put your phone away until you finish."
She's using her own techniques to help her accomplish that. 
"I make to-do lists everyday, and I set out a schedule to follow that helps me keep on track," Myvett said. 
Senior Kendall McMullen: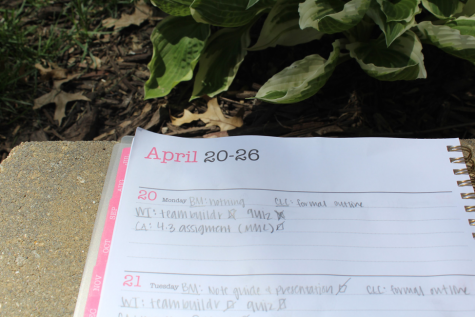 McMullen's organization has relied heavily on one thing: her planner. 
"Each morning I check all of my classes in Canvas and make a list in my planner of the work that I need to do for that day. I am definitely using my planner more than normal," McMullen said.
However, she's found herself relying less on things like her backpack to stay organized. 
"I'm not keeping my backpack organized because I just leave all of my school stuff out for the next day," McMullen said.
Her biggest tip is encouraging others to use a planner to write everything down and make sure you know what you have to do that day.
"I think using a planner can be really helpful if you find yourself struggling to keep track of your assignments," McMullen said. "Plus, crossing things off the list is always nice."