The Force is Strong With This One
We're still watching 43 years later.
As the newest Star Wars trilogy comes to an end, it's time to look back and see what Star Wars superfans loved -and hated- about the Star Wars film, "The Rise of Skywalker."
Some Liked It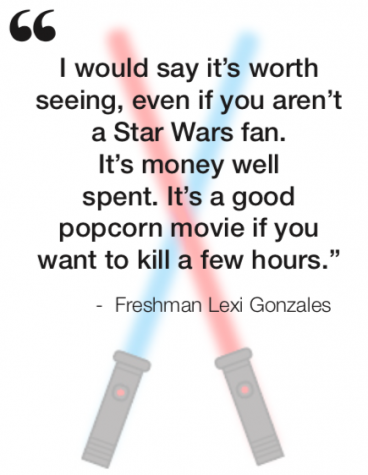 Fans' opinions on the film are mixed, with some enjoying the film, and some disliking nearly everything about it, according to the six questions The Bell asked students in a poll. Senior Alex Simmons was one of the fans who enjoyed it.
"I actually really liked it," Simmons said. "Some people didn't like how it tied everything together, but I liked how it incorporated even the TV shows into some of it. You hear a lot of negativity towards the movie, and there's always room for improvement, but I enjoyed it. I thought it wrapped everything up really well."
Some Hated It
American Government teacher Joe Eikel, on the other hand, didn't like the film, pointing out many plotholes and inconsistencies throughout the new trilogy.
"To be fair, to explain the problems of the new movie, it's the problems of the movie before it," Eikel said. "They didn't have the full trilogy written out before they started it, and that's problematic and tells me Disney wants to make money."
Junior Lindsey Walther hasn't seen the new movie yet, but she's heard mixed reviews from everyone around her.
"I've heard either that it's super good and that it goes with everything, or that it tears apart the whole series," Walther said. "I haven't had time. You have to put your heart into those movies."
Some Grew Up On It
Whether or not you loved or hated the new movie, Star Wars has something for almost everyone. Sophomore Caden Murphy grew up watching the films.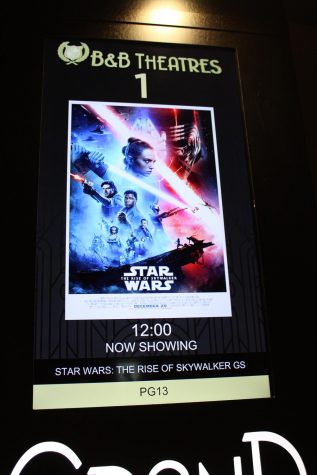 "I grew up watching the original trilogy, and then started watching the prequels," Murphy said. "I think me growing up with it, I like the new trilogy more, but I also definitely do love the original trilogy."
Like any film franchise, Star Wars doesn't interest everyone. Junior Nirbhay Vohra never found the original films interesting but did enjoy the new Disney+ series, The Mandalorian.
"I've seen a few movies. They're old. I don't like old things," he said. "The Mandalorian though, that's pretty good. It was in HD. It was immersive."
With three trilogies to choose from, everyone seems to have a favorite. Freshman Lexi Gonzales prefers the 1990s sequel trilogy.
"I like the prequels the most," Gonzales said. "There's a lot more Jedi and Sith and we hardly see any of that in the new trilogy and the original trilogy. I think it's cool seeing all of the Jedi out on the battlefield taking care of business."
Both the prequel and sequel trilogies have brought up controversial opinions between lifelong Star Wars fans. Senior Landyn Cowger's favorite film in the nine-movie franchise is "Episode V: Empire Strikes Back," a fan favorite among self-proclaimed Star Wars super fans.
"The original trilogy is my favorite just because it started it all and because it has Episode V in it and that's my favorite of all of them," Cowger said. "I grew up with it. I watched The Clone Wars whenever that was animated on Cartoon Network. I'm actually rewatching it now, and I think that watching it is only making me love Star Wars more and it really makes me miss how good all of the old movies were."
The end of the Star Wars franchise is something that has many fans feeling bittersweet over the final film.
"I love Star Wars," Walther said. "I used to watch it all the time when I was little, so they're all super nostalgic for me. I think it's super exciting to get into, and once you're in it you don't really want to leave it."