Like, Comment, Subscribe
Students unleash their creativity through creating YouTube videos.
With more than 1.8 billion users, five billion videos viewed daily and 300 hours of content uploaded every minute, it is no surprise that students are turning to YouTube to create content and connect with other users worldwide. From beauty to video games, there are many different categories that appeal to a wide audience.
– – – What's the Scoop – – –
For senior Jonathan Edens, his objective of strengthening his creativity as well as his friendships left him with an obvious choice.
"Our channel name is 'What's the Scoop.' We started it in 2018 and we picked it because it was kind of like 'What's the tea?'" Edens said. "We wanted to tell the truth about situations in pop culture and we wanted to gossip, so Dylan and I both really liked that name."
Edens created 'What's the Scoop' with longtime friend and LHS graduate Dylan Moran. Edens explained that many of Moran's qualities are important to have in a co-host.
"Dylan and I work so well together," Edens said. "We film at his house and come up with the content. He does most of the editing. There are some times when him and I both edit but he's really talented at that, so he does that part usually. We work really well together with combining our strengths and weaknesses."
Many avid YouTube watchers know shared channel's often lead to separation, like in the case of "SMOSH" and "BF vs GF." "What's the Scoop" has faced similar challenges.
"A challenge that crept up on us unexpectedly was that Dylan now goes to college in New York," Edens said. "Now it's really hard for us to create the same content we were previously and I've had to learn how to edit and create my own stuff. We both still post on the channel but it's just very hard now he's gone. It makes me sad because this labor of love is kind of dwindling in a way."
– – – Meghan Lyn – – –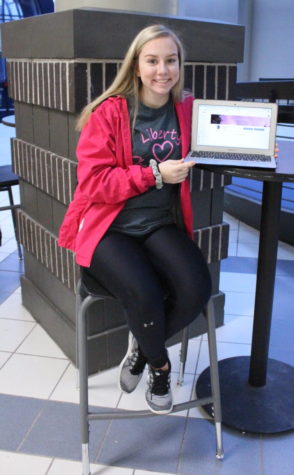 If drama videos aren't your cup of tea, senior Meghan Fullerton promises not to disappoint with her vlog-style beauty videos on her channel, 'Meghan Lyn.'
"Honestly, I'm just kind of doing whatever right now. I just started recording and seeing what happens," Fullerton said. "The first video was of the senior girl's lock-in. Now I'm doing a video over Courtwarming so I made a 'get ready with me' video. I thought about doing challenges also. I'm really just recording and playing around right now to see if I can get good content out."
With the rise of many famous YouTuber's since the creation of the social media platform in 2006, such as Fred, Bethany Mota, Michelle Phan, Shane Dawson and Pewdiepie, many people create YouTube channels inspired by the success of their favorite content creators.
"I'm obsessed with YouTube," Fullerton said. "I really like filming, so I figured I would just start a YouTube channel because I've been trying to get more creative. I really like David Dobrik, Shane Dawson, Savannah and Cole, the Dolan Twins and Emma Chamberlain."
There is no denying that posting YouTube videos is not for the faint of heart. Whether it be recording in public or putting a video on the internet for the world to see, the fear of the public's watchful eyes is enough to hold the majority of the population back from creating videos themselves. Fullerton herself said it's a challenge she faces with her channel.
"Filming in public is scary sometimes because people will stare at you, which makes me really nervous," Fullerton said. "It's hard for me to be around someone who's watching me because I don't want to be judged or anything. I think being in front of a camera, in general, can be really hard. It is a lot of re-taking when you say the wrong thing."
Lately, many fans of the website have questioned whether or not YouTuber's videos are genuine as the rise of paid ads increases across the platform. As a viewer, Meghan says it concerns her and only drives her to create sincere videos.
"I think a lot of the content that goes up is just for money. I watch Shane Dawson's conspiracy theories, and honestly, it's crazy how many fake YouTubers there are," Fullerton said. "A lot of the Youtubers just do it for the money."
– – – Moor Zeus – – –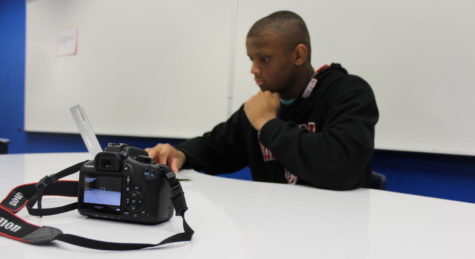 On the opposite side of the YouTubeverse, video game content creators are reaching a wider audience than ever. Pewdiepie, a YouTuber who has obtained over 84 million subscribers making humorous video game videos, is the most subscribed to person on Youtube. Hoping to capitalize off of the gaming craze is sophomore Amir Abdelnassar with his channel 'Moor Zeus.'
"I started my Youtube channel back in 2014, back when I was in sixth grade. I started it with my friend Alex Pittman," Abdelnassar said. "I create gaming videos, I do vlogs and I have friends who come over and play video games with me."
From 'Madden' to 'Overwatch,' it is hard for Abdelnassar to pick his favorite game to play on camera.
"I can play just about anything honestly, as long as its appropriate. I've been getting more into 'Call of Duty,'" Abdelnassar said.
Like many others, Abdelnassar acknowledges the problems facing many gaming video creators.
"I really like Markiplier and Jacksepticeye," Abdelnassar said. "It's honestly kind of weird there are no popular black gaming YouTubers."
Although he has made and uploaded 231 videos, he remembers the first video he posted clearly.
"My favorite video on my channel is probably my first ever," Abdelnassar said. "I just took a plane and crashed it into a building for no reason. I just mess around a lot."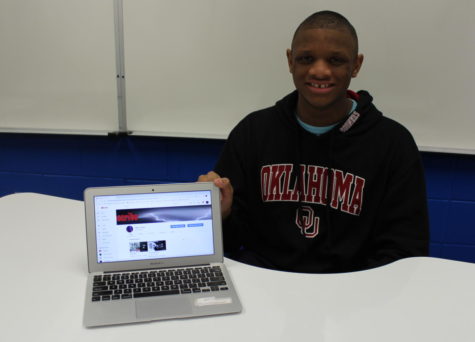 YouTube has been known for their controversial AdSense, monetization and copyright policies, all of which Abdelnassar has combated on his channel.
"Copyright is the biggest challenge I didn't expect. I haven't gotten copyright claimed, but some people have tried to claim my videos," Abdelnassar said. "It is a little dumb because there are so many rules. YouTube makes it hard to get your videos monetized."
Through all of the challenges, Nasir continues to keep his passion for his YouTube channel alive.
"I want to get views so I can make people happy," Abdelnassar said.