Bookin' It
Students share their favorite books they read in their ELA classes.
To Kill a Mockingbird
"To Kill a Mockingbird", by Harper Lee tells the story of Scout, a young girl living in 1930 Alabama. The book tackles themes of racism and discrimination.
Sophomore Jackson Herrman, who read it last year, likes it for the lessons it teaches.
"All people deserve a chance even if there is bias," Herrman said. "The theme of innocence, as well, was very inspiring."
Junior Audrey McBride thinks it's important for students to read this book because of its relevance in today's society.
"In the midst
of police shootings, terrorism, and all types of injustices in today's society, it is important to put ourselves in other people's shoes to really understand the challenges that they face on a day-to-day basis," McBride said.
Lord of the Flies
"Lord of the Flies" is another book read freshman year, and is the story of a group of boys stranded on an island, where they must survive. "Lord of the Flies," by William Golding is packed to the brim with symbolism and important themes that reflect on today's society in a very real way.
This book stood out to junior Jadyn Keu. She not only enjoys
the plot, but the themes of selfishness.
"I think it's important for students to read this book because it shows the human tendency to gain authority and to be self-serving," Keu said. "This can teach them to look out, protect themselves and prevent the events in the book from happening in their own world."
Senior MaryAnn Johnson enjoys it as well.
"It is super interesting how the people react to that situation," said Johnson. "It's dark in such a realistic way and it's written in a very educated way, but nice to follow along."
Fahrenheit 451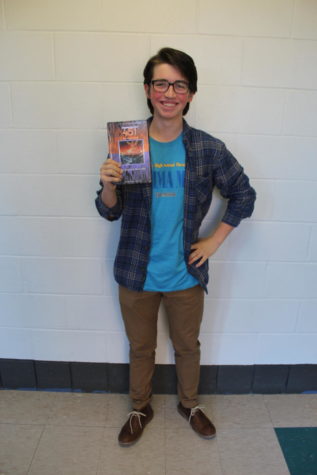 "Fahrenheit 451," by Ray Bradbury is a classic that students are required to read in sophomore English class. In the society this book is set in, books are banned and burned. Social interaction is limited and people spend most of their time sitting in front of their television.
Although he has only just read it, "Fahrenheit 451" has already become sophomore Ian Wooldridge's favorite book he has read in school.
"It's almost like a cautionary tale. It explores the decision between conformity and rebellion," Wooldridge said. "It challenges problems that had never been addressed before, such as government intervention in the public eye, freedom of speech and media and other great ideas that really resonate with students."
Senior Layne Nichols found "Fahrenheit 451" both intriguing and entertaining, because of how well written it is, and how close to home the society Ray Bradbury describes hits.
"In 'Fahrenheit 451,' Guy Montag, the main character asks his wife, 'When was the last time you were truly bothered by something?' and she doesn't have an answer," Nichols said. "They are living in this society where they never have to deal with something they don't agree with, which is something I see happening now, when I can just block anyone on social media I disagree with and I don't have to hear what they are saying."
Library Media Specialist Christine Anderson's Point of View
"I think the skills you get from reading books and doing a literary analysis transfers over into the other reading you do for pleasure. It helps you explore the characters and get to know them and the motivation behind things they are doing. I think when you develop these skills in class, it makes you a more critical reader and you'll enjoy your personal choices even more."
On the Flipside
Although many students enjoy the assigned books, many do not. Sophomore Kaylie Davis isn't a huge fan of assigned reading, despite her enjoyment of reading on her own time.
"When I get to pick the book I read, I feel like I get into the book and enjoy it more," Davis said. "Some people read slower than others so it is hard to finish a book in a certain amount of time."
Sophomore Aimee Wang agrees.
"It just seems forced, when a teacher makes you read a book you feel like you have to read it and you don't enjoy it," Wang said. "I have not enjoyed a book a teacher has assigned since seventh grade."