Another Day Another Netflix Review
A review of two hit summer Netflix films.
With over 94 million people subscribed to the online streaming service 'Netflix,' it is no wonder why Netflix original movies are an instant hit. Especially ones that feature hunky 22-year-olds playing high school juniors. Teenage Rom-Coms are no doubt a target audience for many directors and producers, simply because of the fact that a successful release is almost guaranteed. The two hit summer movies, "To All The Boys I've Loved Before" and "The Kissing Booth," are no exception.
The Kissing Booth
"The Kissing Booth" starring Joey King as Elle Evans and Jacob Elordi as Noah Flynn, had its debut earlier in the summer on May 11 and had teens posting, tweeting and chatting on social media about the romantic comedy. "The Kissing Booth" is a film that has proved itself to be by teens, for teens. The novel that the film is based on was first seen on the free phone app 'Wattpad.' On the app, amateur writers can share their stories with thousands of readers in exchange for likes and comments. The story was written by 17-year-old Beth Reekles and was launched to publishing success when her story won one of the sites 'Watty awards' for 'Most Popular Teen Fiction.' After reaching such critical success from the majority-teen audience, it was turned into a film distributed by Netflix.
The film focuses on the 'not your average girl' Elle Evans, a 17-year-old girl who is unbearably infatuated with her best friend's brother. For some reason unbeknownst to viewers, Elle is intent on hiding her feelings from her best friend. Her plan is a success until she runs a questionably school sanctioned kissing booth.
All in all, "The Kissing Booth" held my attention and was a good movie to watch to pass the time. Could I have watched something better? Probably. Did I really think about the movie after the credits started rolling? Not really. But considering the fact that it was written by a teenage girl on her family computer, it wasn't a terrible movie.
Much like "To All The Boys I've Loved Before" this film features one of the most cliche tropes. This time, however, it is not nearly as well done. The plot was choppy and most characters offer little substance. Warren is possibly the most underdeveloped character in cinematic history and he seems to just do and feel things with no explanation. Yes, he is angry that Elle has feelings for his brother, but why? He ignores her for weeks, but we never get an explanation. This film was generally torn apart by professional critics (and almost every person over the age of 20), but all-in-all it was cute.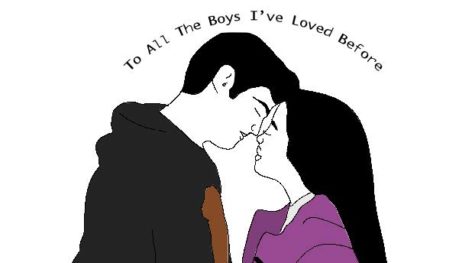 To All The Boys I've Loved Before
The movie "To All The Boys I've Loved Before" starring Lana Candor and Noah Centineo, captured the hearts of young girls everywhere when it premiered on August 17. Originally a young-adult book series by award-winning author Jenny Han, it is a refreshing example of diversity in a genre that is more often than not lacking. The film revolves around Lara Jean Covey, who writes letters to all the boys she's fallen in love with, and oddly enough, addresses them as well. When the letters get sent out during her junior year of high school, her life flips upside down.
"To All The Boys I've Loved Before" has much to be enjoyed. The main characters are lovable, and despite the very unbelievable situation they are thrown into, the love between Lara Jean and Peter Kavinsky is one that is immensely believable. The plot flows brilliantly and the character development is impeccable, especially with the characters you'd never expect to feel empathy for, such as Gennavieve and Kitty. Although the circumstance in which Peter and Lara Jean get together is one of the tackiest cliches out there, the film makes up for it with it's hilarious moments, heartwarming characters and clever foreshadowing.
The film also features an Asian-American woman as the lead character, which is something that is rarely done. According to the New York Times, Asians are still only 1 percent of leading roles in blockbuster films. One of the most heartfelt moments in the film was Peter surprising Lara Jean with Yakult, her favorite yogurt drink from the Korean grocery store. Lara Jean's Korean ethnicity is not brushed to the side. It is used to heighten her character and offer a beautiful example of inclusivity, while giving young asian girls a character to relate with.
In the end you are rooting for the two young lovers, and isn't that what romance films are all about?