Teacher Send-Offs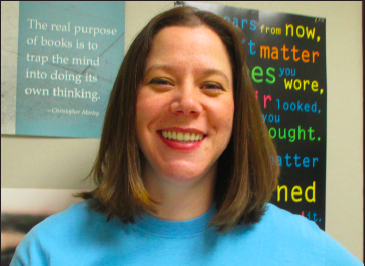 ELA Teacher Rebecca Burnett
"She is fun, but she knows how to be serious and interact with the kids.
"[I will miss] her style of teaching. It's a little different, she'll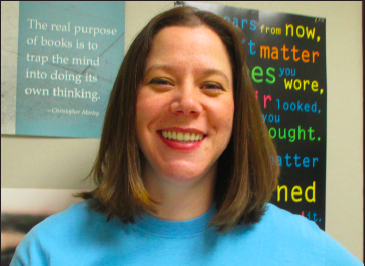 incorporate videos and then she'll draw on the whiteboard and it helps you out. She explains really well and breaks it down for us."
–senior Hal Tyson
"I've always loved my students. I drive almost forty minutes a day [to school] and people always ask 'Why do you drive that far for work?' and I say it's because I love my kiddos. I just think that kids have changed and people are more accepting since I started working here, which is a really positive change. We are more accepting than we used to be. [I would tell kids to] be kind to each other, work hard and have fun."
– Rebecca Burnett
Social Studies Teacher Mike Hammer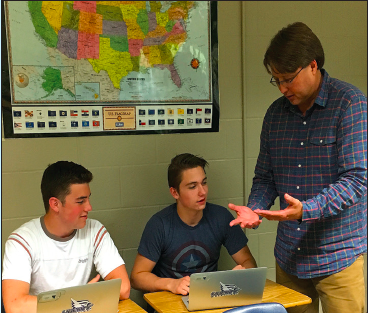 "What I like about Mr. Hammer is that he's not like most teachers; he doesn't find it necessary to follow the curriculum 100 percent. He gives us real world examples and talks to us and tries to help us understand things rather than fly through what he's supposed to teach. I think he's really interested in his kids and help them find ways to learn and understand the subject as well as teaching them life lessons."
–senior Ben Kunkel
"I haven't really thought about [my legacy], but I would like to be remembered as someone who loved what they were doing. The compliments I've gotten over the years have been that kids believe that I'm glad to be here or more importantly I love to teach and interact with the kids. [I would tell students to] be patient. Do what you can to make things happen, but sometimes you need to sit back and let things develop."
– Mike Hammer
Retiring after 18 years at LHS
SPED Teacher Cameron Brenton
"He's got a great personality; we're going to miss his witty humor. He's very talented as far as graphic design, has designed shirts for us and has just been a go-to person about anything art-re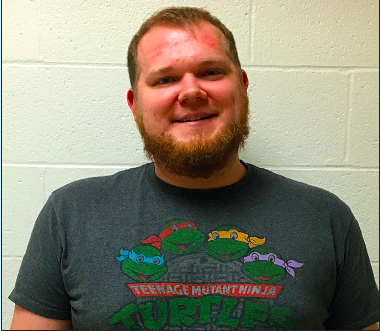 lated.
"We're going to miss his personality and seeing him around the halls."
–SPED teacher Jessica King
"I have really enjoyed building a program from the ground up. Offering the facilities to my students that are often not offered in public schools is a great statement about LPS. I have greatly enjoyed building relationships with the other staff and administrators in the building. A lot of work has been done to look at and start answering some really hard questions that have not been addressed before. Partnering with other staff and administration throughout the whole process has been a great learning experience for me."
–Cameron Brenton
Math Teacher Joyce Gilmore
"I'm going to miss my colleagues and the students. I've gotten to know a lot of the students here really well and it does make me sad to have to leave them. I'll be able to devote more time to my students because I won't have to worry about getting home to my family, so it's just a good move for our family.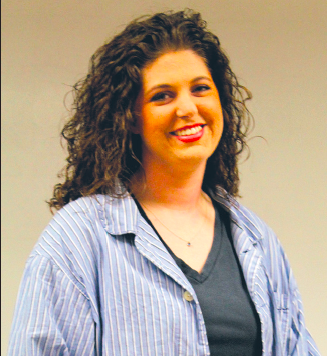 They've taught me a lot about my patience, about my compassion. They've shown me how very much I can care about them by the number of sleepless nights that I've had, worrying about them. They show me something everyday. If you believe that you can do it, you can do it. If you believe that you can't do it, you're probably right. Don't settle for that."
– Joyce Gilmore
"I remember when I first came in, like parent teacher conferences, my dad and I walked in and saw how tall she was and it just caught both of us off guard. The rest of the year she would stand on her tip toes by my desk. She was always laid back. She always made sure that we had fun and she always had a system so we always knew what to expect with her. Everybody turned in the homework the day before the test and we always had time to do homework at the end of class."
-junior Janai Simpson
ELA Teacher Karen Johnson
"Mrs. Johnson has really made the J-Lab a second home for me, I'm always in here. I just hope that the next teacher can make the J-Lab a home. When we have editor nights we always get food and she just know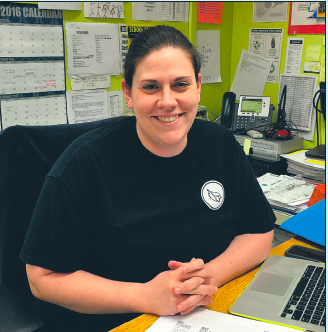 s that we either want pizza or Chick-Fil-A. It's not even a question.
"She also tells me that I can do it. Even when you think you can't, you can as long as you put your mind to it."
-senior Alex Russell
"I have some great students in the program here, I'll definitely miss them. There have been a lot of great opportunities here that I've enjoyed. I have accepted a position at Kearney High School as a full time journalism teacher. Working with the yearbook and photo journalism students here has taught me how important it is to build relationships with others and how much work can be accomplished if those relationships exist. One of my favorite memories that we get to make each year is when we go to J-Day (Journalism Day) and the kids get to have that experience of having their work honored and realizing how big a deal it
is."
– Karen Johnson
Administrator Dr. Rosemary Camp
"There are multiple memories of Dr. Camp's phenomenally coached Scholar Bowl team completely beating our own! She's also a really fantastic person, she hosted a scholar's night out and I though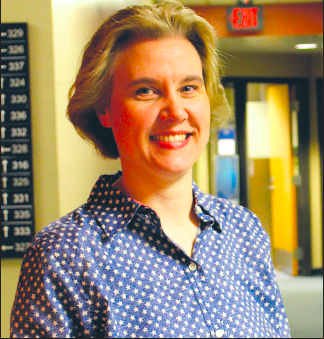 t it was a really fun time!
"I hope that her replacement carries on the dynamic personality and teaching style that she brings to that role."
-senior Roman Accardi
"Thank you for being such a tremendous and fabulous group of students. You all work hard, you guys have a lot of school spirit. You do a lot of great things and I'm proud to have been a Blue Jay and come back and be a Blue Jay again this year. I'm leaving because my position has been made full time at Liberty North. I've seen a lot of things over the years; Liberty has performed very well at Scholar Bowl. I love seeing the entire school come together and support one another. It's not just the one time, but it's the way that we do things. That sense of family and pride is one of my favorite things about Liberty."
– Dr. Rosemary Camp