Cheering for State
How the cheer squad is preparing to take home another State title.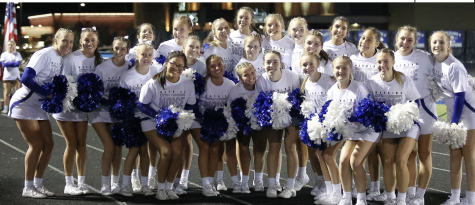 Cheerleaders prepare for State at Cape Girardeau. The team are eleven-time State Champions and nine-time UCA National Qualifier. 
   "Performing for State means, getting  to show off all my work and knowing that because of my work and the team's work we get to do cool things like go to State, and to feel accomplished if we win," Clark said.
    "It's really fun, it's a good way to meet new people, and it's a good environment" freshman flier Addison Roseberry.
   The cheer team starts with tryouts in the second week of April and begins at the beginning of May. They practice 6 days a week from 3:30 to 6. The team does this to find out who is perfect for what position, and to help the team get better for all of their performances.
   "Before a competition, we all just talk as a team about our goals and put in our best effort" freshman flier Laira Braden. 
   Before each performance, they prepare both mentally and physically. They do this by talking to each other or taking time by, going through the performance in their heads, practicing, and asking questions to their coaches.
   "I just try to distract myself before we have to perform and just prepare myself mentally," Roseberry said.
   They perform at all the home varsity football games, all the home varsity basketball games and other competitions like State, nationals, and qualifiers. They all have to prepare. Some distract themselves, others think through the routine to prepare themselves. It's nerve-racking knowing that a bunch of people are watching you at a football game, or worry-inducing knowing that you could mess up at any moment.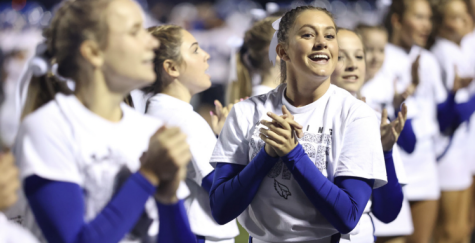 "An example of cooperation is when all of us work together to perform a stunt, " senior side base Emma Clark said.
   The cooperation between the team mates is very important. The team cooperates to perform stunts to show off in front of the student section and all the fans of the Blue Jays or for judges at competitions.  The members of the team that are injured or can't perform for other reasons support the performances from the sideline, or stands.
    "It's nerve racking knowing the State is nearby. Especially because, it's a chance to show off the work you've done and maybe get a prize for it, but with all the friendships I've made from cheer it is easier than what it would be if I didn't have these people" Clark said.
   With being working together an estimated 15 hours per week together it's hard not becoming close with your teams which really helps their preparation or cooperation. Especially since the sport is physically and mentally demanding, having team mates there for you is important to help you and your team to do better. Working 15 hours a week to accomplish something is pretty hard on someone if you don't do well on it.   
"Performing for State means getting to show off all my work and
knowing that because of my work and the team's work we get to do
cool things like go to State," Emma Clark said. 
   "When I came back from practice I felt like I really got worse because of the injury and if it didn't happen I felt like I could be a better cheerleader." Braden said.
   A perfect example of team mates being there for you is when Braden broke her wrists. She broke her wrists doing a cheer stunt. During practice she would watch the team and support them with their stunts. When she finally came back after 4 months, and eased her way back into practice. 
   You can watch the team perform at all the home varsity basketball games. You can watch them perform at State on Dec 10 and 11 at SEMO university. Even if they don't win they still can win awards like, sportsmanship awards, all state performances, and win scholarships.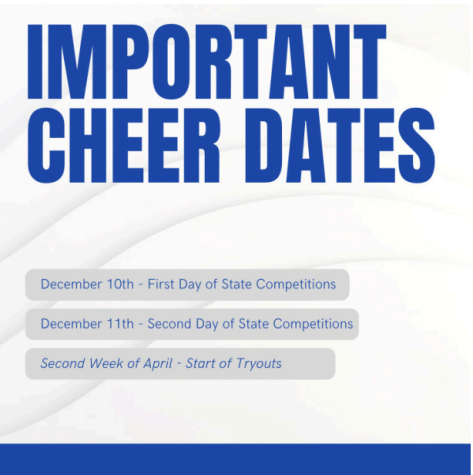 Leave a Comment