Pin to Win
The Liberty wrestling team makes its way to state, taking down one team at a time.
Blue Jay Takedown
   Those who are true Blue Jay fans know on December 4 the Liberty wrestling team had a big win, beating last season's State champions Kearney, 45 to 19. Almost every one of Kearney's wrestlers walked off the mat with flushed, bright, red faces and slumped shoulders. Although the Blue Jay win had a lot to do with the back-to-back takedowns, some would say the gym's atmosphere also had a positive affect.
   As soon as you walk into LHS's fieldhouse, you feel the intensity of the rivalry between the Kearney and Liberty teams. All eyes are on the two wrestlers trying everything to get an advantage and win the match. Siblings, parents, and friends on both sides of the gym yell words of encouragement from the stands. Coaches and teammates bark instructions while they follow every single move the wrestlers make. Blue Jay fan cups their hands and shout "two" in unison for the takedowns made, which won't stop anytime soon, because the Liberty wrestling team wants takedowns and pins to multiply.
   "There are several goals that we have," Head coach Dustin Brewer said. "One goal is just to continue to get better, but overall, the goal is to win a State title. We do have a lot of other things to do first."
   In the past three years, the team has won two conference titles and currently are 3-0 in duals. Some would say the only thing that would be able to stop them from winning would be themselves.
   "We have a really young team, so we need to continue to make progress by learning from our mistakes each week," Brewer said.
   Although the team is young, unlike some wrestling teams, the upperclassman don't view that as a negative.
   "We have a lot of good freshmen in the lineup that are hopefully going to help us win State as a team," junior Greyden Penner said. "We just need to be as good as we can be and work at everything we do."
   Some people may view wrestling as an individual sport, however, the wrestling team's bond proves otherwise. Their perspective is that even though there is one athlete against another, each wrestler is a extension of a team. The team can't win without that one wrestler, which is why everyone has to be on the same page.
   "We're really close, kind of like a family," sophomore Kage Lenger said. "We all are working towards the same thing. It's a great feeling to be working hard with a group of people knowing that if you look to your left or right, you'll see them working just as hard as you."
Win as One
   The Jays do their best to support one another as a team. When things may not be going as planned for one individual, there are other people there to support them.
   "We compete as individuals but we're still a team because we have to be there for each when someone loses a match, or give tough love if someone is slacking," Reno said.
Work Hard, Wrestle Harder
   Wrestling is a technical sport that has an abundance of tactics that take a lot of time to perfect. To win a match, a wrestler has to have a repertoire of moves that can be used to hold, take down, or pin their opponent. For example, the Jays spend everyday after school practicing different techniques, like the half nelson, single leg takedown, ankle pick and many more.
   "My day usually begins at 5:30 a.m., I run at 6:00 a.m. then go to school and leave practice at 6:00 p.m. It's a 12 hour day, but it's definitely worth it," Lenger said
   The sacrifices made for wrestling are valuable, they help develop the athletes as better people.
   "Wrestling teaches a lot of discipline and hard work, a lot of the guys have developed into good, young men. Which in itself makes me proud," Brewer said. "I think it has to do with how we preach for them to work hard in every aspect of their lives, whether it be school, nutrition, wrestling, or anything else."
Junior Greyden Penner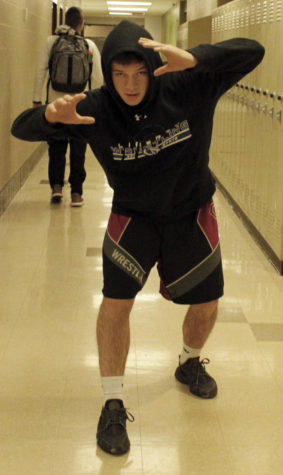 Greyden Penner
   "Wrestling is something I would like to pursue later. Definitely in college, and maybe after. My dad wrestled in high school, and my sisters were friends with all of the wrestlers in high school."
   Penner exemplifies a dedicated student athlete for his teammates.
Coach Dustin Brewer
   "Greyden is a very talented wrestler. He works hard in practice and in the classroom. He is a great person for the other athletes on our team to look up to. He is one of the most athletic guys on our team and when he goes out to attack it is always impressive to watch. I expect big things for him in the future."
Teammate Drake Smith
   "As far as school goes, Greyden takes it very serious. He is probably one of the most dedicated people on the team. He has a lot of talent. He makes everyone better, including me."