Starting with a Slam Dunk
   Redness floods the faces of the Lady Jays Varsity basketball players as the sun peeks through the windows in the fieldhouse. After an hour of vitamin work and offensive and defensive drills, the girls are on their last stretch of running before the end of practice. Having been there since 6:00 a.m., they are tired, but ready for the day and the season ahead of them.
   Although it's only the beginning of the Lady Jays basketball season, they've already paved a path toward success.
   "We keep our goals the same. Tradition and success don't graduate," Assistant coach Zach Werner said. "Our goal is to be the best team we can be in March, and we are constantly working to get where we want to be."
   New head coach Joe Price is using his background of being a coach for 16 years. Price is using this year to further the players as much as he can.
   "It is cool to see how much he cares about us and the program," sophomore Aryonna Straws said. "He is willing to put in the extra work just to make sure we are the best we can be."
   So far, Price has transformed the girls as players and as a team.
   "We are more focused as a team and preseason workouts were intense, but we got better in our training. We got stronger, too." senior Maddie Davolt said. "He pushes us to the very best of our abilities, which I appreciate. He also makes sure we are doing well in school."
   After placing fourth last year at state, Price is more than ready to show what the girls, him and many others have put in work for.
   "The girls have put a lot of time in the weight room and in skill development," Price said. "As a team, we want to defend, rebound and take care of the ball. Those three things give us the chance to win any type of game."
   Assistant coach Zach Werner, who has worked with the Jays for nine years, values personal relationships with the players as much as he values their energy and drive on the court.
   "I try to develop relationships with my players. By having good relations with players, they will always go out with great effort," Werner said. "I want to help them be the best person they can be and the best player they can be."
   Through bettering themselves as people and players, the girls are working to create a stronger team connection.
   "We recently did a form where we all filled out what we appreciated about each other and then we shared them all," Straws said. "It is bringing a new family aspect."
   Though this bond is being strengthened this year, it started before school. They spent parts of the spring, summer and fall in the weight room to work on their skills and get ready for the season.
   "It is going to be challenging, but I think we're going to do well. This year I want to work on everybody as a team together," junior Olivia Nelson said. "We work as a team to score and be happy with each other."
Junior Olivia Nelson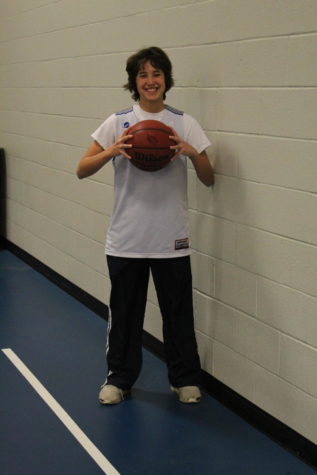 Nelson shows perseverance and dedication to the team by continually pushing herself to do better.
   "I like how you get to work with a team. I like that we get to work together to score and win."
Teammate Jillian Fleming
   "Olivia always finds a way to finish the game. She could get fouled and pushed to the floor and be under three people, and somehow she flings the ball up there and it goes in. She pushes herself to get better everyday with practice and it carries over into the games."
Coach Joe Price
   "She puts a lot of extra time into basketball. She comes in outside of practice on her own to work on her skill level. The way she plays is how you want all your kids to. She's got it figured out, she plays as hard as she can every single time on the court."
Favorite team memory
   When the team went to State last season
Position
   Point Guard