Years of Celebrating
German students come together to celebrate a traditional cultural experience.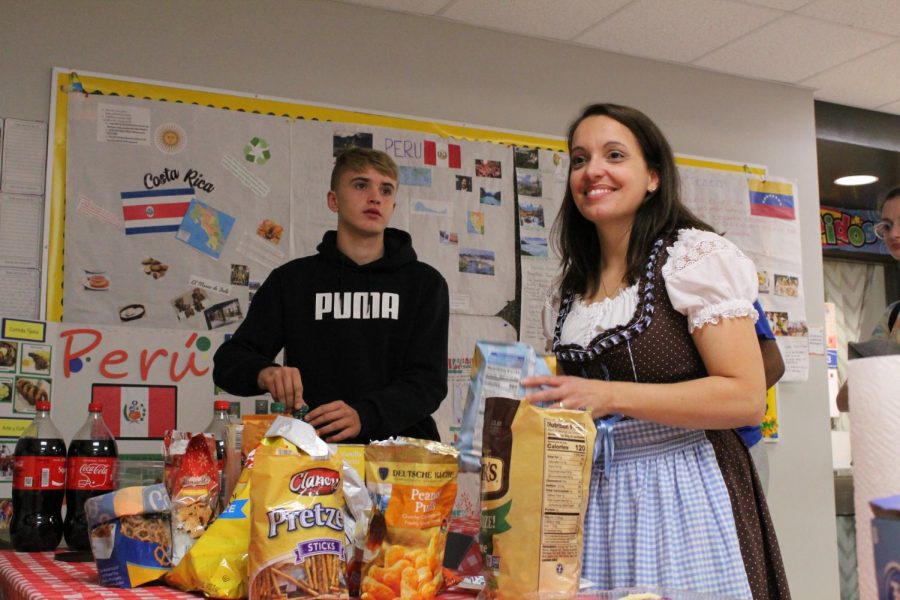 Every year, German students come together to celebrate a 200-year-old tradition called Oktoberfest, or rather as a native would call it "Wiesn." They enjoy traditional German food and learn new steps to dance together. Immersing themselves in laughter, music and food, as they learn about a different culture.
"I enjoy watching the students sing, dance and experience German culture in an authentic atmosphere," German teacher Cynthia Biermann said. "It helps them develop a feel for not only the language but also the people who speak the language."
Biermann does what she can to authenticate this German experience for her students.
"I focus on the music and food that would be typical at Oktoberfest," Biermann said. "The students sing along with traditional Oktoberfest music, feast on traditional German food and learn dance steps, Schuhplattler, that are performed by Bavarian dance troupes."
So what makes Germans want to celebrate something annually for 200 years? A royal wedding between Prince Ludwig and Princess Therese on October 12, 1810. "Prince Ludwig was so much in love with Therese, he invited everyone in the surrounding areas to their wedding," former German teacher Christine Hernandez said. "He named the entire meadow where Oktoberfest is held after her, Theresienwiese, Wiesn for short."
Oktoberfest is one of the most well-known festivals, with over 6 million people from all around the world come to Munich, Germany to celebrate. It lasts for 16 days through September and October.
"They are catering not just to Americans but people who are coming from all over the world," Hernandez said. "I read they looked at ATM drafts and saw there was money being drawn from countries all over the world."
This festival is so widely known, it is even celebrated in Kansas City. About 10,000 people showed up to Crown Center this year to celebrate.
"Although ours is monumentally smaller, Kansas City's draws thousands, whereas millions attend in Munich," Biermann said. "However, Kansas City did do a good job of recreating the festive atmosphere of Oktoberfest."
When Hernandez was still teaching at LHS, she and Biermann would try to recreate this act of cultural diffusion.
"We would always combine our class' Oktoberfest, it was a great way to meet new students, or see some of my old students again," Hernandez said. "Through this, I also learned traditional German dances like the Polka from Frau Biermann."
Biermann says there is a wealth of diversity in our world and it is important to experience different ways of life. For her, mixing culture with the language is very important.
"Language and culture are inextricably intertwined," Biermann said. "You don't truly 'own' a language until you understand the culture of the people who speak it."