Smoke and Mirrors
The vaping epidemic is alive at LHS.
KLHS Vaping Story
When students hear the word "smoking," they may think of older people with raspy voices. But when students hear "vaping," they think of something new, fun and hiding in the bathrooms to do it. Vaping is an issue that hits too close to home for LHS students. It's not just something fun to do that may send you to out-of-school detention.
Vaping and Physical Harm
Teens either aren't aware or don't believe there are physical consequences for vaping.
"You're talking about a liquid that you smoke, breathing a hot liquid into your lungs," Security Officer Kim True said. "There have been two deaths already attributed to vaping. Vaping hasn't been around for many years, but people are dying from it."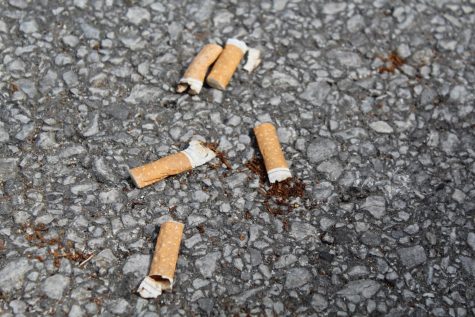 School nurse Becky Kovac says physical symptoms walk through her door every week.
"I have seen quite a few chemical burns to the throat and occasional coughs in students who choose to vape," she said. "There is also a disease known in layman's terms as popcorn lung that is a permanent disorder of the lung.  This is caused by inhaling chemicals and was first noticed among factory workers making popcorn. It has recently been noticed in people who use vapes.  It is unsure how long that the process takes to develop these permanent lung changes, but they can lead to the necessity of a lung transplant."
Senior Courtney Byrd has lots of concerns about vaping too.
"High schoolers shouldn't be doing it, adults shouldn't be doing it," she said. "It's just not good for your body. You're putting harmful substances in your body for no reason."
The other physical misconception about vaping is that it relaxes people.
"Nicotine actually causes a lot of stress and anxiety," LHS Resource Officer Rob Bratcher said. "People vape to prevent stress and anxiety, but long term research shows that it actually causes stress and anxiety. It's interesting that people will do a drug to counter what they're feeling, but really, it increases that feeling."
Marketing to Teens
Vaping has grown in popularity because of the way it is marketed.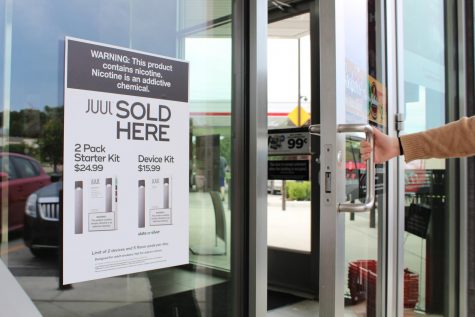 When polled by The Bell staff, 55.9% of student respondents believe vaping companies are targeting high school students. Bratcher agrees.
"Vapes marketed to the 14 to 24-year-old's with the flavors and the different ways to do it," Bratcher said. "In the Liberty District, it seems like vaping has become the cool thing to do, all of a sudden."
He added that advertising fun flavors, which has recently been banned by the FDA, only helped draw in more young people. One student, who asked to remain anonymous, wanted to stop smoking regular cigarettes and learned about vaping through advertising.
"Vaping was an alternative to regular cigarettes and the ads make it really enticing," he said. "I eventually quit smoking, as soon as I started vaping. It took maybe a few days to quit, but now I just keep vaping."
"
"Anytime we hear of a student vaping, district security has the right to search your belongings and/or your person, and they will do so."
— Resource Officer Rob Bratcher
Principal April Adams is also on high alert for students vaping at LHS. "The vaping epidemic has significant implications on the physical and mental health of young adults," she said. Adams went on to explain that teens and young adults can become addicted much more easily when they do things they perceive as enjoyable.
Across the Nation
Vaping is not just an issue impacting LHS. Nationally, six people have died from vaping-related causes, and more cases are under investigation. The FDA released a statement that the vapes causing these deaths contain THC, a component of the cannabis plant.
The most recent death occurred in Kansas on September 10, 2019. At that time, Dr. Lee Norman, Secretary for the Kansas Department of Health and Environment, said in a Kansas Department of Health news release, "It is time to stop vaping. If you or a loved one is vaping, please stop."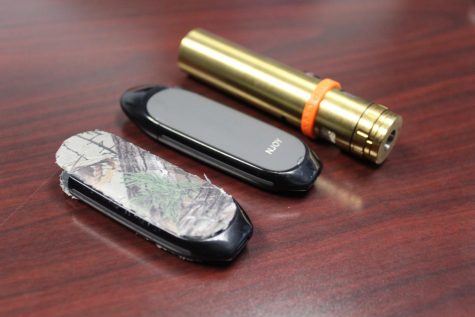 The recent deaths, combined with hundreds of reported lung injury cases, continue to intensify." he said. "I'm extremely alarmed for the health and safety of Kansans who are using vaping products and urge them to stop until we can determine the cause of vaping related lung injuries and death."
Solutions
Finding one catch-all solution to a problem this massive is never easy, but one idea is through education.
The Liberty Intervention Focusing on Education program, which all Liberty middle schoolers participate in, has a new curriculum focused on the dangers of vaping. At the high school level, LHS displays posters in the bathrooms encouraging safe habits.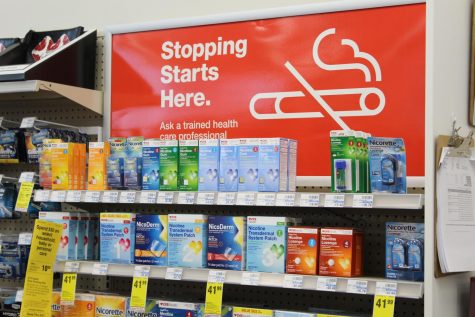 "Peer-to-peer education is really effective in preventing vaping," Community Development Specialist for Clay County Public Health Center Danielle Roethler said. "Students can create positive peer pressure and encourage their friends to not vape. I think it is also helpful for high schoolers to connect their friends who are already vaping to resources to help them quit. Vaping is addictive, so it is really hard to just stop. However, there are a few new apps and texting services that are designed to help teens quit. The quitSTART app and SmokefreeTXT have been helpful for a lot of people."
An Update:
As of Jan. 14, the number of vaping deaths across the United States has grown to 60, according to the FDA. And the number of hospitalizations has grown too, to nearly 3,000 cases of e-cigarette and vaping-related lung injuries.
EVALI is the lung disease scientists have linked with vapes and e-cigarettes containing THC, a derivative of marijuana. In September, school nurse Becky Kovac said she was seeing students in her office for vaping related symptoms. Cases have now been reported in all 50 states, according to the FDA. Of those 3,000 hospitalizations and 60 deaths, they came from 27 states.
The FDA continues to discourage people from vaping or using e-cigarettes that contain THC. The FDA also raised the legal age to purchase tobacco products from 18 to 21 on Dec. 20, 2019. This includes cigarettes, e-cigarettes and vapes.
In a study done by Science Daily in October 2019, scientists showed that people who use e-cigarettes with flavors are more likely to continue doing it. Nearly 65% of teens who used the flavors continued vaping, while only around 43% of teens who used traditional flavors such as tobacco or menthol continued.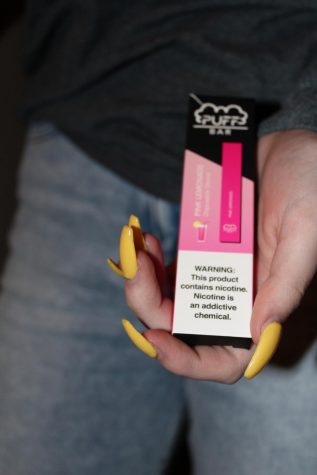 "Regulations that reduce youth exposure to flavored e-cigarettes may aid in preventing young people who try e-cigarettes from becoming long-term e-cig users, and also from inhaling more of aerosol into their lungs," Illinois Senator Dick Durbin said in a New York Times article related to the study.
"Any serious solution to skyrocketing rates of youth e-cigarette use must include the removal of kid-friendly flavors, not just the tobacco industry's preferred policy," he said. "Regulations like these could also encourage millions of U.S. adolescents who already use e-cigarettes to quit vaping, especially if they can no longer access e-cigs in the flavors."