Liberty New Jays
LHS begins the year with a multitude of new features.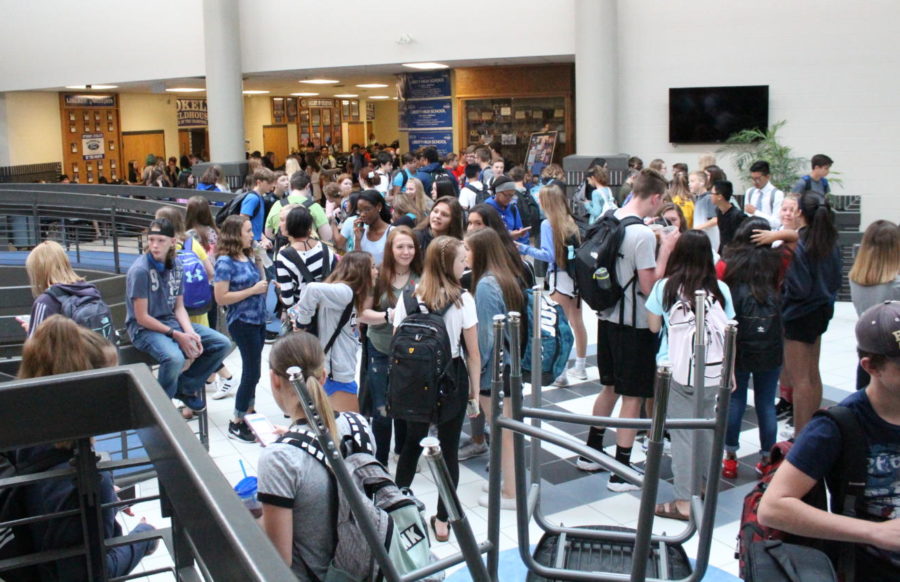 Ringing in New Traditions
It's game time, and sounds from this game can be heard all around. The crowd cheers. Players crash into each other. And a bell rings. Wait, what's that new sound?
LHS has a new tradition starting this year and students seem to be greeting it with bells on. It's the new "Liberty Bell" with the LHS emblem and school song engraved on its side.
The person responsible for bringing the new bell to LHS was Clayton Gray, president of the board for Blue Jay Nation.
"I think Clayton Gray was a big driver in getting it established," Frigon said. "He's passionate about our school history, traditions and things that we can establish. Since we're new in having a stadium we have the opportunity to start some new traditions."
The bell was ordered in February and delivered in May. It was paid for through the Blue Jay Nation general fund and cost $4,631. Weighing about 400 pounds, it took an entire team of men to lift it off the truck that delivered it.
Gray pushed for it because bells have been a part of LHS history for many years. He wanted to bring an iconic symbol to unite the students and develop new traditions.
The bell will be used on many occasions. Every touchdown will be greeted with a chime. Team and personal records will be celebrated with a powerful ring. It even makes a great centerpiece for team pictures. It doesn't end there. Football coach Chad Frigon envisions the sound of the bell having a deep impact on the students.
"I think it gives them a sense of pride and belonging," Frigon said. "It is significant with Liberty being the name that it is. It gives us something we can have that's not really a mascot but a thing students can identify with and take pride in."
Spirit leader and senior William Foust is also enthusiastic about what this bell represents.
"I feel proud to have the bell at the high school. I feel very honored to be a part of this new tradition that is ringing the bell," Foust said.
Flags of the Future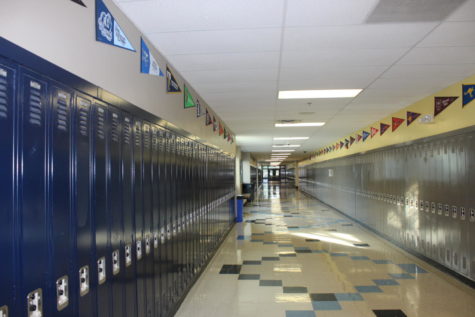 If you look up during passing periods, you'll notice new pennants lined up next to one another near the ceiling. Their purpose? For students to see numerous options after high school.
"It's all about planning for the future," Principal April Adams said.
Junior Sarah Nathaniel agrees.
"Seeing them around the school probably gives me an idea of where I want to go," Nathaniel said.
Even if you are a freshman, planning on what you'll do once high school is over is important.
Freshman Ben Sundell looks at the pennants with fascination.
"On freshman orientation day, my friend and I were actually looking at them the entire high school tour. And looking up at them, we thought they were pretty cool," Sundell said. "My favorite school pennant is Texas Christian University's. I've been a TCU fan all my life; both my parents went there. I've always wanted to go to TCU since a very young age."
Students aren't the only ones noticing the pennants, parents and other adults are as well.
"I can see when people are walking down the halls and parents will identify pennants [and say], 'I went to college there!' So, there's a sense of pride and there's a sense of accomplishment, but there's also a sense of hope," Adams said.
For the next parent-teacher conferences, point out the pennants to your parents and maybe they'll see where they went to school, too.
The pennants are there to help students get a new kind of focus point on the future.
Adams and her team of teachers is in the midst of trying to gather more, including police, fire and coastguard pennants. They are attempting to get them up sometime this school year.
Wise Words
Look up while you're walking down the hall! There's something new…you'll see lots of quotes in big bold letters. It's a new way to get motivated.
Last year, Brandon Swope, an alumnus of LHS, proposed the idea to put inspirational quotes all around the school.
"[Swope] selected some that were obviously very school mindset-driven and from there, took that process to a conversation with department sharers that wanted to provide that positive messaging throughout the school," Principal April Adams said.
If you decide to pay specific attention to where these quotes are placed, you can tell they pertain to what is taught in the department next to it.
"You know, when you walk into the math department, think critically about what those messages say on the walls," Adams said.
The locations can help you have better insight to what these quotes mean.
"If we choose to have a positive growth mindset, then we see the good in situations, even if sometimes they don't always go the way we want them,"
Adams said.
Junior Sarah Nathaniel believes the quotes are aesthetically pleasing to see.
"They're bold," Nathaniel said. "I can see them all over the place."
Freshman Benjamin Sundell said he
didn't notice the quotes much at all.
"I don't really know if the quotes around the school are motivational; I don't really pay attention to the things on the walls, or anything," Sundell said. "Normally, when I'm walking down the hallway, I have my head looking at the floor."
A Blank New Canvas
Every day, students pull out their computers at their teacher's request. Whether it's an assignment, a video to watch, or an online quiz, computer platforms are usually there to support students with their work for the day. Blackboard was the district site students pulled up last year. This year, it's different. LHS has introduced Canvas, a new online assignment platform for their students to use this year.
Canvas, founded in 2008, recently surpassed Blackboard as the most commonly used learning managment system. The Software & Information Industry Association also named it the best K-12 course at their 2018 CODiE awards.
"There were certain things I liked about Blackboard but there's also certain things I like about Canvas," English teacher Kelsie Kleinmeyer said. "Canvas has some nice options as far as grading and syncing with Powerschool and Turnitin.com. It also has a nice assignment check list which is helpful for organization."
The change from Blackboard to Canvas is still new for the teachers. Just like the students, they're still in the learning process as well. Some students are reluctant towards Canvas because it's new, just like how anyone would be in the real world towards a change.
Freshman Kalani Rio used Google Classroom previously in middle school, so the switch of platforms is just as new to him as any of the returning high school students.
"It works as a system but I'm just not used to it yet," Rio said.
Apart from the others, sophomore Aimee Wang is more open to the change from Blackboard to Canvas.
"Right now I like Canvas more than Blackboard because everything is just in one spot," Wang said.
This seems to be the common opinion with others as well.
"I like that it has everything in one place, like your grades," Rio said.
Canvas offers more in one place rather than having to switch from site to site.
In the past, teachers used Blackboard, Google Classroom and Turnitin.com so it was challenging for the students to keep track of assignments. Canvas helps with that through a new To-Do list.
Teachers, however, have had to transfer their information from Blackboard to Canvas which can be time consuming.
"It felt like my Blackboard site was very usable," science teacher Todd McDonald said. "So far I like what I'm seeing in Canvas but I don't feel like I've been able to get it to be like my Blackboard site."
Even though the change might take a while to get acclimated to, teachers think the website will prove to be successful in the future.
"Anything new around here, you're kind of learning. I think overall it's going to be fine," Kleinmeyer said.
Right now teachers are still trying to figure Canvas out. As time passes, teachers will hopefully learn more and more about Canvas, and it will be easier for everyone to use, just as Blackboard was.
Wang is hopeful that Canvas will prove itself and work out.
"In the future I hope that Canvas is the main site, and that it will be very effective to the Liberty Public School's learning process," Wang said.
To Sleep… or Not To Sleep
To sleep or not to sleep, that is the question. The new late start schedule change for Wednesday mornings has left students with questions and opinions.
Some students might think this change is random, but it's not. According to Principal April Adams, the change was made to benefit the whole district.
LHS and Liberty North needed to be on the same time schedule. According to Adams, there is a team of about 35 to 40 teachers between both high schools. They helped make the decision to change the schedule to match Liberty North's.
LHS is currently working to get more programs housed here. LHS houses all of the automotive programming while the Pro Start cooking team has moved to Liberty North because they have better facilities. It doesn't matter if you go to school at Liberty or Liberty North, you go where the program is located.
Liberty North had late start Wednesdays last year while we still had early release, so their Wednesday schedule was different than ours. This created lots of difficulties for travelling students and teachers. Now that both schools have the same schedule everything will run more smoothly.
Adams explained she likes late start equally as much as early release. She is happy with the way the schedule is working out, and how it is benefitting the students and teachers of both LHS and LNHS.
Students, of course, have a variety of opinions.
Some students like the idea that they have a few extra minutes of sleep in the morning, while others don't see a change in their sleep schedule at all.
"I like the fact that I get to sleep in," sophomore Sal Bonadonna said. "We get out at the same time, so it's still kind of like early release because there's less time in school."
Junior Anna Kreicbergs shares a similar opinion.
"I have dance the night before Wednesday and it's nice to be able to sleep in after a tiring night," Kreicbergs said.
However, others disagree.
"I'm not really a huge fan of late start Wednesdays," junior Leah Rainwater said. "Even though school starts later, I find myself waking up at the time my body is used to every day."
There are also students in band who don't have the option to sleep in.
"I'm already out in the field early in the morning at 6:45," senior Lauren Bahr said. "We now have a gap of time where we're not doing anything because we have to wait for school to start."
Bahr is also in the habit of thinking classes end at the normal time, and then realizes there is still 15 minutes left.
Band students are not the only ones who don't have the option to sleep in. The bus schedule runs the same every day. This means all bus riders have to wait in the Commons until class starts.
"I use this time to be productive and work on homework if I have any," junior Daija Southall said.
But others don't feel as productive and have voiced frustration with the crowded wait space.
Whether 'tis nobler to sleep in or to go to school early, make sure you're not too late, to late start.