Battle of the Buzzers
Scholar Bowl recruits new members as they welcome their fall season.
   Slamming buzzers with an immense amount of anticipation coursing through their veins. Hoping they can get the correct answer and push their team higher on the podium. 
    All this and more occurs in room 204 every Thurs. starting in Oct. The team meets after school from 3:15 to 4:15 every Thurs. They often have competitions on Sat. and very rarely, during the week. 
   "I thought Scholar Bowl would be a fun opportunity to learn new things and meet new people. We've become a pretty close-knit group," junior and varsity member Greta Witt said. "It's nice to know friendly people. "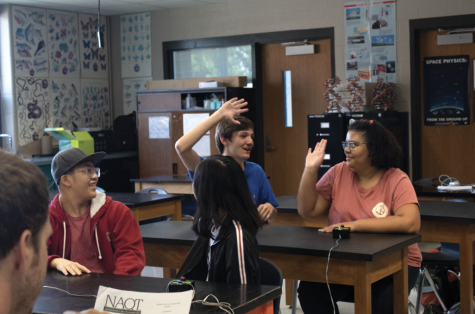 For  JV Coach and Theoretical Chemisty teacher Ryan Brewer, has had trouble in these past years with student's not wanting to join Scholar Bowl. Brewers interest in Scholar Bowl first sparked in 2005, but it wasn't until he was a teacher that he acted on it. He believes that everyone knows different things and that diversity is a make or break. 
   "The thing I love most about Scholar Bowl is that your team performs better if they're more diverse," Brewer said  "So it kind of celebrates students' unique backgrounds and knowledge that their teammates don't know."
   Diversity is a big thing in Scholar Bowl. The diversity of knowledge is a make or break on this team. The more you know, the better chance of winning for your team. 
   "Scholar bowl is geared towards lots of different areas" Larson said, "you don't have to be an expert in all of them that just having one little niche that you know about can sometimes be the difference between the team winning a match and losing a match."
  Juniors Jacob Smith and Greta Witt have been involved in Scholar Bowl since middle school, Smith was on the LMS team and Witt, DMS. Both Witt and Smith were encouraged by peers to join the team. As soon as they learned how fun it was, they were hooked. 
   "The practices are a lot less formal than the actual competitions," Smith said, "you get to goof around with all your teammates, "
   Varsity Coach and Earth and Space science teacher Trace Larson, earth and space is a physical science class that challenges students to learn more about the world and the planets around us.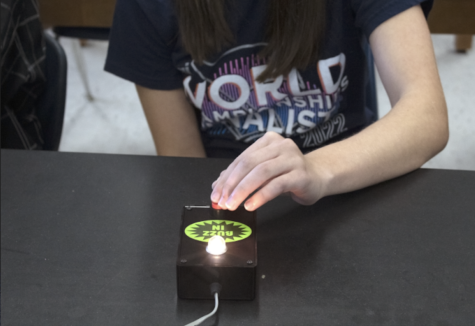 "For me personally, seeing the students start off as junior varsity, then working their way up into the varsity category as they get some more advanced classes under their belt," Larson said
  According to Texas A&M Today, "Results strongly suggest that participating in extracurricular activities causes students' academic performance to increase. It's the first study to demonstrate the reason that participation in sports leads to improved outcomes is the effect of participation on one's friendship network."
   According to nassp.org, "Participation in extracurricular activities can boost schools in key areas—academic performance, behavior, attendance, student and parent satisfaction." Especially being involved in an Academic club, as it can be very beneficial to grades and communication to others."
   "I love being able to do the competitions with my friends," Witt said. "The whole trip and getting to know all the inside jokes and everything." 
   Scholar Bowl isn't just testing one's knowledge in a non-competitive form, Scholar bowl is a MSHAA competition. These students travel around to different suburban schools and compete for trophies and medals. 
   "We go to competitions at any of the high schools around,[Suburban conference]" Smith said. "Liberty North is one, but sometimes we just stay here. We just face a bunch of other high schoolers at different high schools." 
    Scholar Bowl is open to all students. If you or anyone you know is interested in Scholar Bowl, please contact Larson in room 700, or via email, [email protected], or Brewer in room 204, or via email, [email protected]. You can find more information about Scholar Bowl through the Liberty High School website under clubs. 
Leave a Comment