More than French Fries
French class aims to teach students the language and culture of France with various techniques and reasons to learn it.
  Walking into a French class can make someone feel as though they are in another country. The signs on the wall, the atmosphere and the culture and language are only the start of learning French. 
   French is offered to all grades, there are currently 120 million students that are learning French all around the US, says Babbel magazine. 
   "It's been a great experience, and I think that students should try new things," said Gracee Peugh. "I never wanted to take French until 8th grade,"   
   There are many benefits from learning French, says the France Diplomacy.
   "It has helped so much, I love to travel so I use it constantly," Lumetta says.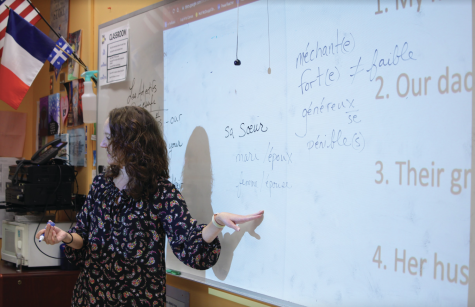 French is a global language, there are many other countries and continents who speak it such as Africa and Canada. Jobs in the United States may even require the language such as an interpreter, flight attendant, and translator "If you want to work for the State Department or in a large multinational company, French is the way to go," Lumetta says. 
   Learning how to speak French is different for everyone but there's no time limit to when someone should start, Lumetta started French in her sophomore year of high school and is now fluent."I believe studying in another country is the best way to learn a language because you are immersed in it and have no choice but to learn and use it," says Lumetta. 
   "The French club has activities and food for anyone interested in the French language and culture,"says Lumetta. This club will be hosted Oct 5th.
Leave a Comment