Man of Steel
Liberty's cross country coach Jordan English competes in an Ironman.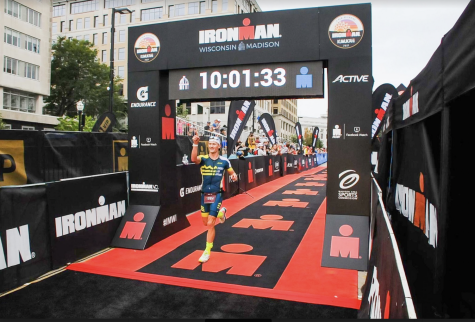 On Feb. 18, 1978, the first Ironman triathlon took place in Oahu, Hawaii. Ever since, the Ironman has spread internationally and is known as one of the hardest races in the world, as racers have 17 hours to finish a 2.4 mile swim, a 112 mile bike ride and a 26.2 mile run.
On Sept. 12 with 70 degrees and overcast there was perfect race-like conditions in Madison, Wisconsin when Liberty's cross country coach, teacher and endurance athlete Jordan English, took on his first full Ironman. It's always been a goal of his to compete in an Ironman ever since he got into endurance sports.
"
An average week of training consisted of 10-12 training sessions, with one of the bike rides lasting three to five hours and one of the runs lasting over two hours."
"I just rode my bike for fun, and eventually jumped into a race," English said. "That was almost 10 years ago, doing my first half Ironman. The longer I've gone, the more serious I've taken it."
English got into endurance training shortly after he got out of college and developed a passion as he continued to train, race and became the coach of the school's cross country team. The training required is extremely rigorous and time consuming as it takes many hours a day over the course of months. For English, it was tough to coach a cross country team and train for an Ironman at the same time. As coach many hours are spent training, strategizing and leading his athletes, while still having to give time for his own endurance training. English was not alone in his training, as he was coached along side endurance trainer Mark McWilliams.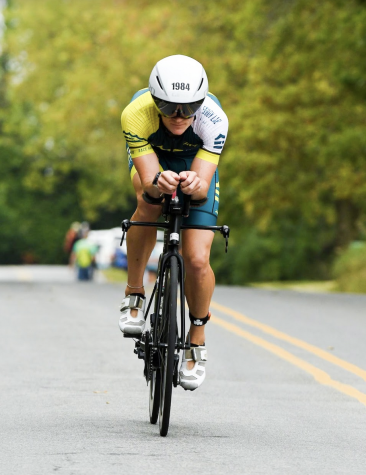 "It's incredibly difficult to balance the load of training with family life, work and leading a XC program," English's trainer Mark McWilliams said. "Often, his training sessions were not at ideal times — in the heat of the day or late at night, after the kids were in bed. But Jordan had an incredible support system at home and the XC team of both boys and girls fueled him."
According to mytriworld.com Most people who compete in an Ironman finish at an average time of 12 hours and 38 minutes. English, on the other hand, finished 15 overall and fifth in his age group with a time of 9 hours, 58 minutes – and 57 seconds. The run portion of the race helped English, as that's his biggest strength. English proved to be one of the strongest runners, not only in his age group, but in the entire field of 2k (2,000 meter) athletes according to McWilliams.
"I didn't really know what to expect because Wisconsin has a hilly bike course," English said. "I would say my goal time was 9 hours and 30 minutes. Then under 10 hours was my realistic goal."
An average week of training consisted of 10-12 training sessions, with one of the bike rides lasting three to five hours and one of the runs lasting over two hours.
"When you work hard, train smart with easy days and good recovery, and are super consistent over a long period of time, good things will happen," McWilliams said. "Jordan nailed all of those things and based on how well everything was going, we knew he had the ability to finish in under 10 hours."
While different Ironmans are raced all around the world, there's one in particular that takes place every year in Kona, Hawaii, where the best endurance athletes fight for the title of the world's greatest triathlete. With English's impressive 15 overall finish, he earned himself a spot at Kona in October of 2022.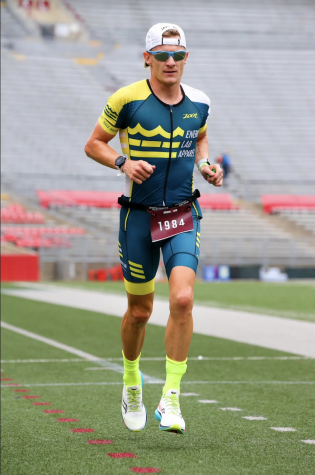 "Finally deciding to make the jump and chase the Ironman World Championship in  Kona, Hawaii, was the biggest thing that made me go out there," English said.
English's strong discipline and commitment to this sport highlights his resilience as a person as he trains and coaches day in and day out.
"I've coached dozens of triathletes and runners covering all distances, but when it comes to full-distance Ironmans, Jordan is one of four brave souls I've shared the journey with as a coach," McWilliams said. "Both family and XC was an important part of his Ironman journey and his success."
The Ironman World Championship English qualified for will take place in Kona, Hawaii on Oct 6 and 8, 2022. English doesn't plan on competing in this specific race, but plans on qualifying for it again in the future.
Leave a Comment