Approaching Success
Men's volleyball team is adopted after being an independent team.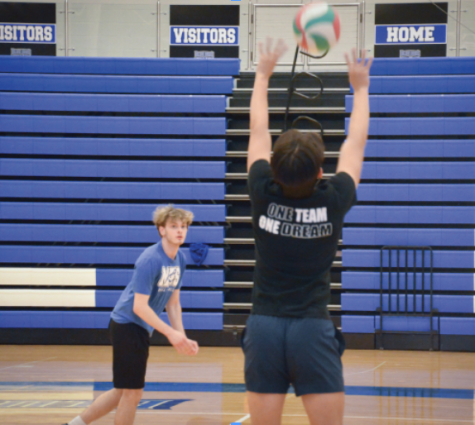 Founder and captain Senior Sam Brusven led the charge to make the Liberty Ace's, now simply known as liberty men's volleyball, an official school team.
     Brusven started the club when he was just a sophomore, acting as the founder and captain, taking up roles such as training new recruits, hiring coaches, designing jerseys and even scheduling practices.
   He also took up the job as a women's volleyball team manager, taking pictures, streaming games, making hype videos and tagging along during practices and games. 
   When Brusven originally started the team, it had 15 players, and the team was merged with players from Liberty North. However, the team became independent from North last year when the KC Boys Volleyball League, the host for competitive men's high school volleyball around the KC Metro, passed a regulation stating combined schools were no longer allowed. The competitive team now has a roster size of 10, though the amount of guys who participate, learn, and play the sport through Liberty Men's Volleyball is roughly 20 per year. 
  "Just getting to know the guys was great, there wasn't one moment throughout the entire season last year where I felt like I was really under pressure. It was relaxed and all the guys were just trying to have some fun," Junior Emerson Tervort said. 
    When Brusven originally attempted to get the team adopted, they ran into complications with coaches, as well as finding a teacher monitor. Last year they had neither the time nor the energy to attempt to get adopted due to the lack of guys they had for the team. This year however, they had a solid foundation of guys, as well as already having a coach. So, they were able to revisit being adopted. 
   When Brusven had decided to meet up with the athletic director, they had met all of the eligibility requirements. After winter break the team will be paying for coaches as well as uniforms and equipment, on top of that they will be officially starting their season after basketball season, as official sports take priority over club sports.
   Previously the team held practices at Davies Volleyball Complex during their competitive season from March to May, and played all of their games at other high schools. Being adopted by the school has allowed the team to begin practicing at the school during their season, as well as hosting games for the league. Despite this, Liberty Men's Volleyball will continue to be self-sufficient, fundraising money themselves to pay for equipment, coaching fees, jerseys, league fees, etc. 
  Junior Emerson Tervort was also a team manager for the women's volleyball c-team, allowing him to get more touches on the ball and gain experience of helping out with a team similar to his own. 
       "I'm helping Sam with leading the team because I'm taking over the team once he graduates this year," Tervort said.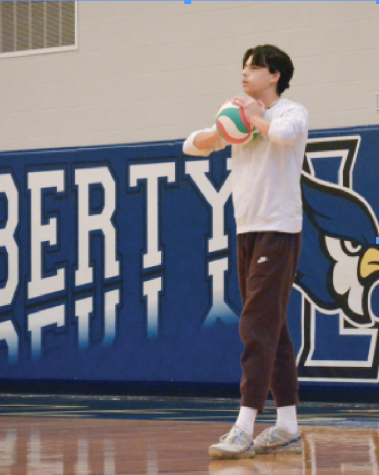 This year since the men's team is now a school affiliated club, they will be practicing and hosting games at the school. Prior to that they will continue practicing at The Davies Volleyball Complex.
  The team is always looking for new people who are interested in trying it out and learning the sport, though there is lots of competition to make the competitive team, as they will only be accepting 10 boys. Those of which will be chosen through tryouts in the spring. The team plays year round through various clubs, open gyms, clinics and events. They allow anyone to come and try it out, even if not a part of the competitive team. 
   "It's pretty fun, and it's an opportunity for me to be around a great group of people. The friendship and the bonds we make are great. The environment is positive and always fun. We enjoy each other's company." Clarkson said.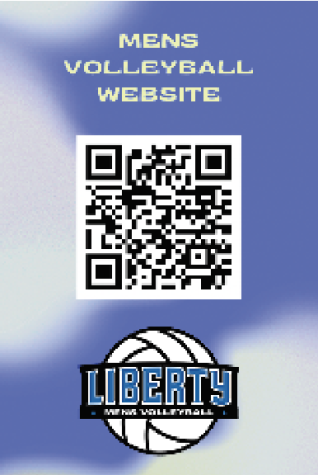 All Freshman through Senior boys are welcome. Even with no experience, the team welcomes everyone who wants to learn. Any students interested should check out the men's volleyball team website libertymensvolleyball.godaddysites.com to get involved in the program. In order to be able to pay for all of their equipment they will be doing a gofundme, this will be available on their website after winter break, as well as everything else needed to support the newly adopted team.
    The next opportunity to join in on their program will be their preseason open gyms, located at True North Volleyball Academy in Gladstone, MO. This will begin in January, acting as an opportunity for new and veteran players alike to prepare for the competitive spring season. 
Leave a Comment