Homecoming Heartache
Jays defeated by Staley in a close game on Hoco weekend.
  On Sep. 31, the Liberty Blue Jays were defeated at home by the Staley Falcons who overcame a ten point deficit in the fourth quarter ending in a final score of 26-22. 
   The game began with a Jays' touchdown from senior running back Anthony Wenson who also received seven carries on the drive. The Falcons answered with a drive which ended with a 12-yard touchdown pass from Cole Robertson to Jayven Stallings but an unsuccessful point-after-touchdown attempt left the Falcons trailing 7-6. The Jays' second drive of the game ended when the Falcons recovered a fumble by Wenson. However, they could not capitalize on the turnover and punted the ball back ending the first quarter. 
   The first scoring of the second quarter occured when Jays' quarterback Christian Kuchta threw a 64-yard touchdown pass to Dominic Revels. This would be the only scoring of the second quarter, making the halftime score 14-6. The third quarter began with a Jays' drive closing with a 43-yard field goal by Eli Ozick. The Falcons would then answer with another touchdown catch from Stallings and a successful two-point conversion to make the score 17-14. Robertson would go on to throw an interception at his own five yard line, setting up a six yard touchdown run by Wenson.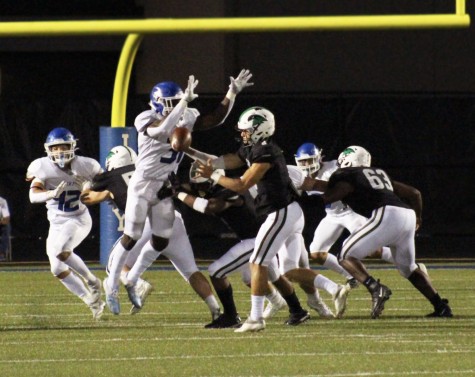 The fourth quarter began with Kuchta throwing an interception that led to a Kenveon Stone rushing touchdown but the Falcons missed the PAT making it 24-20. The next Liberty drive culminated in a missed 43-yard field goal by Ozick. Staley would get the ball back and drive down the field, scoring on a Don Daughtrey rushing touchdown (with an unsuccessful two-point attempt) to make the lead 26-24. The Jays tried to score again but Kutcha threw an interception that ended the game.
   Kuchta completed seven of his 14 passes for 132 yards, one touchdown and two interceptions. Wenson logged 21 carries for 82 yards and two rushing touchdowns. The Jays' leading receiver was Revels who reeled in two catches for 75 yards and a touchdown which came on a 64 yard pass from Kuchta. As for Staley, Robertson finished with 193 yards, two touchdowns and one interception. Stone finished with 162 yards on 26 carries with one touchdown. The Falcons leading receiver was Stallings who caught eight balls for 115 yards and two touchdowns. The Jays will host Lee's Summit North on Oct 7 and tickets can be bought at https://lhsathletics.lps53.org/tickets or at the game. The games are also streamed on the KHLS TV YouTube account which can be found at https://youtube.com/c/KLHSTV.
Did you attend the Homecoming football game?
Sorry, there was an error loading this poll.
Leave a Comment