Fresh Faces on the Field
The Kansas City Chiefs recruit multiple new players in order to reconstruct their team .
   The Kansas City Chiefs steered in the right direction for the 2022 season after picking up many key defensive and offensive players in the draft which took place at Caesars Forum on April 28, in the Las Vegas strip. 
   "I absolutely love the new draft picks. It is a different set up for the team, but I feel it will transition well," junior KLHS sports reporter Brooks Babcock said. 
   This is definitely a new set up for the team. The Chiefs had a very successful draft as stated by many of their fans and spectators around the NFL. This was needed to make up for the 11 players who left the 2021 team.
   According to the Arrowhead Report, "Following the 2022 NFL Draft, the Kansas City Chiefs have been widely applauded for their draft haul, largely considered one of the best classes in the league." 
  Although nobody likes to see their favorite player leave their favorite team, fans have to look at the bright side. 
   "I think it frees up money a lot more so we can get more role players. Players that are good and can make good plays, but not as expensive as these high superstar talents," junior Vincent Money said. 
   Concluding the free agency, the Chiefs acquired some considerably good players, in exchange for letting some go. One of the biggest acquisitions, according to the Chiefs, has been picking up Juju Smith-Schuster, a former Pittsburgh Steeler. 
   "In Smith-Schuster's short 2021 season ending in a shoulder injury, he recorded 15 catches for 129 yards and no touchdowns," According to ESPN.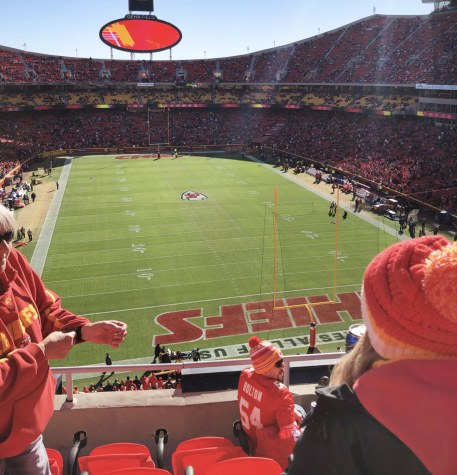 As Smith-Schuster drifted into free agency it left the thought of who his new team and quarterback would be. 
   "​​It was a big part of the process," Smith-Schuster said. "You go into free agency, and you find out who's going to be throwing you the ball next year. It came down to Pat (Mahomes) and I'm excited. I'm happy with my decision," according to ChiefsWire. 
   The Chiefs also drafted Skyy Moore in round two at 54th overall. Moore was a receiver from Western Michigan. In his last college season he had 95 receptions for 1,292 yards as well as earning 10 touchdowns according to college reference.  
   "Skyy is very versatile and can make good plays out of the slot. He is a great over the top guy like Hill was," Babcock said. "I can't wait to see him play this upcoming season."
   The defensive side of the ball needed spots filled too. Defense was something the Chiefs planned to improve. They managed to draft what they felt met their defensive needs taking a corner Trent McDuffie in round one at 21st overall. McDuffie allowed zero touchdowns in his college career. George Karlaftis, a defensive end, was also drafted by the Chiefs in round one at 30th overall. Karlaftis recorded around 60 tackles and 36 assisted tackles too. 
   "I feel losing Melvin Ingram hurt us a little, but we added Karlaftis and McDuffie who will be very good rookies and will play really well for us," senior KLHS sports reporter Charlie Marshall said. 
   Breaking down the 2021 season ending in a 27-23 loss to the Cincinnati Bengals, aside from turnovers, defense was something they struggled with toward the end of the season. With the new picks, the KLHS sports team hopes to see a bit of an improvement with the defensive side of the ball. 
   "I would like to see our defensive rookies fill their roles this season," Babcock said. "I feel if they do that it will be a good season for us and we will be able to compete for the AFC West and the title."
   With many unexpected turnouts in the Chiefs offseason, fans may want to keep an open mind with the new team. Preseason games start Aug. 13 and the official season starts Sept. 11 facing off against the Arizona Cardinals.
Leave a Comment