Working for a Win
Varsity Winter Guard travels to Dayton, Ohio to compete at Nationals against over a hundred teams.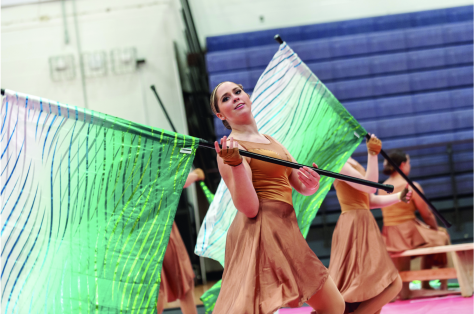 Tears of joy and frustration stain the worn wooden floors while a friend and mentor soothe the mind with comforting words. Hearts tumble while the team takes in the other Winter Guard team's final toss before exiting. 
   The Liberty Winter Guard team has spent the entire year mastering their tosses, synchronization, dance and equipment skills will be noticed during the national competition during the 6th and 7th April in Dayton, Ohio. 
   Guard is a sport which specializes in musical dance with equipment such as sabres, rifles and flags. Nationals will take several days, first starting with prelims, semi-finals and closing off with the finals. 2022 is the first time in three years the Liberty Winter Guard has been able to compete at the national level due to the lifted COVID-19 restrictions and different choreography they have included. 
   "There are only three groups from Kansas City going, two of which are probably going to make something out of prelims."  coach Jennifer Cannon said. 
   Prelims is the performance which dictates whether or not the team makes it into semis and ultimately finals. Around 32 teams from prelims will go into semis and 20 will make it to the finals.  The team would perform the same show they have been perfecting all year and be judged on their equipment use, choreography and emotion.
"Last year, we could only compete virtually," sophomore Katie Wolhetz said. "So I didn't get to experience the high school level of competition before this year."
   To meet the high level of competition, the coaches have conditioned the performers with over 6 training hours per week at their Discovery Middle School rehearsal space along with rerunning the show to pick out imperfections. 
   "We try to get them into the thinking that we have to overcome obstacles. You drop and you move on. We don't get a score based on one person dropping," Cannon said. "That's not how it works. It's overall."
   The team has been running the show over and over to correct even the tiniest of mistakes. They run an average of two times a night while recording to find their mistakes.  The dancers have been working on throwing higher and longer tosses to hopefully impress the judges. 
"You can't let the pressure get to you." Wolhetz said.
   "You can't let the pressure get to you." Wolhetz said. "You have done it before. You can do your tosses or just choreography. You know you can do it. 
   Along with the mental and physical challenges that come with preparing for a win, financial issues have appeared when competing at the national level. To compete in the Dayton, Ohio nationals,  it could cost up to $1200, travel alone costs around $800.
   "Even though everyone's worked really hard to get us this rehearsal space [at Discovery]," Cannon said. "Getting the right equipment, getting new floors, costume shortages."
   The Guard has spent over a hundred hours training for their time at Nationals and doing fundraisers to make the money to compete. With the heightened stress and work that goes into practice, the Guard has grown a support system within their group. 
   "Guard is just like a big family and we all really love it and are very passionate about it," freshman Malea Thomas said. "We all love each other and try to build each other up and just always have a positive attitude coming into it."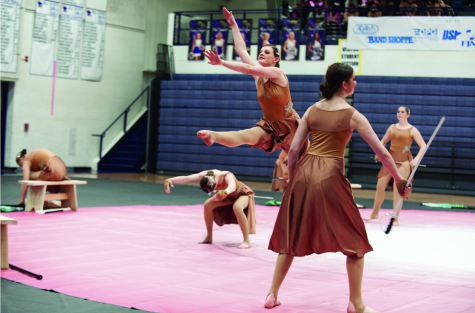 Guard performs at several local competitions throughout the year starting with the Jan. 22 MCCGA [Mid-Continent Color Guard Assosiation] Battle in Columbia, Missouri to the MCCGA Championships in Springfield, Missouri.  Along with these shows, the team performs during the football halftime shows in the fall. To watch the team, there is a free send off performance on March 30, 2022 at Liberty Highschool's Cokely gym.
   According to Wig.org, they are currently ranked 12 out of 94 in the country. The team has used their three years to expand their skills with the equipment while also gaining recognition for their movement skills. To get involved, go to BlueJaypridebands.com website.    
Leave a Comment