Rise to the Top
Girls and Boys Basketball teams have their eyes on State.
Shoes squeak, balls dribble and nets swoosh while the crowd cheers with an overpowering roar; this is BlueJays Basketball.
Both basketball teams have an influential part in the role of the school's sports program and the school's overall image. Both girls and boys basketball teams are going full speed ahead for the state title.
Lady Jays Basketball team currently is currently undefeated, as of Jan. 22. This record couldn't have been done without the work put in during the off-season
"The summer is a really big time for us, our off-season really starts back during the Spring and Summer," assistant girl's coach Zach Werner said. "We go to team camps and day camps where we go play teams during the summer. It's a team-building time, but it's also a time to start putting in some things that we want to work on during the season."
Another important aspect of the teams is that they are learning and growing from weaknesses that they faced last year.
"We did a lot of weights because our problem last year was that we weren't strong enough and that's one of the reasons we lost to North Kansas City," junior Olivia Nelson said. "That's why this year we focused a lot more on weight lifting."
The girls not only spend time together on the court, but they find time off the court to increase their bond as a team. They have lots of group activities that make them even closer teammates and friends.
"There's a good group of them that have been friends for a long time, so I see them spending a lot of time together," Werner said. "They have team sleepovers and team dinners. They spend a lot of time outside together because the more time and the better they know each other off the court, the more it benefits us on the court."
The season ahead has many solid and strong teams standing in the way of the Lady Jays, but the team has a way of handling this challenge.
"After each game, we get ready for the next," freshman Katie Mihelic said. "We just take every game as the next game and we try to focus on doing what we have to to win."
In the end, there is one goal that they are trying to accomplish. That goal is to beat each and every team that stands in the way of a state title.
"We have a phrase that we use, move to the right. If you win you move to the right in the brackets," Werner said. "Always try to win and give yourself a chance for a championship."
"
After each game, we just get ready for the next. We just take every game as the next game and we try to focus on doing what we have to do to win."
— freshman Katie Mihelic
As of Jan. 20, the boy's team sits at a record of 11-3. The men have been putting in a lot of time in for a successful season.
"During the off-season, we have eight weeks of workouts, which include a lot of cardio and workouts out on the track," boys head basketball coach Roger Stirtz said. "Now that we are in season we get into the gym every day and are always trying to improve."
"I think the biggest thing is experience," senior Grant Stubbs said. "Last year we had talent, but we didn't have a ton of experience, which led to some close losses. This year we have experience and our young guys are playing well, which is helping us a lot."
The underclassmen have a large role on the team this year and they are always looking to improve their game.
"We're working on defense a lot," sophomore Bennett Stirtz said. "We are also working on some more passing."
With a balanced mixture of upper and lowerclassman, the team has something that really sets them apart from other teams.
"I think our team chemistry, how well we play together, and how close we are, sets us apart from other teams," Stubbs said. "We all have the same amount of trust in each other and that really helps us elevate our game."
On top of a State title, the team has been setting goals along the way.
"One of our team goals was to beat Staley, which worked out for us," sophomore Luke Stubbs said. "Another one for us was to beat North at home and at their place. We're also trying to win districts, and make it as far as we can in the postseason."
Moving into the second half of the season, they are trying to keep their eyes on a state title.
"Honestly, every opponent is our next big opponent," Stirtz said. "We really try not to get caught up in the stress or pressure of playing specific teams."
Athletes of the Month senior Jermaine Booker and freshman Oliviya Tinoco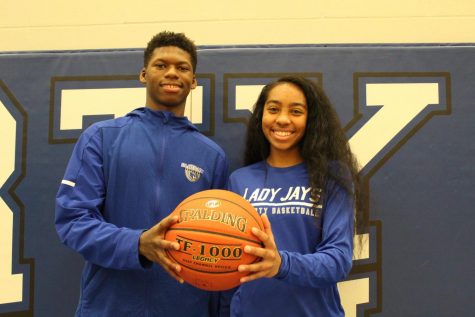 Athlete Jermaine Booker
"My teammates, coaching staff, friends and family put me in the position to win Athlete of the Month. They push me every day to be better and to get better."
Coach Roger Stirtz
"He's become an impactful player for us on both ends of the field, particularly defense. He's one of our hardest workers. What separates him from some of his opponents is his knowledge of the game."
Junior Kellen Goodwin
"He's phenomenal at defense. He has a lot to offer just as a leader on our team. In the weight room, he's always motivating people to lift more weight. I'd say he's one of the hardest workers on the team."
Athlete Oliviya Tinoco
"Not only when I'm in the game, but when I'm out of the game I always want to make my teammates happy and cheer them on. It feels really cool."
Coach Joe Price
"She brings a lot of athleticism on the defensive end. She's a really good on-ball defender. She has a toughness about it. She's always at practice on time. She focuses on her individual skill development."
Senior Jillian Fleming
"She shows up to practice, she works hard when she's there. She's really done a nice job this season. She's played hard, and gave us a good look on the varsity floor this year."