Serving up Friendship
The girls tennis team has a close bond through hard work.
Whether they're at a practice or a match, the girl's varsity tennis team is encouraging its members and having a good time while doing it.
"They're a small group, so you get to really know the girls, and it's special to where you can grow bonds with everybody because you spend so much time together," head varsity coach Pam Koch said.
A lot of hard work and dedication goes into making varsity, but players get a whole new group of teammates to call their friends.
"The best part is how close we all are," senior Colby Kelley said. "I really like being on the team and I enjoy everyone on it."
Working hard in the offseason is always on the minds of these players.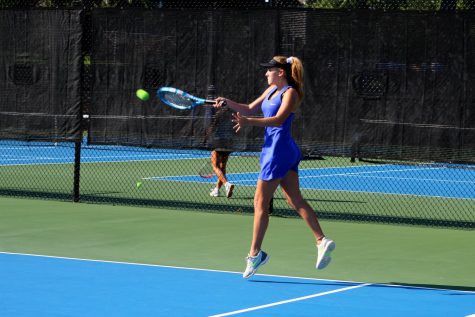 "I put in a lot of work in the postseason and I practiced all summer," Kelley said. "I also played a lot of tournaments."
Commitment to training during the offseason really paid off for Kelley. She has been on varsity all four years of her high school career.
Seniors aren't the only girls causing a racquet for the varsity team.
"I'm really happy that I've made varsity this year because I've worked really hard playing at Marchetti Tennis Academy," sophomore Rowen Jensen said.
Starting off on JV her freshman year and now making it to varsity was a proud moment for Jensen.
"I made JV last year and I worked hard in the offseason to make varsity," Jensen said.
Being a freshman on varsity isn't an issue for freshman Claire Hamilton. She has already built close friendships with her teammates and coaches.
"It's a lot of fun to have a lot of upperclassmen on the team, I really enjoy it," Hamilton said.
Senior Samantha Seggerman loves having the current players on the team.
"Having these new people is so fun because they are such amazing girls and they have worked so hard to get here. We have a hard sectional this year, so I think it has made us even more focused," Seggerman said. "Win or lose, we are a team that sticks together. Overall, I think they are a great addition to the team and I am excited to get closer with them."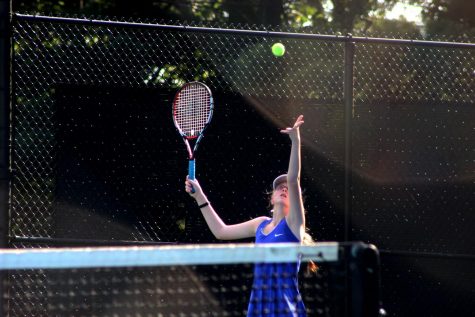 After building a bond, the varsity team is looking forward to the Rockbridge Tournament in Columbia, Missouri.
"We get to go to Rockbridge and stay in the hotel as a team. We get to bond with each other while we're there and that's the best part," Jensen said.
On and off the court, everyone is there for each other. They all agree the best part of being on the tennis team are the friendships that are made.
"I think the best part of the varsity is being with so many great girls. I love road trips to tournaments, fun nights at hotels and when our coach lets us eat an unhealthy celebration dinner," Seggerman said.
Kelley had similar thoughts.
"I'm looking forward to going to tournaments with all my teammates and especially postseason, that's when we all work the hardest together," Kelley said.
Doing whatever it takes to get a win for the team is all that these players have in mind.
"Most people only get to see us at matches, but there is so much practice and fun times behind the scenes," Seggerman said. "No matter how tired I am, I always go out onto the courts trying to do everything I can to win for my team."
Seniors Samantha Seggerman and Colby Kelley
Samantha Seggerman
"Colby is such an amazing player and a friend. We have been playing together for over four years so we have great communication and have spent a lot of time working on strategies. Our team is really great this year and we have a lot of new people on varsity. I'm excited to see the new varsity members grow into better tennis players and make memories."
Coach Pam Koch
"They both have done impressive things. Colby has always been an amazing player, but over the summer and going into this year, she has improved her game even more. She has been quite impressive in all of her singles matches so far. Samantha has also been impressive in her serve and her volleys this year. I think Samantha's most impressive moment was in her doubles game at state. She really stepped up to win matches to get a state medal."
Colby Kelley
"Samantha and I played doubles our freshman year and we went undefeated. This season, I think Samantha and I will continue to be a strong doubles team together. We know how each other plays and can strategize and work well together. We click as a doubles team."