Go for Goals
The women's soccer team shares their secret recipe for success.
A combination of hard work, dedication, teamwork, chemistry, and positivity creates the list of ingredients in a recipe for a successful soccer team. If you ask the Lady Jays soccer team, this is the recipe that's going to be the key to reaching their goals for the season.
"We have a lot of talented girls this year," senior Emma Cronin said. "Our goal is to win State."
Last season, the women's soccer team was Co-Conference champions for the first time in several years. The team lost but ended the season with 14-9-2.
"I think this will make our team stronger," head coach Tyler Nash said. "The girls are very hungry because they feel like we did not reach our full potential last year."
For the team, one of the first steps toward success is establishing a strong bond between each girl on the team.
"It is really a team-based sport," sophomore Maya Gaona said. "You have to know each other a lot in order to play well. If you don't have great chemistry with one person, it can mess up the flow of the entire team. It is different from a sport such as basketball where one person can do a lot independently."
The team spends a lot of time together off the field, which creates good chemistry on the field. To connect with each other, the team does a variety of activities together, including team dinners and simply hanging out. A favorite of the team is splitting into groups and creating music videos. Each group chooses a silly song and collaborates on the best dance moves for the song's lyrics. For some, these moments and connections are what keeps them playing each year.
"There isn't a group of people I would rather be around on a bad day," Cronin said. "They can always lift my spirits and they continue to push me to be a better version of myself, and I love them for it."
Teamwork is a strong foundation, but like any other recipe, if ingredients are missing, the product won't be complete. For them, attitude counts.
"I think one of my personal goals is to be positive," Cronin said. "Sometimes it's hard to keep a good attitude when games aren't going your way. It is very easy to take your anger out on your teammates, but I think that attitudes are 100 percent contagious."
The team's coach also makes attitude a priority for the athletes.
"If you have a hard loss, it's difficult for athletes and coaches alike to find the positive," Nash said. "If we have a ton of success, it is hard not to let that go to your head and let your work rate drop. We need to stay true to our values and always chase excellence."
Aside from attitude, the girls also value hard work and dedication. If anyone asks them, work ethic is not a secret in their State recipe.
"For soccer athletes, you really have to put in the work to be great at it," sophomore Ellie Rogers said. "It doesn't just come to you overnight. You just have to keep going and never give up."
For the girls on the team who have played their whole life, soccer is an escape from things that otherwise may not be going their way. The Lady Jays think creating a positive environment is the secret to their recipe.
"Soccer has taught me a lot about myself as a person," Cronin said. "Having a team of 18-plus girls can be rough at times, but it teaches you how to listen to others, compromise and take other people's feelings and opinions into account. It has also taught me the importance of hard work. I think the dedication I have put into soccer showed me how to work hard and get things done in life."
The women's soccer team mix gallons of hard work, pounds of teamwork, 10 cups of on-field chemistry, hours of dedication and a pinch of positivity.
"Honestly, I can't be happier with the the program as whole this year," Nash said. "The girls have really embraced the values of the foundation to our program. We donated time with Harvesters this year by volunteering and putting together backpacks. We were able to supply over 20 children with Christmas stocking who may not have gotten anything if we didn't step up. I have a core of unbelievable, young women who are making a difference."
Senior Emily Siegel
"I try to bring positivity to make sure that during games we don't become stressed out and we keep a level head. I try to envision the field rather than look at the ball in front of my feet."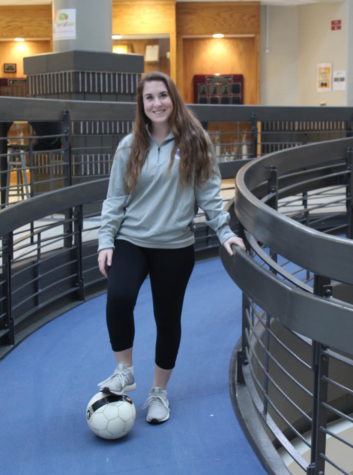 Coach Tyler Nash
"Emily is one of those players who never complains. She embraces adversity no matter what is thrown her direction. She is always demanding more out of herself for the sake of her teammates. Emily not only embodies everything I want in a player but challenges myself to be a be a better coach and a better person. Her attitude is something all of us can be better for."
Teammate Peyton Larason
"She always focuses on the positives even when things aren't going great on the field. She will give 110 percent, no matter what she does."