We Got Game
Athletes and coaches reflect on the fall postseason.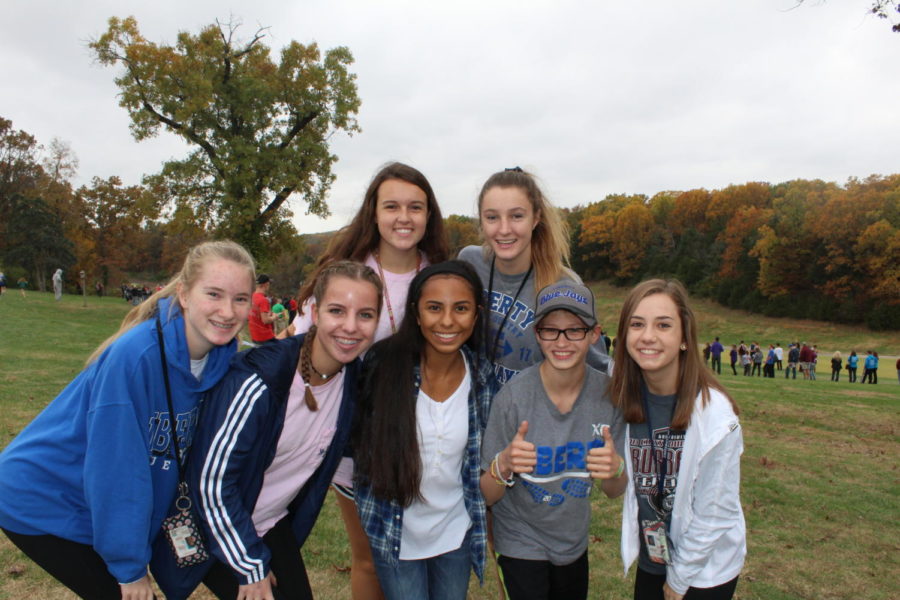 Blue Jay athletics strived for greatness this fall season. During the 2017 fall sports season, the Jays made a lot of progress. All of the fall sports went to conference and districts and cross country and men's swim and dive even made a trip to state.
   For the 2017 season the Lady Jays Softball team ended with 24-7 record. The girls won their third conference title in the last four years. The Lady Jays went on to win districts, which hasn't happened since 2011. The players were delighted that they made it to the district championship and won.
   "My high point was winning districts. It is something that I have never done on varsity in three years," senior Autumn Avery said. "It was a proud moment for me and the other seniors. We have never won districts so it was a cool experience."
   The Lady Jays played great as a team this year. A goal every season for the Lady Jays is to have 20 wins a season.         
For the seniors, this goal was not met their sophomore and junior year, so this was a big goal for their last year. Last season, the Lady Jays shared their conference champion title with Liberty North, so another big goal for this season was to be conference champions and not have to share it. The third goal for the Lady Jays was to win a district title. All three of the Lady Jays' biggest goals were met with flying colors.
   "I'm thankful for all the girls I got to play with," Avery said, "I was really thankful that this was the team I got to play with my final year."
   Cross Country season was like running up and down hills, but this season had lots of improvements on runner's times. They made it to sectionals and conference and almost made it to state this season.
   Coaches Tim Nixon and Tim Fritson stand on the sideline to help them become better runners.
    "I always get a big kick out of seeing the kids improve and them getting better than what they were before," Nixon said. "Seeing a kid's time drop is very gratifying to watch and seeing them put in effort and time."
    This year Cross Country went to The Chile Pepper Cross Country Festival in Arkansas, to the Kansas City Sectional and had individuals qualify for state in Jefferson City. For some of the runners, they were grateful for the experience to race in some different venues.
   "I set a new personal record (at Chile Pepper), even though my shoe fell off during the race," sophomore Carmen Caudillo said. "We also did pretty well as a team at Chili Pepper."
   "I'm thankful for the great kids. It is always fun to watch them become great leaders," coach Nixon said. "It's always great to see how much work they put into getting better and then they do get better."
   The LHS women's rugby teams season came to an end on November 4 with a third place finish in the state competition. They are thankful for the bonds and success on and off the field. Having many first year players can be difficult but overall the team has had a good season.
   "We've had up and downs but have improved a lot from the beginning," senior Kiarah Mosley said.
  As the year progressed, friendship on the team continued to blossom and the bond between members became stronger and stronger.
   "I've enjoyed making new friends, especially ones I normally wouldn't talk to in class and becoming one big group of friends," Mosley said.
   Not only have members of the team learned the actual sport of rugby but they have also learned important life lessons as well.
   "It's given me a really good mindset to be respectful, not only during rugby but at school, home and work," Mosely said. "My coach Tracey has given me lots of life advice and good things to take away from rugby."
   The team is also thankful for the opportunities presented by the rugby program at LHS.
    "I'm thankful for rugby because it has given me a lot of opportunities to travel and meet a lot of new people and new ways to think. I'm thankful for everyone I've met and gotten to know," Mosley said.
   The Swim and Dive team has been swimming towards victory with perseverance and patience. The team won conference for the first time in school history and also went state
"We also won our first Invitational since 2011 and finished our dual meet season undefeated," coach Chris Murphy said.
  Some of the boys even started late this season and had to put even more work in to get to where they were in the season.
   "For me, my low point was at the beginning of the season because me and another swimmer started late," junior Cameron Murphy said. "We started late because we were on an outside of school swim team."
   Even though some started out late they all came together at the end of the season.
   "The whole team did amazing at our conference meet. In order to win conference, all 16 swimmers and both divers had to do their job," coach Murphy said.
   The team traveled to State on November 2-4. The whole team got fifth place and Noah Witzki even broke a 29-year-old school record and his own school personal record on the 50 Free. The 400 Free Relay of Noah Witzki, Sam Coday, Tait Harvey and Cameron Murphy broke a school record taking fourth place and the same four swimmers teamed up to take fifth in the 200 Free Relay.
   The football team ended their season at Staley with a record of 8-3. The team ended their season strong and really worked as a team. The start of the season for the Jays was a night to remember. Playing in our own stadium proved an advtange, where the Jays beat Liberty North, 22-20.
  The intensity from the crowd made the players get hyped. Players made new records for the school and for themselves.
   "Joe Barnes became our all-time record leader in tackles and Robert Rawie became our all-purpose yard leader," head coach Chad Frigon said.
   They were grateful for their winning games and teamwork.
   "The first time we played Liberty North, to me was the best game," Frigon said. "We just clicked well as a team. This team finished the year playing together as a team and for each other, which is a great way to finish."
   As the season came to a close, some wished that they could have gone further. Overall, the team came together to finish their last game of the season.
   "I feel like the season went really well. I think we finished strong," Frigon said. "At the end of the year we were playing as a team really well."
   "I loved playing with this team," sophomore Matt Lawson said. "They became my family and I can't wait next season when we can try again."