Kickin' It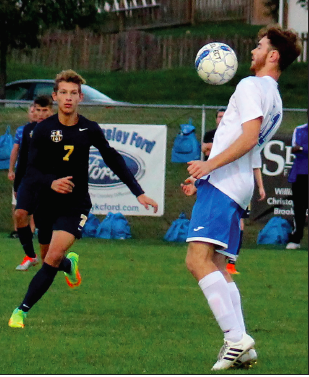 "Success is no accident. It is hard work, perseverance, learning, sacrifice and most of all, love for what you are doing or learning to do." – professional soccer player Pele a Brazilian. Players just want to play soccer and have fun and the Varsity Men's Soccer team has been doing just that. The season is coming to a close, but the Jays worked hard to have a great year.
The soccer players have had some pretty good games during the season. Teamwork is one of the most important aspects of the game to them.
"On Friday in St. Louis we played really well as a team, but we didn't get the outcome that we wanted. We didn't win any games at all; it was 0-3," senior Matt Bronakowski said.
Throughout the season, players have had different opinions on what game was the best of the season.
"I am not so sure there was a best game, but we have had moments," coach Thomas Rottjakob said. "Most of the games, I've seen the potential in the things we work on."
Liberty vs Liberty North
Wednesday October 5 the Jays played one of their biggest games against North. The game ended 2-0, North.Rottjakob said that the team did alright, but could have done better.
"For being the seventh game I thought we did alright. Especially in the second half I thought we dominated the play even though they scored two goals. It felt like we didn't do a good enough job clearing the ball, which is how they got the two other goals," Rottjakob said. "It felt like we were unlucky on a few chances when we had the ball and we thought that it was going to be a goal and their goalie came up with a big save."
Goals for the Season
Even though they lost some games, the players are doing their best to go to the postseason, but the team is hoping to take it a step further and win districts.
"My goals for this season are to go as far to postseason which hasn't happened yet. I also hope to have more wins than losses," Bronakowski said.
The coach's goals are similar to the players' goals.
"We want to improve on being better than the beginning of the season, the team to play together and play a good style of soccer where we are possessing the ball," Rottjakob said. "It's something that we work on a regular basis whenever we are able to get a practice in with a busy schedule."
Looking over the season many players played their best, but the team didn't win as many games as they hoped.
"I accomplished some goals by playing my best, but I would still like to win more games though," MacGee said.
Even though some of their goals weren't accomplished, they still feel like they had a good season. Some players had moments of what they did well.
"So far we had our rough patches and had bumps and hills. I think this season we did all right," Bronakowski said.
Players are very excited for postseason and are getting ready.
"We did okay so far, but it's all about postseason," Lee said.
Some players look ahead for next season, but the coaches are focusing on the present.
"I don't even look ahead," Rottjakob said. "I am not looking ahead because it wouldn't be fair to the season. We still have a few weeks of the season to go before postseason starts. We are still trying to figure out how are we going to accomplish at the end of the season."